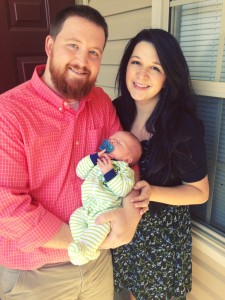 I am so excited to launch the Joy Stories series: a series of posts based on Titus 2 encouragement from real young women! I couldn't think of a better woman to start us off with than Courtney. Coincidentally, Courtney and I have never met in real life – but we've been acquaintances via the blogosphere for several years. She approaches life from the clear lens of the gospel and colors it with her beautiful character and witty sense of humor! Her life is indeed a 'joy story' of Christ's redemption. Read on and be encouraged!            – Phylicia
——
P: When and how did Christ become real to you?
C: I grew up in a Christian home where I was taught truth on a daily basis. This was such a blessing, but it also caused me to be complacent in my walk with the Lord. I became a Christian when I was very young, but didn't really "own" my faith until my older sister got in a horse accident on our farm. She nearly died and was in the ICU for two weeks. Realizing that my best friend might not make it, I turned to the Lord and cried out to Him to save her. That was a turning point in my faith. I knew that no one could help her, not the doctors, not my parents…only the Lord had the power to heal her. It was in those moments of heart-wrenching desperation that I felt the Lord's nearness. (And thankfully, He chose to heal her and she is in great health today!) For the first time I saw my walk with the Lord and my time in His word as a relationship and not an obligation.
The Lord really used a terrible situation for good in my life (Rom. 8:28) and I'm so thankful to have walked through that trial because of the fruit it brought about in my walk with the Lord.
P: How does your faith influence your life?
C: Oh wow. I hope in every aspect!
But my faith influences my marriage and the way I respond to and treat my husband. Nothing inside of Courtney can speak respectfully and submit to my husband. Only the Holy Spirit can do such a work!
It influences the way I mother. Waking up multiple times in the night for feedings is not something Courtney would willingly do. Changing countless poopey diapers and having to change my clothes because I've been thrown up on for the second time today is not something Courtney would volunteer for. But because of the Lord working in my life, I do. He has given me a glimpse of the bigger picture and I know that there is eternal value in these mundane tasks. (Oh and you can remind me of this truth when I'm having one of my "What value is my liiiiiife?!?" days!)
And my faith influences the way I view life. Because of the redeeming work of Christ in my life, I am not about what I used to be. I don't desire the "American dream." New cars, a big house and designer clothes lose their luster in view of the surpassing value of knowing Christ Jesus. He changed my eyes to see eternity in the daily.
Now this is still a struggle…I do not always set my mind on the things above. But it would not even be possible for me to attempt this if it was not for His Spirit at work in me.
P: Tell us three things you have found most helpful in your walk with God.

Spend time in the Scriptures.
This one may seem obvious, but for some reason I still struggle to be consistent in it. Whether it be reading through the bible yearly, memorizing scripture or listening to an audio bible, when I am putting God's word in my mind, I am drawn ever closer to Him.
Watching what I am putting in my mind.
Okay…so I love a good, bob-your-head kind of song. This includes many pop songs as well as good 'ole Luke Bryan songs. And I always justified it by saying "Listening to these songs doesn't affect me. It's not like I'm gonna go get drunk or shake what my momma gave me because I listened to this song today."
But that's not really the point.
"All things are lawful for me, but not all things are profitable. All things are lawful for me, but I will not be mastered by anything."  (1 Corinthians 6:12)
No, there's nothing wrong with listening to the pop station. But is it profitable to my walk with the Lord? For me, the answer is no. I don't want perverse lyrics playing in my head all day, or as I fall asleep at night. I want truth to be on repeat in my mind.
This also goes for what I watch on TV. I really had to make some changes recently in what I was watching. The Big Bang Theory, Friends or Millionaire Matchmaker are not wise choices for me. These cause me to become desensitized to sin and immorality. So with the Lord's help, I've cut these things out of my life and it has been amazing the effect it has had on my relationship with The Lord.
And not just silently in my head. When I'm nursing Rhett at night, I try to take that time I'm already awake to pray for whoever the Lord brings to mind. Also praying out loud during my quiet time helps me not to get as distracted by the dust on the tv stand or the piles of laundry needing to be washed.
Praying with my husband is also HUGE. Just hearing each other's hearts at the end of a long day really helps me feel connected to him and also know how to better pray for his needs. There have been so many nights where our hearts are so heavy and as we start to pray together, it seriously feels like a burden has been lifted by the time we say amen.
P: If you could sit down over coffee with girls across the world, what advice would you give?
C: Oh my. This is a tough one!
I guess I would say don't worry about your future, whether it be wondering who your future husband will be, what school you will attend or what career you should choose. But instead, focus on the Lord. Like REALLY focus on The Lord.
People used to tell me this when I was single and I would always think "I'm tryinggggg!" But honestly I wasted so much time wondering if this guy was "the one" or was it THIS guy?!? "WILL I END UP AN OLD MAID AND NEVER HAVE BABIES??" (Dramatic, yes. A lie, no.)
I wish so badly I would have kept my eyes on Christ and sought His kingdom FIRST. I did try, but I also let my mind lose its eternal focus a lot and that was precious undivided devotion I could have placed on the Lord.
Eventually the rest of those things will or will not come. I got married. I had a baby. But I can't get back all of that free time I had to cultivate my relationship with the Lord. And the time I did focus on Him and seek His face have been such a blessing now that my time is more scarce.
So don't worry about tomorrow, or the next day, or the next. Just cling to Jesus. Really cling to Him.
P: Let's get practical! What are three ways young women can live out their faith in today's culture?
This may seem simple. But why don't we do it more often? In this culture of political correctness, I believe (and see in myself) a fear of offending people. I don't want to seem judgmental or "preachy."
News flash. The gospel is offensive!! It bids a sinner come and die. The truth in scripture goes against everything in our nature and that doesn't feel good. But God's way is perfect. It is right. And it needs to be shared.
One time, while discussing the issue of homosexuality, Kay Arthur told me, "You don't have to apologize for your belief that homosexuality is a sin. Because YOU aren't the one who said it. God did. And if people have a problem with it, tell them to take it up with Him!" And that has just stuck with me. How many times do I want to apologize for what God has said? What He commands needs no excuse or explanation. It just needs obedience.
So I encourage you, speak the truth in love. But speak the TRUTH.
Have a gentle and submissive heart.
Now this may ruffle some feministic feathers, but I'm sticking to my guns on this one.
Our culture is so full of tough, loud and anything-you-can-do-I-can-do-better women. They're a dime a dozen. But what is lacking is women who have let the Spirit of God soften their hard heads.
God created women to have a quiet and gentle spirit. 1 Peter 3 describes it as precious in the sight of God. When a woman possesses such a spirit, people take notice. Because it's such a rarity. A woman who doesn't balk at being under God-given authority, or who isn't crass and speaks words of wisdom and kindness is such a testimony to what the Holy Spirit can do in a woman's life.
Now this doesn't mean you can't have a fun personality or enjoy life. A quiet and gentle spirit doesn't mean you are a boring robot. But rather it is a life willingly submitted to the authority of the Lord, and as a result portrays that to the world. It is a beautiful thing.
So I encourage you, if you feel this area is lacking in your life, ask the Lord to change your heart. Because this is such a beautiful way to live in obedience and faith.
I'll be honest. This is one I struggle with. I am naturally a nosy person. And as much as I act like I don't, if anyone has any juicy information on ANYONE, whether it be a friend at church or the bag boy at Bi-Lo, I'm all ears. I may not be the instigator, but I'm always a willing listener. (And many times I pass this juicy information along to my friends…which makes me the instigator too. FAIL.)
Talking bad about people AND listening to other people talk bad about people is not something a Christian woman should be involved in. It really ruins your testimony.
Yet it is sooo common among women, Christian and non-Christian. This is very sad! It doesn't have to be this way (and shouldn't!) and we need to step up and stop it! It doesn't get any more practical than this. Just shut your mouth. Don't say it. (And I'm talking to myself here!)
Speak kind words about others and if there isn't anything kind to say…just don't say anything! Be a person who builds other people up. Don't tear people down.
P: What aspect of God's character has been most influential in your life?

C: I think the covenental aspect of God. When I was 17-ish I completed a Precept Ministries study on covenant (which I HIGHLY recommend. Fo' real.) and it changed the way I viewed the Lord. He doesn't break His covenant. Ever. And as His child I am in covenant with Him!! Oh. My. Goodness. The security this brought me was mind-boggling.
Whenever I have those feelings of doubt in the love my Heavenly Father has for me, I just think back to the truth of covenant in the scriptures and I remind myself that God keeps His covenant. It's so beautiful.
——–
About Courtney:  I am a stay-at-home wife and mother. Or as I like to refer to myself:  domestic engineer.  I am extremely thankful that my husband works so hard to provide for us and as a result we are financially able to let me stay home. I love what I get to do. Some may only see it as doing laundry, making grocery lists, changing diapers, and cleaning toilets. But I see it as so much more. Our little apartment is my domain. And I get to make it beautiful. I get to make it welcoming to those who walk in our door, and hopefully they leave feeling refreshed and encouraged. I get to kiss my son's chubby cheeks all day, and rock and soothe him when he cries. I get to pour into his little life, so that one day soon, Lord willing, his heart will trust Jesus and he will become a man after God's own heart. So I pretty much have the most awesome job in the world!