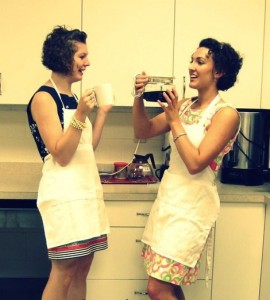 The box arrived at my door so mummified by duct tape it took a steak knife to get it open. I dug through the tissue paper to a beautiful birthday card, followed by a newspaper mug, a silver heart necklace, and finally, an enormous scrapbook full of pictures of us together. I miss my coffee connoisseur! She wrote in the card. Tears brimmed in my eyes as I looked at all the effort she had made, sending me this enormous, thoughtful present all the way from Colorado. And I hadn't seen her in two years!
I couldn't believe the time she had taken to make me feel special. She is a giver, and she has always been that way.
Friendships between women can be very evasive. Many are wrought with drama and gossip, some are shallow and dependent on external circumstances. But when you find a good friend, isn't it like finding a treasure? You can't bear the thought of losing her or mistreating her so she finds someone else with whom to spend her time!
I am consistently overwhelmed by what my girlfriends bring to my life. Sometimes I stand back and think about how each one – individual in her own right – brings such a prism of perspective to my views. They reflect so many different backgrounds and beliefs they broaden my own horizons, and yet we all hold a common thread of faith.
It wasn't always this way, though. I'll be the first to admit I am not the best at being a friend. Easily distracted and quick to offer my opinions, I can railroad the most patient girl into finding someone else to have coffee with. I remain in awe of the perseverance of those who have stuck around!
Christian woman are commissioned to reach out to the unsaved women in their church and community. That said, they also have the prerogative to seek out women who revere God as members of their closest circle of friends. God makes this very clear.
"Do not be deceived: "Bad company ruins good morals." (1 Cor. 15:33)

"One who is righteous is a guide to his neighbor, but the way of the wicked leads them astray." (Prov. 12:26)

"Whoever walks with the wise becomes wise, but the companion of fools will suffer harm." (Prov. 13:20)

"A scoffer seeks wisdom in vain, but knowledge is easy for a man of understanding. Leave the presence of a fool, for there you do not meet words of knowledge." (Prov. 14:6-7)
While we are to be active in our community, reaching out to the needy (Prov. 31:20), our closest friends should be the kind who build us up toward Christ. This does not simply mean they claim to be Christians and read a devotional every morning: this means surrounding ourselves with women who prioritize the Lord and His values so that they influence daily life.
So how do we find and maintain friendships like this?
1. Find good girls in good places.
It's like the girl who wants to meet her husband, so she hangs out at the bar to find him. She's not likely to find a quality guy at that location!
Working in a Christian university has afforded me the privilege of finding many great girlfriends in my coworkers. However, even a Christian environment can be deceiving. Even in Christian organizations, we will find women who are serious about their relationship with God and others who are not. While we can enjoy the company of all, we should choose to surround ourselves most often with those who both prioritize their faith and share common values with ourselves.
Other places we can find godly women are bible studies through church. This is a great place to find older women who can serve as mentors and speak into our lives from the perspective of experience. Young women should be sure to include older, married women as part of their circle in order to grow under their guidance.
Community service and volunteering can also yield great friends. My own service at a nearby Christian barn ministry has introduced me to some wonderful women! Because we share the common heart of ministry and faith I know I can trust them and be built up by association. Opportunities like these will bring wonderful young women out of the woodwork.
It may be unbelievable, but some of my best friends I have met online through the blogosphere! I can think of three right now with whom I communicate weekly – women that I respect and find very encouraging in my walk with God. We have never met in person, but I know by their writing and testimonies they are women of God I can look up to and learn from.
One thing to note is that godly women are attracted to other godly women. We must be holding a high standard of godliness for ourselves – based on God's word – as we seek out women who are doing the same! By no means are we plateaued at perfection, looking down on women who are not 'at our level'. Instead, we are journeying together toward a greater understanding of our God and His will for our lives.
2. Meet them on their turf.
Maintaining friendships is much like maintaining a marriage: it requires compromise (of the best kind). We may have to go outside our comfort zone to meet our friends in theirs.
This has two facets. Physically, it means being willing to try new things for the sake of the friendship – whether that means going to the gym together, trying a new restaurant, or learning to ballroom dance together. A good girlfriend is willing, and that is what makes her fun!
Spiritually, this means meeting her where she is in her walk with the Lord. She may be seeking, but still weaker in her faith. Or perhaps she is stronger in areas where we are weak. This is why God designed the fellowship of friendship! Where one is weak, the other can be strong.
"Two are better than one,
because they have a good return for their labor:
If either of them falls down,
one can help the other up." (Ecc. 4:10-11)

"There are different kinds of gifts, but the same Spirit distributes them. There are different kinds of service, but the same Lord." (1 Cor. 12:4-5)
This is also why we must be diligent to strengthen ourselves via our own devotional life. If we are not strong in the Lord, we can be swayed by the weakness of a friend when we should be encouraging her upward. God provides the strength to mutually build each other up in faith, bearing with the weaknesses of each other in patience.
3. Make time for them.
I talk to my geraniums.
Yes, it's true. I talk to my plants and in fact, I like them more than animals. Perhaps it is because they are so low maintenance – they never talk back, they don't throw up, and if they die, I can replace them with relative ease.
Friendships are not like plants. They are not easily replaced – at least the quality ones. However, they are similar in that without care, they will die.
A common fault of the American female follows this vein: Meets boy. Dates boy. Forgets all girlfriends. Breaks up with boy. Needs girlfriends again. Repeat cycle.
When I first began dating Mr. M, it was very easy to fall into this trap. I wanted to be with him all the time! In a God-honoring relationship with a man, he will be your best friend. But as we grew closer I realized I need my girlfriends to keep me on track. I needed their perspective and accountability.
When our relationship became long distance it was easier to make sure I  had time for the girls. Here are some ways I've implemented this personally:
Schedule a phone call on certain days so you can plan to talk
Schedule regular coffee dates that work with both schedules
Make your boyfriend/husband aware (if you have one) that you need to prioritize girl friendships so he understands when you say 'no' to a date
Write down birthdays and anniversaries
Start or join bible studies with women
Instead of working around each others' schedules – gym or work – join each other AT the gym or on a lunch break at work
These are just a few ideas to keep in touch in the middle of a busy life!
4. Maintain a bond of prayer.
Praying for your friends cannot be overvalued. By bringing them before the throne of God, we are invoking the power of God into our relationship with them and acknowledging our need for His influence and assistance.
There are five friends of mine I can trust to pray for my needs. How encouraging! When I ask I know they pray for me, and when they ask me to pray I write their names in my prayer journal. Then I record the answers to prayer they receive so I can be encouraged by God's faithfulness in their lives.
I've written before about the importance of prayer and I continue to advocate the power of a praying woman. Being a praying friend is the best kind of friend to be. As we support each other in this way we naturally support each other in every other way as well. Communing with God prepares our hearts to serve.
5. Be quick to accept and slow to dismiss.
As a passionate extrovert, I am quick to step on my soapbox when it comes to my values – even with people who share them. While passion is a great asset, there is a time and place for a stump speech… and typically, it's not over coffee.
I'm learning to be more gentle in my conversation. Another facet of this is giving the benefit of the doubt to those I communicate with – granting validity to their opinion before dismantling it in my mind. Listen first, speak later.
We should never accept an opinion that contradicts God's word, however. This is part of being a good friend: challenging each other with God's ordinances, not just personal opinion. This is speaking the truth in love (Eph. 4:15). A God-fearing woman will accept biblical correction eventually, even if it is not at the get-go. When we speak in love we speak not to 'be right' but to share the truth. This means after speaking we entrust our friend to God's influence and allow Him to work in her heart if she is in the wrong.
Accepting our friends' ideas shows acceptance of who she is. Unless she is biblically off-base, a tender heart and listening ear are invaluable. I have many friends who have mastered these traits and patiently endure me as I bumble toward them myself! God loves this 'gentle and quiet spirit' (1 Peter 3:5).
Finally, this morning as I read in Psalm 119 I was stopped at verse 63:
"I am a companion of all those who fear You,
And of those who keep Your precepts." (Psalm 119: 63)
This verse sums up the criteria for our closest friends. Women who fear God will be praised (Prov. 31:30) and should be our companions in this journey of faith. Our common reverence for God and His values will establish a community of women, and therefore families, raising up generations for Christ based on a foundation of friendship as God designed.