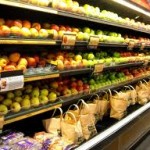 Mr. M can calculate my grocery bill for me in no time.
I, on the other hand, am like a broken adding machine. In my head I see the numbers, and as I stock my cart I write the prices down in my planner so I don't get any surprises at the cash register ("Three dollars! Forget it! I'll leave that tortellini right here in Kim Kardashian's face!") – but I can't add three rows together and get an accurate reading.  And it is very important to have an accurate reading when you're on a tight grocery budget.
My hobby is groceries. I would almost become a professional grocery shopper for busy moms (for a small commission, of course). In my spare time I pore over mommy blogs, coupon sites, and books on the marketing behind grocery stores. I line up recipes, meal plans, ingredient lists and the Kroger flyer side by side and say 'Speak to me' every Sunday.
Apples, eggs, and mangoes are my buddies. There may even have been moments where I talked to my shopping cart. But that's between us.
The problem remains that pre-child wannabe moms like myself don't need to buy in bulk, which many sites recommend to save money. I would save a lot in the long run if I bought peanut butter by the 48 ounce can, but I'd be making cookies, cheesecakes, and ants-on-a-log till the cows came home. And I don't have any cows, so that would be a long time. What does a girl usually feeding only herself do to save money on food? That's what I have been researching, and today is the first of a series on this topic.
In talking to other career women in their twenties, I've noticed some trends in their grocery habits that are some sure-fire ways to spike a food budget. Some of these are:
Buying convenience foods (pre-packaged, pre-prepared, or pre-cooked)

Buying everything organic.
Buying all their goods (food, cleaning, cosmetic) in one store
Going to the store without a list
Not using the flyer and sales
Eating out for lunches
Not planning meals or cooking from scratch (even simple recipes)
Wasting existing food or being picky
I personally budget $175 a month for food expenses. That price is in Central Virginia where cost of living is very affordable. This budget includes making 3-4 full meals for two when Mr. M visits me on weekends, and also includes entertaining or bringing a dish to a church potluck or bridal shower. So technically, I alone could live on approximately $125 a month by myself – maybe less if I didn't try new recipes now and then.
I want to cut that budget even lower, which is why I do the research I do. When Mr. M and I are married, his need for red meat will require a significant increase in that portion of my food budget, along with the simple fact that he is male and has two hollow legs in addition to his stomach. Thus, I have made some changes to my shopping that have helped stretch my budget significantly. It takes initial planning and patience, but pays off in the end!
I almost never buy convenience foods.  

Frozen pizzas, sandwiches, prepared deli meals, and drive through foods are very rarely found in my kitchen or on my table. When we pay for convenience, we are no longer paying for just the ingredients but also for the labor to put those ingredients together! A few minutes of my time is worth a few dollars to make the food myself and pre-pack it. Since my roommate and I got rid of our cable tv, we have even more time for this.



I buy at the farm market, but not organic. While this may be simple speculation, I believe the organic market sprang up in a timely fashion right around the time global warming took a foothold. I grew up on non-organic produce and have never had a significant health problem, and neither have my siblings. Organic food is not necessary in my area of the country and is much more expensive than average anything. Instead, I go downtown on Saturdays and buy my produce directly from local farmers. It's more personal, it's more affordable, I get more for my money, and I get to talk to people who really know the products they sell.
I buy my groceries in 1-2 locations, my cosmetics at another store, and my cleaners at another. In fact I am very soon making the switch to homemade cleaners (you'll see a post on that soon) because I clean so often, that is one thing I CAN make in bulk!  Concerning location – shaving cream at Kroger is $2.50. The same brand was on sale at Walmart with a coupon and would have been $0.69. I bought it at Kroger because my legs were prickly and I was desperate. But it's worth it to find the better price and hit up the other store when you are in its vicinity.
I always, always, always carry a list! If you don't have a list – don't go to the store! You WILL buy more. Even with a list I see pesto on the shelf and remember the chicken salad I had at a graduation party and start to reach for it – but no! That's not in my meal plan, which means it's not in the ingredients, which means it's not on the list. This helps me keep to my approximate spend of $50 per week.
I always use the flyer and sales, and if I have them, coupons. The flyer lists all the sales for that week at Kroger (or Albertsons or Food Lion – whatever store you use). I used to pick up a newspaper on Sunday to get the coupons for the week and the flyer – now I get the flyer sent directly to my email from Kroger's website (where you can also download electronic coupons to your card). While Mr. M reads or eats, I circle the sale items I need or want, then plan my meals around those items. If it's not on sale or essential (like bread, milk, or eggs), I don't buy it.
I almost never eat out for lunch. This  is tough because Chick Fil A is literally ON our college campus. Right below the university there is a strip that includes Chipotle, Moes, another Chick Fil A, Golden Corral, McDonalds, Starbucks… you get the picture!  But once again, prepared foods are always more expensive. It costs $0.35 for me to make my coffee in the morning. It costs $3.00 at Starbucks (at least). Eating out is special and I save that for a night out with the girls or with Mr. M. I pack a lunch every day and usually eat two meals for around $5 total.
I plan at least three meals a week, usually 4-7. I use the flyer to compile what meals I will make that week. If beef roast is having a good sale, I'll plan to make pot roast on Sunday when Mr. M is up for church. Chicken is almost always on sale – at least some part of it – so I'll pick up bone-in thighs or breasts to freeze and make when I'm ready. I always buy bone-in chicken because it will ALWAYS be cheaper, and I can cut the meat off the bone if I want boneless. Sometimes I'll try a new recipe and add those ingredients to the list. But I always plan meals that are affordable, appetizing, and healthy. For instance, I probably won't plan a whole lot with feta cheese simply because it is expensive and used up quickly. I could put that $4 into fettucine, pasta sauce, and ground beef and Mr. M would be much happier! Take everything into account when planning.
I try to use up every ingredient I have and I don't allow myself to be picky. It helps to have a vacuum cleaner – husband or dog – to clean up leftovers. I am a strong advocate of eating your own leftovers. I would go so far as to say that NOT eating leftovers is being a bad steward of your food and financial resources. Nothing happens to food overnight except a little condensation. You made it! It has to be good!
What's the point in all of this?
The point in habitually maintaining a healthy food budget is to save money and prepare to feed a larger family for less. Everything I do is done with my future family in mind. Even for girls who don't like to think that far ahead, it is healthy to consider this for yourself so you can pour that saved money into student loans, savings, or the occasional pedicure!
This isn't the only portion of my budget I've researched and limited. I've cut out subscriptions to Netflix, magazines, and cable television (as mentioned earlier). I give myself a two-week spending budget of $20 for eating out or shopping, and try to pay everything in cash except for auto-debits so I always know what my balance is.
This has been very encouraging to me, as I have been able to increase my gift budget (which includes entertaining, stamps for letters, shipping costs, and presents) and have less regret over my money management.
PS – A note on the organic buys:
According to Thedailygreen.com, the 'Dirty Dozen' you should buy organic are:
Apples
Celery
Cherry Tomatoes
Cucumbers
Grapes
Hot Peppers
Nectarines
Peaches
Potatoes
Strawberries
Spinach
Sweet Peppers
I buy all of these at the local farmer's market, but if you prefer organic for some things, those are the best to buy.