By 3 PM, my planning and shopping was done, and I rolled up my sleeves to start working. My frozen items – meats and such – had thawed out overnight and I had them in the fridge ready to go. The canned goods and produce were on the counter and my freezer bags were ready. Mr. M was reading on the couch, so I gave myself three to four hours before he got lonely.
You're reading Part Two of the '54 Meals/$70′ process! If you haven't read Part One, you can do so here.
5. Prep the Bounty
You're home with all your goodies!  The amazing Freezer Cooking Woman on the blog I referenced earlier advises prepping all your produce first, by chopping the carrots, onions, tomatoes and meat into respective piles and simply filling the bags from each bowl. I did it the slow way by chopping the ingredients I needed as I went, doing one recipe at a time. I will probably change this in the future to be quicker, but I didn't want to mess up!
Early in the morning, I started cooking the beans: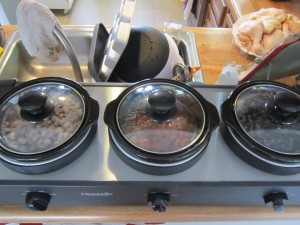 You can also soak dry beans over night for the same effect, but I needed them faster, so I cooked them on low for 8 hours.
Here is a little math for those of you who cook with beans a lot (they are good for you and cheap as well):
One can of black beans from Kroger costs $0.69 (Kroger brand; brand name would be $0.99). That can contains two cups of beans.
I paid $1.87 for a bag of dry black beans at the Amish shop. I used half of it, for a cost of $0.93. It made FIVE CUPS of black beans at $0.19 per cup! That's incentive to cook your own beans!
While the beans cooked, I washed and skinned the 10 chicken leg quarters. Each of these legs (thigh and drumstick) cost $0.69, or $6.99 for them all. Bone in meat is always cheaper, and is usually more moist when cooked!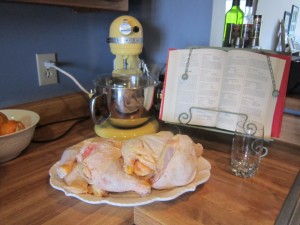 Behind the chicken is my idol – er, I mean, my Kitchenaid. Mr. M calls her Helga. We will utilize her later.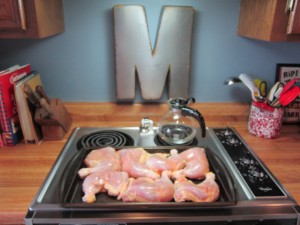 There's the chicken, skinned and ready to bake at 400 degrees for 40 minutes. M stands for Mrs, my last name, and also for 'MMMMMMMMM Delicious!' When the chicken is done, I will strip all the meat off the bones and shred it in Helga. But while it bakes, I start chopping up the celery, onions, carrots, and other goodies.
It was so nice I opened the window, since it gets hot working for four hours. You wouldn't know it was 60 degrees yesterday – it's snowing outside right now. But we won't talk about that.
We will talk about what I did with the bones under point 6.
Remember the recipe lists and ingredient lists from Part One? I now have those on my recipe stand, where I reference what I need for each freezer meal bag. Thus I start plopping those ingredients in the labeled and dated bags. On each one, I write:
'Bean Stew; 3.2.14; Add 6 c chicken broth and cook on low 6-8 hrs' or the like, and fill it up. Then pop it in the freezer!
Here is a picture of the chicken salad and my beautiful cooking mess: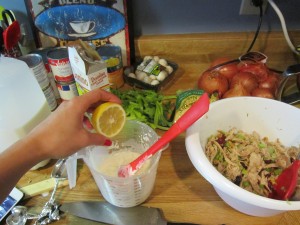 As I continued filling the bags, I began cooking the eggs for the breakfast sandwiches. If you, your husband or roommate are big on breakfast, this is a great idea! Grease a muffin pan and crack an egg into each hole. Bake at 350 for 15 minutes and pop out to cool.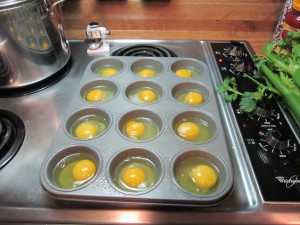 I needed sausage for one of the other recipes, so I took 1/4 pound of it and cooked some small patties to freeze with the eggs. I found off brand English muffins at Kroger for 2/$3.00, so now Mr. M can make his own egg McMuffins for $0.50 each! I made enough for 14 breakfasts, lasting two weeks until my next grocery trip.
I've run out of pictures, so you'll have to take my word for this one: I finished packing the freezer bags, making the breakfast sandwiches, and dealing with the chicken. Any leftover produce I chopped up (such as peppers) and froze. Did you know this prevents rotting produce in the crisper? I love this idea! Rather than feeling the pressure to use peppers, celery, or carrots as quickly as possible – freeze them for later use.
While I packed the meals in bags, I was also embracing my inner squaw. See below.
6. Maximize the Buffalo!
One thing I've tried to work on as a wife and a cook is wasting nothing. I've tried to discipline myself against impulse food buys, convenient cosmetics and the like; I now make my own laundry detergent in bulk instead of using up $8.00 Tide boxes, and try to finish my plate (or have Mr. M finish it for me). I sometimes tell Mr. M I'm a Native American and I use all the parts of the buffalo.
We did have bison steaks and brussels sprouts for dinner last night, but that is not the buffalo I speak of.
This buffalo is actually the chicken. Weird, right? The eight pounds of chicken I shredded was definitely useful and affordable, but a good half of that weight is bone. Rather than throw these away, I made my own chicken stock.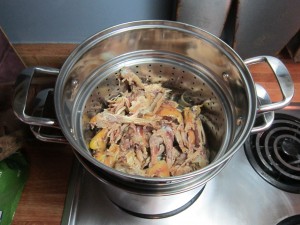 It looks like the remains of a cannibalistic feast, I know. But I use so much chicken broth and stock in soups, it is definitely worthwhile to utilize the bones, along with the celery, onions and carrots I have in abundance, to make my own. All it had to do was simmer two hours while I worked on everything else.
Maximize the buffalo!! Let no part go unused!
At the end of four hours, here is what my freezer looked like: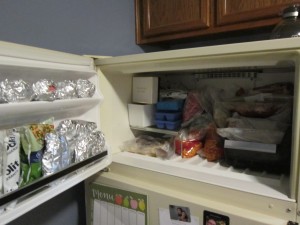 You don't need a chest freezer to make this work!
Inside are:
9 Dinners: 7 will feed us twice; therefore this is 16 meals
10 Lunches: 5 chicken salad and 5 deli wraps (at least – I prep all the deli items ahead of time and put them in tupperwares)
14 Breakfasts for Mr. M: breakfast sandwiches
14 Breakfasts for Me: yogurt and berries, eggs and toast
Extra ingredients I froze: 3 red/green peppers; 15 cups of beans; 12 cups of chicken stock and 5 cups of shredded chicken
All of this, plus the items I put in my pantry (buttermilk, flour, etc.), for $85. I only spent $70 on the above! Below is a breakdown of each meal's cost.
Breakfast sandwiches: $0.50 each
Chicken Salad w/Cranberries & Walnuts: $0.85 per serving
Chicken Stock: $0.33 per cup
Shredded Chicken: $1.38/5 cups
Thai Chicken: $0.97 per serving
Bean Stew: $0.90 per meal/$0.15 per serving
Tortilla Soup: $0.87 per serving
Sausage and Bean Dish: $0.92 per serving
Pork Loin and Veggies: $1.27 per serving
Chicken Taco Soup: $1.48 per serving
Creamy Farmhouse Stew: $1.24 per serving
Crispy Baked Chicken: $0.62 per serving
Chicken Apple Quesadillas: $0.55 per serving
7. Put Your Meals on the Calendar
Whew!
Now you can sit down with your calendar and decide where you want these meals to go.
With two of us, I find it best to put a crockpot meal every other day, and eat the leftovers the day after the crockpot day. Leftovers are an essential part of savings money. If you don't like left overs or eat out a lot, your bill will skyrocket! Most crockpot meals heat up very well the next day. Since I have a microwave at work, I typically take the dinner leftovers and make Mr. M a wrap or, this week, chicken salad since he is on the road a lot. Either way we are using all our food and keeping to budget!
Most of the meals above feed four people, sometimes 5-6. I'll be using one of them for company this Friday!
Every effort you make to 'bring your food from afar' is a blessing to your family and honoring to God. We are all a project of Proverbs 31!
For more details on shopping, meal planning, and involving your family's preferences in your meal plan, check out the Grocery Shopping on a Budget Series: