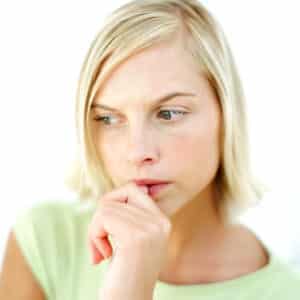 "So… I like someone."
The email in my inbox encapsulated the glorious confusion of first feelings.
Waiting for him to talk to you at church.
Hoping he glances your way.
Wishing you could find an excuse to say something.
She wrote out the rollercoaster she was living, wondering how she should handle it – IF she should handle it. Ladies don't pursue men, but are they allowed to show their interest? "All this to say," The email concluded. "I'm really confused because what am I supposed to do now?"
I think all of us can identify with this feeling. At some point or another we have felt the thrill of admiring that particular boy or man, whether he turned out to be our husband or just a temporary interest. But we're in conflict: we may like him, but there's nothing a godly woman can do about it. To pursue a man is to usurp his place as the leader in the relationship. But to stand afar off with no interaction gives us no hope of discovering IF he is interested at all! What a dilemma!
I thought and prayed for a day before I replied the email. I thought about my own wasted time on passing crushes, but also about the love that surprised me when I met Mr. M. How does one approach this sensitive issue?
"For where envy and self seeking exist, confusion and every evil thing are there. But the wisdom that is from above is first pure, then peacable, gentle, willing to yield, full of mercy and good fruits, without partiality and without hypocrisy." (Jas. 3:16-17)
Based on what we know from God's Word, we need wisdom in confusing circumstances. James lays out what real wisdom looks like, and it's not the insight of friends or magazines. This wisdom is:
Pure of mind
Wanting the best for everyone involved
Gentle, not abrasive
Willing to give her hopes to God
Full of mercy and good works – actively giving to others
Not partial to one person over others
Not judging others out of jealousy
 We have the standard laid out for us. So what do you do when you like a man in a special way?
1. Do your best NOT to 'like' him.
I know – it sounds ridiculous. You must let him go, not imagine anything with or about him, and not overthink what he says or does. This sounds like a high order! Instead, direct your energies to praying about him every day and then pray for your future husband, wherever HE is. Because very likely they aren't the same man!
The reason we need to not like these gents is because we aren't going to be ourselves in this current state of mind. When we are able to let him go – even be content with him liking another girl – only then can we be in a place allowing us to be his friend without being nervous. He will see the real 'you' and can act on it if he chooses.
2. Set him free and focus.
It's not fun to think about relinquishing our perceived control, but it's very freeing once you get to this point. I have found that to make that mental shift from 'liking' someone to 'setting him free' I had to find something else with which to consume my mind.
This was why I poured myself into studying how to manage a home and advance in my career.  Instead of focusing on liking him or when you'll see him next, think about who you want to be when you marry your husband. Then make a list of what you  need to do to get there.
 
My own list still exists and changes. It used to be stuff like learn to cook, manage money, save X amount, etc. Now it is a list of things that help Josh and I in our relationship:
– Honor his requests
– Dress modestly to protect him
– Memorize a verse a week
– Be on time for him
– Fast social media and time wasters
When we focus your mind on things that will make us a good woman, worker, and wife someday, we're preparing for WHOEVER God brings, and won't be disappointed when the guy we set our sights on doesn't turn our way.
The more we focus on cultivating skills, the more ready we will be when God DOES bless us.
3. Invest your talents.
"For it will be like a man going on a journey, who called his servants and entrusted to them his property.  To one he gave five talents, to another two, to another one, to each according to his ability. Then he went away.  He who had received the five talents went at once and traded with them, and he made five talents more.  So also he who had the two talents made two talents more.  But he who had received the one talent went and dug in the ground and hid his master's money.  Now after a long time the master of those servants came and settled accounts with them… And he also who had the two talents came forward, saying, 'Master, you delivered to me two talents; here I have made two talents more.'  His master said to him, 'Well done, good and faithful servant. You have been faithful over a little; I will set you over much. Enter into the joy of your master.'  He also who had received the one talent came forward, saying, 'Master, I knew you to be a hard man…  so I was afraid, and I went and hid your talent in the ground. Here you have what is yours.' 26 But his master answered him, 'You wicked and slothful servant!… you ought to have invested my money with the bankers, and at my coming I should have received what was my own with interest." (Matt. 25:14-27)
This parable is a sobering one because it illustrates what many women do with their hearts. I've seen many a young woman wonder why she can't get a quality guy or even get asked on a date, when she has little to nothing to offer a good man in the way of character or skill. It's a sad burial of worthy talent.
Are you burying your talents because you're afraid? Are you afraid of pursuing your dreams because you want a boyfriend so badly? Are you planning your life around a man? This is idolatry, girls, and I know it well. We work for one Man and one only: Jesus Christ. Lucky for us – He's perfect!
You can bury your talents under a crush or you can put them to work, and when the Master comes he will see them and reward you. Someday your husband will praise you for your work and investment. Let your future husband find you busy, and you'll be happier! You won't be waiting for the next time you see a guy you like, or disappointed when he's not interested.  You will be adding skill upon skill that puts you in high demand.
Guys do notice when a girl can do things, and they do think about what they ultimately want in a wife.  It's our job to make sure that when they look, they find it in us!
4. Act quickly and consistently.
Back to the list: my action item after you read this post, if you're a girl with a crush and some confusion, is to make a list for yourself. Ask:
Who do I want to be as a wife or girlfriend someday?
What skills should you have? What service should you be doing? What does quiet time look like? How would you support this man?
A woman who wants a relationship for the sake of a relationship is a leech.
WOW Phylicia – that was harsh!
But it's true. If we as ladies don't have anything to offer a man all we are doing is sucking energy, money and time with no worthy return. Any godly man would be well served to break up with us in such a state. Good news – you don't have to be that way!
Ask yourself: What do I need to do NOW to be the woman I want to be THEN?
This incorporates the social, mental, physical and spiritual aspects of your being. For instance:
– I want to be able to entertain guests with a clean house, pleasing menu, and flexible personality.
– I want to read more books and watch less TV.
– I want to have a consistent half-hour quiet time each day.
Finally, your role as future wife and mother is your highest calling and requires the most preparation. Anyone can be trained to work a job. Anyone can go to college and get a degree. When we are developing feelings for a man, we must then develop the skills to support the feelings, or we aren't worth his time.
Your husband, in most cases, will not be affected by what you do in the workplace. The only way he is affected by your work is first, your paycheck, and second, your attitude when you get home. As young career women we must keep in mind that work is not all there is to life. This is why I stress the home so much in my posts! Work is 8-5. Home is eternal.
Make goals and be consistent! Change your goals to fit the life you live. Pray about it, of course. When you marry you are making the singlemost life-altering decision of your time on earth – want to have good options? BE a good option! You can do it! God made you with so much potential as His beautiful woman.
In conclusion,  I understand the feelings completely. I do! I've been there, and even botched it up – but you don't have to do that. It's good to have feelings – it's a wonderful thing and God made it. But like all good things, they have the potential for evil when we idolize them instead of using them to push us to God and His role for us to fill.
You can still like to see him, ladies. You can look forward to it, enjoy your conversations, and hope for a date! Just use it as incentive to become a woman worthy of a man like him.
"Rise up and be virtuous, for today is the day of the Lord's favor!" Prov. 30:10 and Psalm 84:11.