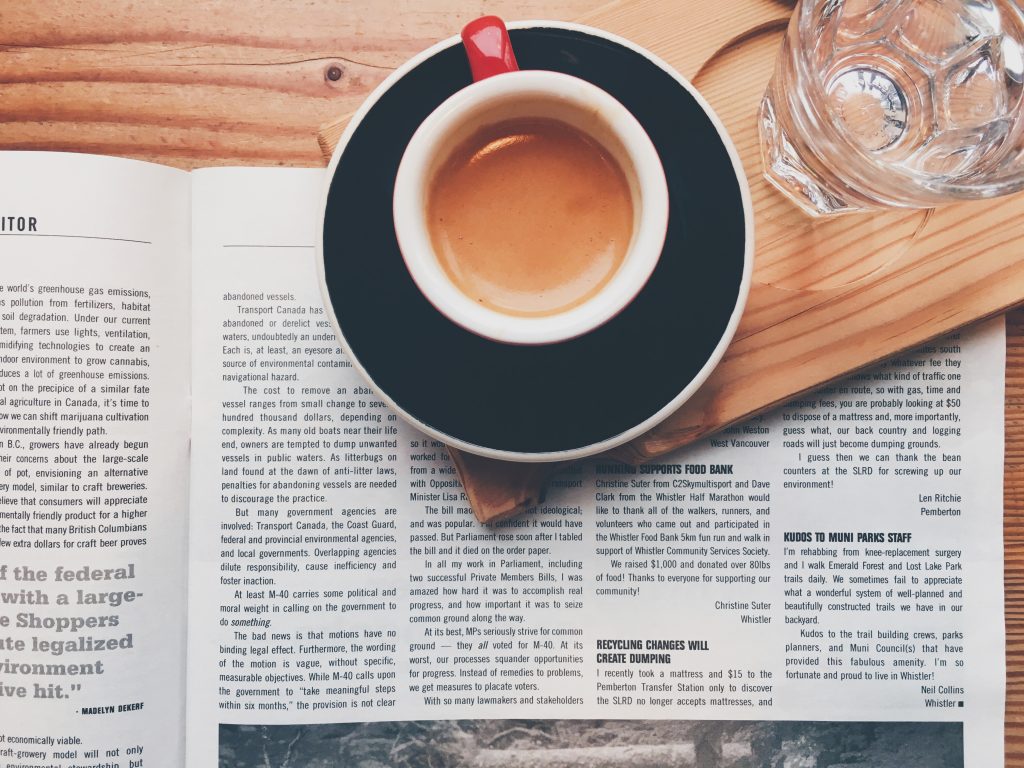 "But there is always a November space after the leaves have fallen when she felt it was almost indecent to intrude on the woods…for their glory terrestrial had departed and their glory celestial of spirit and purity and whiteness had not yet come upon them." (L.M. Montgomery)
November is upon us – November! Wasn't June just yesterday? In typical northern Michigan fashion, we're already covered with a blanket of snow. And since Thanksgiving is my favorite holiday, I'm utilizing pumpkin in as many recipes as possible (such as my favorite pumpkin baked oatmeal and vegan pumpkin scones).
A few weeks ago I asked my Facebook friends and Instagram gang if a "family update and favorite things" post would be of interest. The answer was a resounding YES, so each month I'll share a post like this documenting what we're doing, my favorite products, services, and little loves, and how I'm overcoming my daily challenges.
This post contains Amazon affiliate links. These are for products I already own and love, and if you use the link to buy something, it gives me a small percentage at no extra cost to you. This helps me keep the blog running and provide for our little fam!
As I write this, I'm three weeks postpartum with Geneva Anne (birth story and pictures coming soon – I promise!). We're getting back into a routine and I'm starting to feel like myself again; Josh returned to work when I was 5 days postpartum and was gone on business most of the next week, so the third week has been the most "normal" one so far.
There's a lot I'm loving this November, but following are the highlights!
a better postpartum experience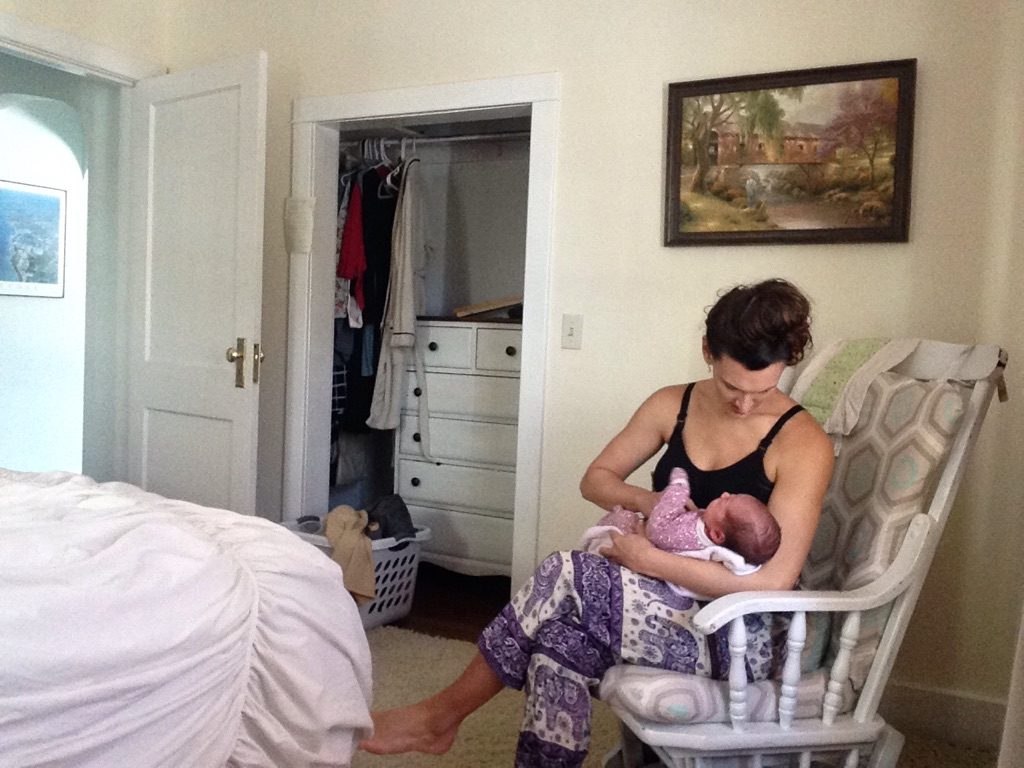 When Adeline was born two years ago, we had just moved (five days prior) from Virginia to Pennsylvania. Our new apartment had no air conditioning, it was 90 degrees, I'd met my midwife only two weeks prior (due to the sudden move) and went into labor at 37 weeks and five days when my water broke at 2 AM. Adeline was born seven hours later. While her birth was wonderful, my postpartum experience was not. Three days after she was born, I broke out in a blistering rash all over my body. My midwife had no idea what it was. I was told I could treat it with steroids, but was uncomfortable doing so while breastfeeding (which was also going horribly, due to low supply and a lethargic, early baby). So for eight weeks I suffered through inconsolable itching, yellow blisters, and the humid heat of Lancaster County.
It took eight months and an attentive doctor to help diagnose my condition: Pemphigoid gestationis, an autoimmune condition in which the body attacks itself through the skin. It can lead to preterm labor when the body attacks the placenta as well. Women with pemphigoid gestationis have a high likelihood of its return with every pregnancy. It also returns for each menstrual cycle, though in less extreme form.
So when I got pregnant with Geneva, one of my biggest concerns was the onset of this condition. In my eighth month the itching began to return – but this time, it never led to a full break out! At three weeks postpartum I still have not experienced even a hint of the full rash. There are several things I did to prevent it, with the guidance of my new midwives:
Completely changed my diet. During my pregnancy with Adeline, I ate dairy, gluten, lots of refined carbs, and sugar. After I had her, Josh and I switched to the Trim Healthy Mama/Paleo lifestyle, which we've been eating for two years now. Because pemphigoid gestationis is an autoimmune condition, THM/Paleo is one of the best ways to battle it. I eat little to no dairy, very little gluten, and almost no sugar. We also concentrate on protein and a Whole30-esque dinner plan.
Took milk thistle and dandelion root. My midwife recommended the milk thistle for my liver function, and I found a pemphigoid support group where I learned many home birth mamas like myself were taking dandelion root for the itching. I took both for the last 6-8 weeks of my pregnancy. I saw a significant difference if I went even an hour past the time I was due to take the herb capsules – my itching would immediately increase.
Nutritional accountability. I shared in my posts on what I did differently this pregnancy that my midwives had me keep food journals and count my proteins (80-100 grams a day). This not only transformed my weight gain (25 lbs this pregnancy, versus 50 lbs with Adeline, and at three weeks pp I am 2 lbs from pre-pregnancy weight), I know it helped keep my condition at bay.
some other postpartum favorites
The biggest thing I'm grateful for this time around? Having family nearby! My mom has helped SO much with Adeline, and my sister (our birth photographer) lived with us for 2-3 weeks as I waited around through prodromal labor.
There are a few other things I'm glad I discovered this time around, particularly when it comes to wardrobe:
These nursing tanktops from Amazon and these boho harem pants from One Tribe Apparel: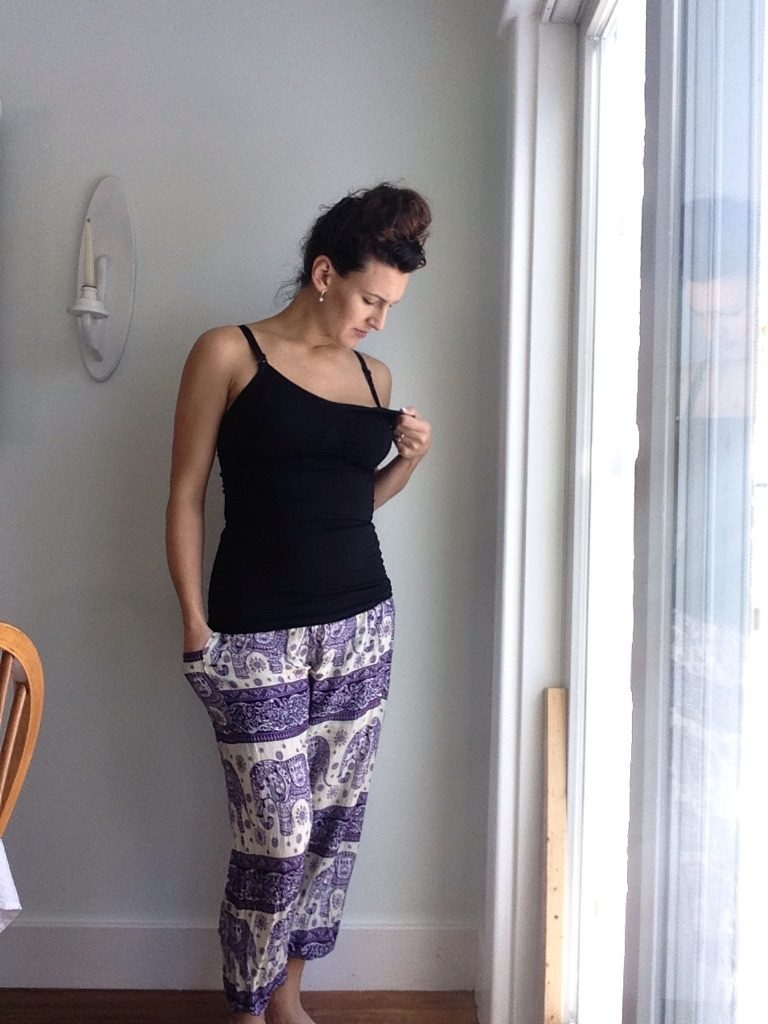 I also love the boho kimonos from One Tribe Apparel – they are great for over leggings and tanktops when I'm hanging out at home, and could easily be dressed up with boots and a belt: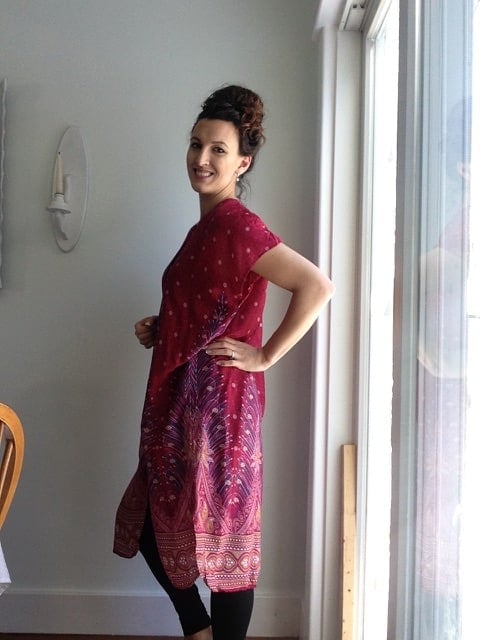 I've also gotten lots of compliments on the dress I wore for Geneva's dedication. This was an Amazon find! I wanted a comfortable, classy dress that still allowed me to nurse Geneva. This one was just perfect: Stretchy, knee length, long sleeve, with a flattering cut. Get it here!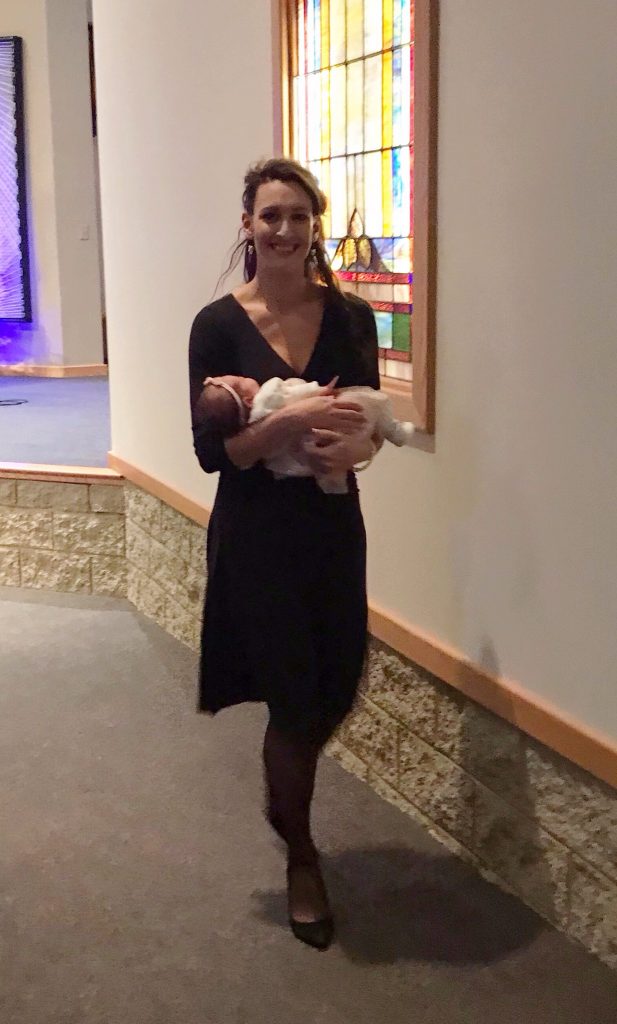 a better breastfeeding experience
I wouldn't go so far as to say I'm "loving" breastfeeding. It's just not something I enjoy. But it's good for Geneva, and I'm giving it a go again, despite how much I dislike it. So far my supply has not suffered at all (probably due to improved diet!) and I have not experienced any of the pain I had last time (other than cramping the first three days – HOLY MOLY second baby cramps are NO JOKE).
A few things I AM loving with this nursing experience: This nursing cover/car seat-to-cart-seat cover.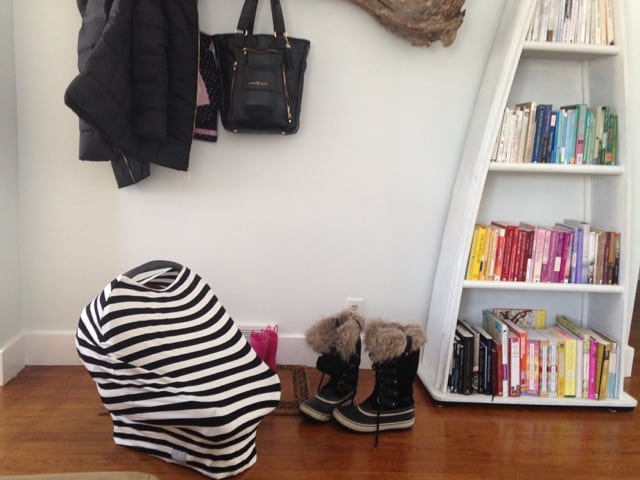 I also adore my Vilah Bloom Cafe Crossover diaper bag (hanging on the coat rack). This diaper bag has FOUR ways to carry it: Crossbody, over arm, as a backpack, or strapped to your stroller. The front zippers even lead to a refrigeration pocket for transporting breastmilk! I used it just the other day when assisting with a women's event at church. I didn't have time to nurse Geneva, so gave her a bottle instead. This diaper bag is truly a lifesaver, especially now that I have two kiddos. If you buy through their site, use my code BLOOMER006 to let them know I sent you!
(Since I might get asked, my boots are Sorel brand, Joan of Arctic edition, I think. Perfect for our frigid northern temps).
I have started loosely structuring Geneva's feeding times as we prepare to sleep train in a few weeks (I use BabyWise for this). Right now, she's still napping in her bassinet and either co-sleeping with us at night or sleeping in her bassinet next to our bed. These postpartum hormones are no joke and it gets a little warm sleeping with a baby, so I love Bluebird Linen sheets for this season. We have the queen size white six piece set, which we rotate with another set of white sheets (every Monday I wash sheets and switch them out). Bluebird's are definitely the favorite!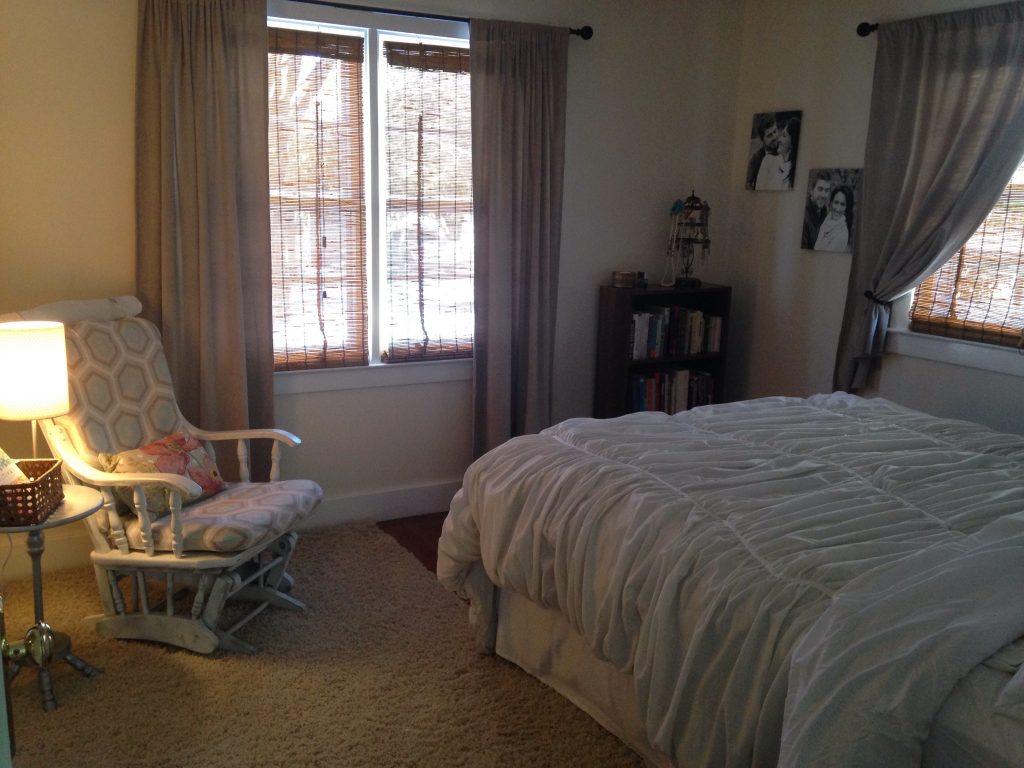 Since Geneva was born at home, the corner of our room was filled with the birthing tub for the last six weeks. After returning it to my midwife, I set up a comfy nursing corner with everything I need for late night feedings. Eventually this will get moved to the nursery, once we transition Eva to join Adeline in there.
My nursing basket has a few things I use for feeding times: the iPad, some books I'm reading, burp cloths, lanolin, granola bars, gripe water (for baby's gas) and my water bottle.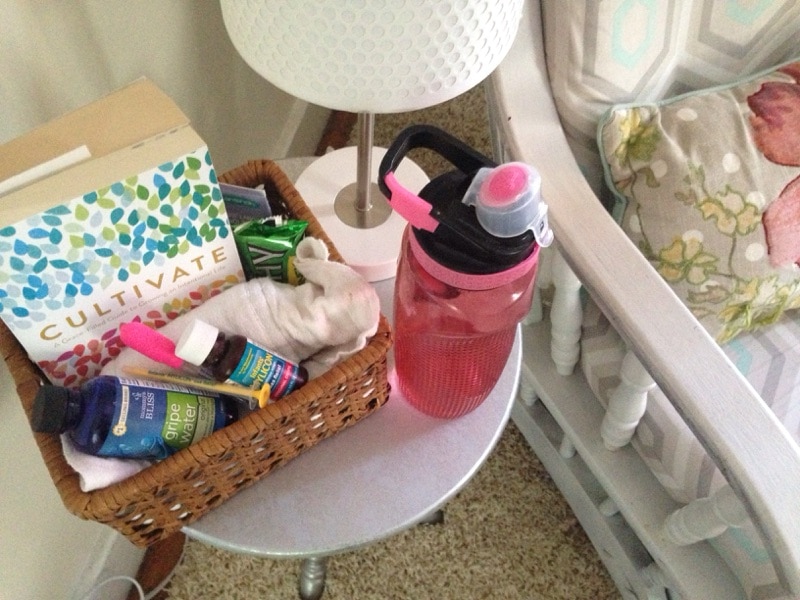 some pretty awesome books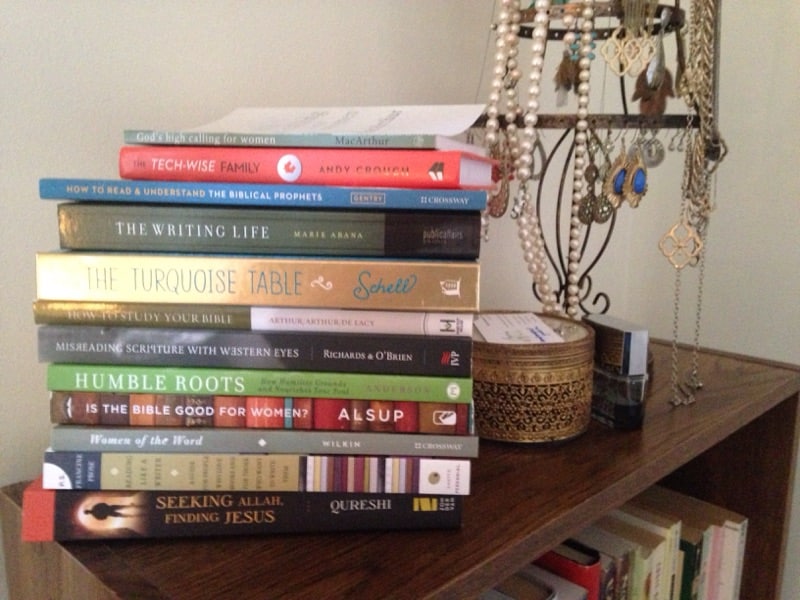 Before Eva was born, I bought a massive list of books I'd been wanting. Tomorrow I'll be sharing the complete postpartum reading list, but right now I'm only reading five:
And Then I Had Kids by Susan Yates
BabyWise: Giving Your Baby the Gift of Nighttime Sleep (re-read)
Reading People by Anne Bogel
Cultivate by Lara Casey
Dawn of a Thousand Nights by Tricia Goyer
my handy food tracker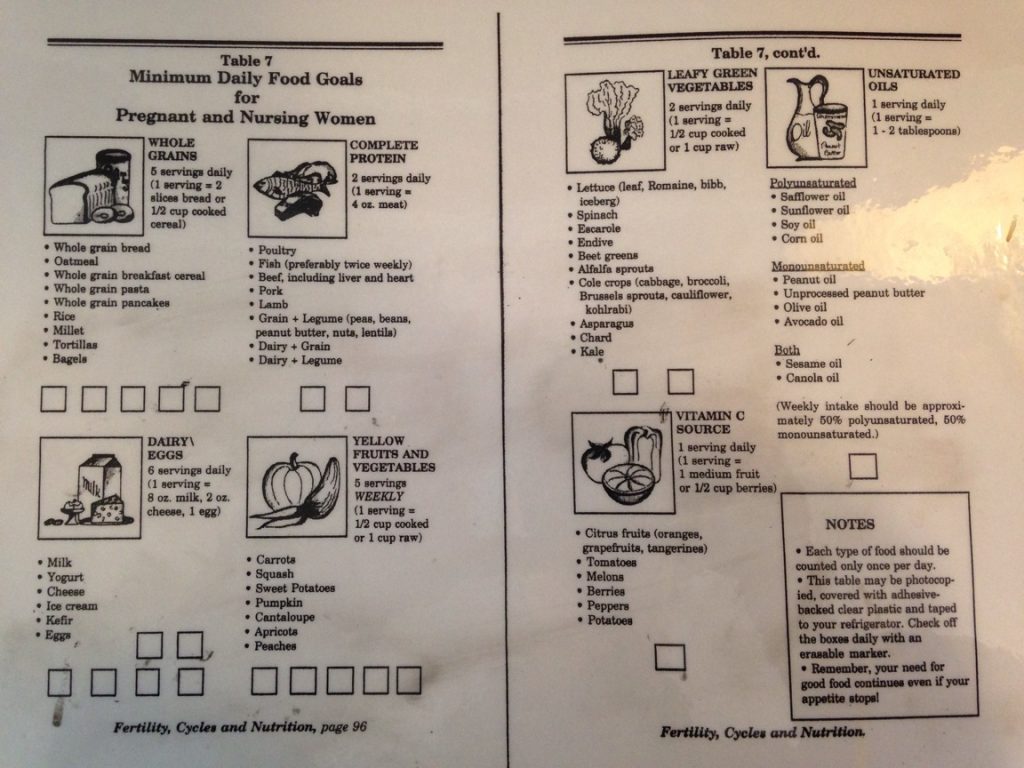 One of the TOP questions I receive on Instagram is "Where did you get your food tracking sheets?" I have two sheets pinned to my fridge: One detailing the protein counts for common foods, and a chart of recommended daily food intake for pregnant and nursing women, which I check off throughout the day.
I finally asked my midwife if there was an online file she could send me, and unfortunately there isn't – but I DID take photos of the charts and make them into a downloadable file just for you! Click below to download!
my toddler activity schedule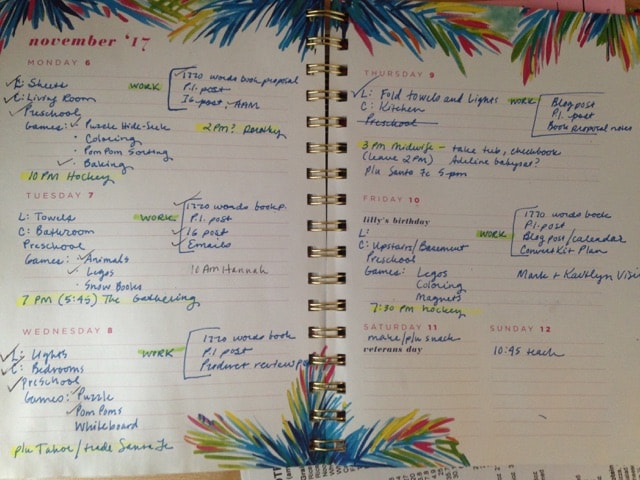 I shared on my Instagram stories how I schedule out my day as I'm transitioning to two girls instead of one. One big help has been adding a toddler activity schedule to my day. Just as I schedule the laundry and cleaning for each day, as well as the work tasks I plan to complete, I've added in 3-4 activity options to do after preschool with Adeline.
She also has an activity drawer she can access herself, but by intentionally spending time on these activities with her she gets the attention she needs with the new baby joining our family. A few activities we do:
Legos
Puzzle hide and seek
Sorting pom poms
Drawing on chalkboard or whiteboard
Coloring
Playdough
Reading books about winter and snow
Next week I'll share a list of Advent toddler activities for December.
this physical touch marriage course
I've been following Cassie Celestain of True Agape for about a year now. Her posts on having a physical touch (of the Five Love Languages) spouse have been very helpful to me. Josh's primary language is physical touch, which has been a big struggle for me since physical touch makes me extremely uncomfortable.
So when Cassie launched a short e-course on loving your physical touch spouse – "Getting Physical" – I immediately signed up. It's been enlightening and helpful to me as I analyze why I struggle with this and how I can meet Josh's needs, especially in the tough season of having a newborn.
Tune in next month for my favorites for December! I hope you find a few things here that YOU can use for your own life and family.