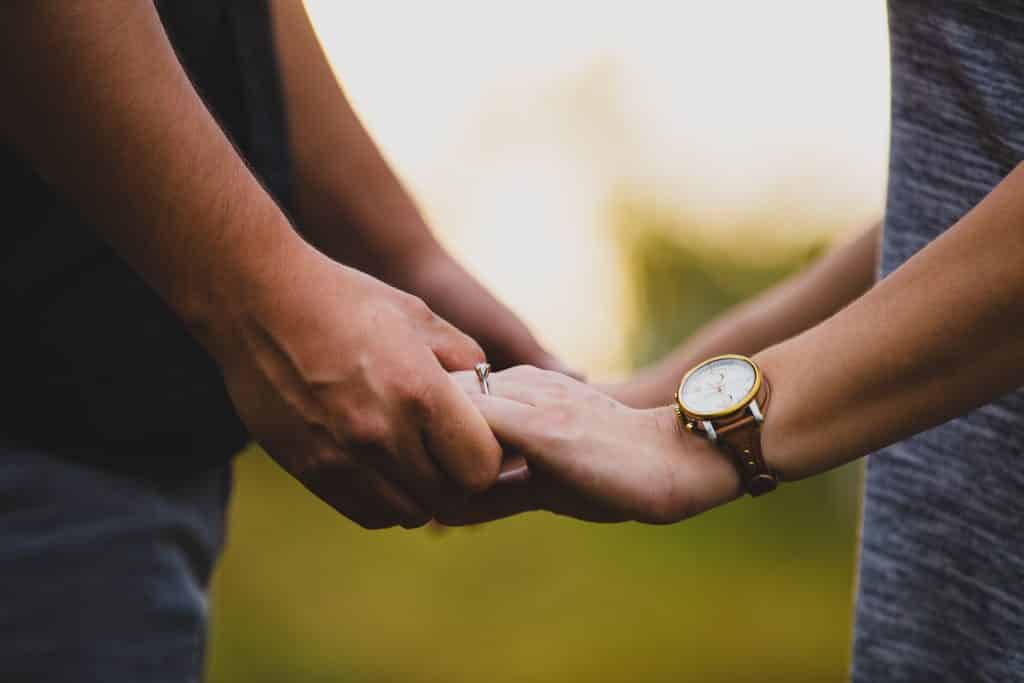 If you're one of the many young wives in my blog community, this is for you! The first two years of marriage are a season of incredible transition. Young wives sometimes struggle to communicate with their new husband, to understand their own emotions, and to navigate the new waters of home management and intimacy.
Even if you're getting married soon, instead of already in the throes of early marriage, you might need encouragement in what to expect. No matter what stage of engagement or marriage you're in, there is always something new around the bend. And as I often say, we don't know what our marriages will demand from us until we're in them – so we should prepare our hearts and minds as much as possible!
Following are ten posts on engagement and marriage to help you navigate wedding decisions, conflict management, anger, and appreciation for your spouse – all original to this blog! Click the title of each post to read it.
"Too often, Christian girls use the future as a way to numb the present. They deal with anxiety and stress not by going to Christ, but by retreating into the recesses of their minds. The scenarios played out in their heads may seem harmless, but in reality cause significant emotional and spiritual damage. "
"From the outside, we're your run-of-the-mill happy, Christian couple. But the secret to our "happy Christian marriage" isn't more sex or less TV or weekly dates. On my side, at least, the secret to making marriage work is respecting a man I don't always find respectable."
"I'm bothered by both the Christian and feminist approach to this issue. For the Christians, it is imperative in this culture to know more than the face value of Ephesians 5 and Colossians 3. And for the feminists – until you also understand what is meant by the Christian stance on marriage and submission, your arguments against it will be fallacious and flawed."
"Hey babe!" He smiled and kissed me on the cheek. He started taking off his boots, those beat-up, brown things worn down from three different jobs in three different states, 20-hour days, 8-hour drives, blizzards and mudpits. And I stood there in my pretty house in my pretty clothes holding the thing he'd dropped on my immaculate floor, humiliated by my own anger.
Because I am an angry wife."
"He would be happier with her, I thought. He would be better off.
Always there, the silent witness to my marriage; a quiet presence to my pain. Hers was a face I knew as well as my own, though I'd never seen her. Hers was the voice in my head and in my heart, telling me I was never enough: never fun enough, never compassionate enough, never – her."
"It might seem like a small request, and I guess it is. It's just another thing for his ever-increasing list: talk to our mortgage broker, fix the dryer's heating element, find out why the dryer we just sold isn't working, put a new engine in the car. Physically put a new engine in the car.
His life is taken up with us. He works, comes home, and works more. And I ask him to untangle necklaces."
"Whether you're dating or newly married, pursuing God together is the surest way to build a strong relationship foundation. If you're dating, spending time in God's Word as a couple will strengthen your resolve for purity. If you're married, regular devotional times will transform your attitudes toward one another. It's no wonder the Enemy targets couples with distraction and busyness every time they sit down to pray!"
"This topic couldn't be contained in ten minutes! Today we're tackling how to move from singleness to marriage. We discuss five areas that will help you learn to share your life with your man. Listen and subscribe in iTunes and Stitcher to never miss an episode!"
"They tell you the rose-colored glasses come off.  And the newness you feel now – that excitement of standing on the brink – it will unfold into the new-old of day to day, still novel, yet normal. Don't let it go. Don't let go of the newness when the days age, and they will. Normal can swiftly become mundane for those who lose their grasp on the adventure of it all."
"I'm not a virgin."
The day my husband confessed his sexual history to me, I sat quietly as he told me the truth. I wasn't shocked. But I knew that – going forward – we'd need to work on our relationship in ways others would not."
Let me know which were your favorites!