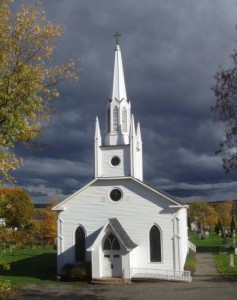 So let me get this straight:
It's not okay for me to not desire a tattoo or to dye my hair a wild color.
It has been loudly declared that I am crazy to suggest yoga pants could cause men to lust and Christian women should take some responsibility for how they dress themselves.
I would be judgmental to refrain from 'liking' your suggestive selfies and advising young girls to find their identity via better avenues.
I am inhibiting for supporting women who choose to stay at home with their kids, or even choose to teach them at home.
It's arrogant of me to have high standards for living – standards in which I don't drink extensively, smoke, or party late into the night.
And it's intolerant of me to believe in a God who lives and desires a relationship with people.
It's very interesting, your opinion of me, considering you know nothing about me.
The truth is, you don't want to know. You simply want to argue against my 'Christian fundamentalism'.
Let me explain a few things about Christian 'fundamentalism'. You see, Christian fundamentalism is a straw man: that's right, it's fake. It's a burning effigy hung from the gibbet of public opinion. My guess is you probably don't know many Christians in real life – you know, life outside the computer screen. You've been in chat rooms and blogs long enough to think what you've seen there is Christianity. I have good news: you're wrong.
You talk about love a lot. Love is very important to you; it's important to all of us. Did you know the Christian faith is founded on love?  The central idea of Christianity is a loving God who made people so he could have a relationship with them. When they despised that relationship, he came again in love to make a way for them to once again communicate with him. He then commanded all his followers to show love to mankind. That's his ideal.
"But love your enemies, do good to them, and lend to them without expecting to get anything back. Then your reward will be great, and you will be sons of the Most High, because he is kind to the ungrateful and wicked." (Luke 6:35)
Now, some of his followers don't act this out the way he commanded. None of us are perfect – that includes me, and it includes you. In fact, I'm commanded to love you while you demean me and my beliefs. But love does not necessitate blind acceptance. Love and truth are not mutually exclusive.
You talk about respect a lot. You want women to be respected by their coworkers and the men around them. You want minorities to be respected in their cultures. You want children to be respected by their schoolmates. Did you know the Christian faith is built on respect? Another command we are to follow is to show honor to those around us, even when we disagree. In fact we are called to show respect to those who don't even deserve it. That includes you, when you demean me, my fiance', and my beliefs. I still have to respect you, because that is what God calls me to do – respect the disrespectful.
"Love one another with brotherly affection. Outdo one another in showing honor." (Romans 12:10)
You talk about freedom a lot. Because I abide by standards of behavior different from yours, you say I am inhibiting, limiting, and legalistic. Did you know the Christian faith begins and ends with freedom?
"Now the Lord is the Spirit, and where the Spirit of the Lord is, there is freedom." (2 Cor. 3:17)
But our kind of freedom isn't your kind of freedom. Our kind of freedom isn't about doing what we want. It's a freedom to leave our selfish desires behind and discover ways to serve the people around us. The more we separate ourselves from the things that inhibit our ability to serve – things like drunkenness, drugs, partying, dressing provocatively, cursing and consuming dirty movies or books or pictures – the more free we are to show people the love and respect we experience through our faith. That's why we do what we do.
"For you were called to freedom, brothers. Only do not use your freedom as an opportunity for the flesh, but through love serve one another.  For the whole law is fulfilled in one word: "You shall love your neighbor as yourself." (Gal. 5:13-14)
The Christian 'fundamentalism' you hate, my friend, isn't even real. The fundamentals of Christianity are what I have laid out for you: love, respect, and freedom. Do you know how I know that?
Because our God is about love, respect, and freedom. If I claim to follow him, I must be about that same business.
Certainly there have been so-called Christians who have failed in these areas, but that does not give you a right to turn me on a spit over the fire of your animosity. I could do the same to you, if I chose: I could list the thousands of offenders in the worlds of socialism, communism, liberalism, and feminism. I could rip apart the tenets of your own beliefs and mock you the way you've mocked me. But I don't.
The truth is, I don't care if you have a tattoo or if your hair is pink. I've even seen some pretty good looking tattoos.
If you choose to drink, smoke, and party like it's 1999, that is your choice. I don't think it's a wise choice, and I'm not going to join you. My views on modesty, self respect, family and faith are obviously different from yours. Thus, this is where you have the opportunity to practice the same tolerance you demand of me.
Do you know what tolerance is? It is allowing ' the existence, occurrence, or practice of (something that one does not necessarily like or agree with) without interference.'  That's according to the dictionary, not Hillary Clinton.
You seem to believe you have a monopoly on opinion, my friend. In truth, every comment you make to demean my views is judgmental. Every effort you make to silence me is inhibiting. And every time you assault my views as subpar, stupid, or primordial, you are intolerant.
You can dislike what I stand for, but you cannot stop me from living out those standards.
But you know what? I don't think it's really me you hate. I think you have this fear, way down inside, that just maybe the God I talk to every day, whose standards I try to live by – maybe he's real. And if he's real, you want him to tolerate you with all your secrets; the good and the bad. You want a God you can manage, and this God I talk about – he's bigger than that. And you don't like it.  So you don't like me.
So since you're already tired of me, let me get this straight for you: God doesn't 'tolerate'. He's an interfering God. His love will interfere into your life and will change how you think, how you live, how you behave – and you'll find yourself knowing the real meaning of respect and a more lasting kind of freedom. You might fight it at first; I did. But when you accept a relationship with the God who made you, you begin to understand true life.
This is not the kind of life that is about hair and tattoos and parties and Instagram; instead, it's a life legacy, leaving behind more than loud opinions about menial things. When I talk about my standards, you're seeing the tip of an iceberg: just the actions I do out of a heart of faith. I'm not out to pull yoga pants from every woman's closet; I simply choose modesty to reflect my heart's desire to show love to my husband and respect to my peers. And I'm free to do that., and free to encourage other women toward the same level of self-respect and corporate honor.
So before you attack my 'Christian fundamentalism' again, my friend, remember what those three fundamentals really are.
If you have a problem with love, respect, and freedom, fire away.