I must have woken up at 7 AM by accident, which was strange considering Mr. M and I had been up late the night before watching The Count of Monte Cristo (a desperate attempt to finish all seven hours of French subtitled drama before I had to take it back to the library). I bounced out of bed and made my list for the day.
Any working woman or mom of multiple children knows the glory of the crockpot. The 'fix it and forget it' method is my favorite not because I don't like to cook – I love it – but because at the end of the day, the hour it takes to prep, cook, and serve a meal could be spent with Mr. M. I'm always thinking about how to save time and money when it comes to meals, but I am unwilling to sacrifice creativity and taste in the process (i.e., I'd rather not eat beans and potatoes every day).
Proverbs 31:14-15 says, "She is like the merchant ships, bringing her food from afar; She rises while it is still night and provides food for her household and portions for her maidens."
The Proverbs 31 woman worked hard to feed her household. Sometimes we have to travel further, look harder, and plan more to find the best deals. We also have to take time to prepare meals, not just buy on a whim (which is ALWAYS more expensive).  One thing to remember is that convenience always costs more. By utilizing your own labor to save money, you are essentially paying yourself!
There are lot of other ladies out there who want to spend more time with their families or friends but don't want to break the bank. They also know that come 6 PM, husband and babies are asking about dinner. So what do you do? Cook for the crockpot, and put it in the freezer! Below are the steps I take to feed our family of two. This post, Part One, will discuss shopping strategies much like the ones in the Grocery Shopping Series.
Set Your Budget
My budget for one month of groceries is $170 a month, or $85 per two weeks. My goal is to eventually lower this amount to $150 or less. So first: establish your budget, and withdraw that amount in cash. This is important because when the cash runs out – you're done!
This trip, I had not yet withdrawn cash, so I gave myself the $85 limit and kept my receipts to track my progress. If you are just starting out, try to stick with cash.
Choose Your Stores
Here in Virginia, common grocery store chains are Kroger, Food Lion, and Martin's. I have a Kroger card that gets me a gas discount, but Kroger tends to be more expensive than Walmart or the AMAZING stores I'm going to talk about in a minute. So what store do I use?
I use three. Sometimes four!
I'm an environmental shopper (I don't like shopping in dirty, loud, or crowded places) which works to my detriment, because I hate Walmart and love Kroger. Kroger does treat its customers very well, but overall the bill at Kroger will always be most expensive. So I use Kroger, with coupons, for my 'fill in the blanks' items. Apple cider vinegar, onions, zucchini, celery – these are all items I use weekly and are priced well at Kroger.
For the bulk of my groceries, especially meat, I use discount grocery stores like Aldi or Sharp Shopper. You can also go to Big Lots (you won't find meat or produce there) or another discount store in your area.
Problem: The nearest Aldi to me is 1.5 hours away, and the nearest Sharp Shopper is about an hour away. What do I do? Once or twice a month I leave Mr. M with his buddies and drive to one of these locations, cash in hand, to buy the majority of our groceries. At Aldi a package of deli meat that would be $2.99 at Kroger could be $1.99 or less. Beef, chicken, and fish are priced so well it is worth the gas money!
This trip, I went to Sharp Shopper in Waynesboro and the Amish Cheese Shop (which sells dry goods) in Stuarts Draft, then came back to Lynchburg and picked up the rest of my items (the cheap ones) at Kroger. Three stores, and I spent $85 – only $70 of which I used for the 44 meals!
Choose Coupons (Optional)
Extreme Couponing has given coupons a bad rap, in my mind, but used correctly they are very helpful. The key is to fit the coupons into your list, not make your list around the coupons. If Nature Valley granola bars have a coupon for buy two get one free, and they are STILL more expensive than the off brand, you aren't benefiting by using the coupon.
If the store(s) you are visiting have a flyer – Kroger's is in the Sunday paper along with RedPlum, SmartSource and other coupon flyers – check out what is currently on sale. This is what you want to build your list around (don't cook with salmon if it's not on sale and a rump roast is).
Aldi and Sharp Shopper have a lot of off-brand items, and since they are a discount store they don't offer coupons of their own (to my knowledge). For some items you may find a manufacturer's coupon (i.e. Kelloggs coupon for Kelloggs cereal) and be able to use that at a discount store to lower cost even more.
If you utilize coupons, check out the Krazy Coupon Lady, SmartSource, RedPlum, and Coupon.com.
Make Your Meal List
In compiling my meal list I visited this blogger and her fantastic series on crockpot freezer cooking. Her list of recipes gave me a start and I filled in with a few of my own. There are tons of freezer recipes on Pinterest that you can choose from, but also know that you can basically cook any pork loin, beef roast, or soup in a crockpot on low 6-8 hours and it will turn out like you cooked it in the oven. This gives you a freedom to make some of your favorite recipes while you're at work all day!
Here are the meals I chose for this trip:
Egg Breakfast Sandwiches
Chicken Salad with Cranberries and Walnuts
Thai Chicken
Bean Stew
Tortilla Soup
Sausage and Bean Dish
Pork and Veggies
Chicken Taco Soup
Creamy Farmhouse Stew
Crispy Baked Chicken
Chicken Apple Quesadillas
I also stocked my fridge for lunches with plain yogurt, blueberries and strawberries, deli meat wraps, apples and chopped celery.
Make Your Ingredient List
Once you've chosen the meals, go through each recipe and write down the ingredients (I do this so I have all the recipes in one place, on a notepad I can carry with me). If you already know what you have in your kitchen, you can start making your shopping list simultaneously by writing down the items you know you have to buy. Remember: the off brand is often just as good as the marketed brands. Don't be deceived!
Allergies and Organics: Part of the reason Mr. M and I are able to keep our food budget low is because 1) we are not picky eaters (with the exception of egg salad, which I detest), 2) we have no food allergies, and 3) I rarely buy organic. In the summer I will buy produce from the local farm market rather than at Kroger or the discount stores, but I have never had an issue eating non-organic food from my childhood forward. If you choose to buy organic, be aware that your bill will be at least double, sometimes triple or quadruple, what other moms are paying. Do not think you have to buy organic because Ladies Home Journal says so – it is a choice you make as a family. All five of my siblings are healthy, fit and strong as well as myself and Mr. M, so we would rather save our money than shop at Fresh Market or Whole Foods. This is the same for food allergies – you may need to buy special foods that cost more. For instance, our milk bill is slightly higher because I am lactose intolerant, so I buy Lactaid. Fortunately Kroger issues monthly coupons for Lactaid, so I get I good deal!
This trip, my emphasis was on meat. I needed to stock up on chicken for many of the recipes I chose! I also use a lot of diced tomatoes, onions, and celery, and I needed more flour for baking bread.
Shop Home First
The back of the fridge and pantry are where the Lost Boys of your grocery list end up. Wasted food is the most expensive food there is! Go through your pantry with the ingredient list and double check what you already have. If you already have diced tomatoes, you don't want to buy more.
This trip I had two cans of diced tomatoes, one bag of onions, half a bunch of celery and no tomato sauce. I needed a lot of these ingredients, so I made my list after checking the back of our kitchen rolling cart (that's our pantry!) where the Lost Boys hide!
Make Your Shopping List
Five lists later, you can compile your Magnum Opus: the shopping list! It took a lot of work to get this far, but it will be worth it because your shopping list will be accurate. Don't stray from the list. I'm often tempted to grab sundried tomatoes thinking I'll make a quiche when that is NOT on my meal plan, and that's $2.49 out of my budget for the month. It's easy to view an expense like that as 'just $2.00' but it's not – that's more than a dozen eggs, one honey bear, or a 28 ounce can of tomatoes sacrificed for impulse. Stay strong!
This trip, I put my shopping list in my planner along with the meal list and ingredients so they were all on hand. I did not use any coupons for this grocery run, but typically I would have them paper clipped to the back of the list in the order of their location in the store. Then I would check them against the product as I put it in my cart, and write down the final price to keep on budget.
Head to the Store
One of the most helpful habits I've found in grocery shopping is to memorize the floor plan of the stores you use. I do this at Kroger, Aldi, and Sharp Shopper, then organize my shopping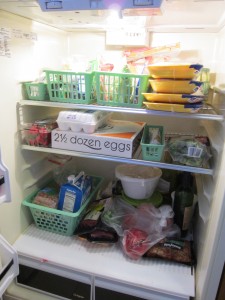 list in order of location. For example:
Frozen foods: mixed vegetables
Dairy: Lactaid, half gallon milk, sour cream, butter, plain yogurt, eggs, sharp cheddar cheese
Bread and Cereal: English muffins, soft oatmeal bread
Visiting these sections in order has me making a wide circle around the store followed by a serpentine through the aisles ending at the cash register. I can usually be in and out of the store in 30-45 minutes this way. I may run a few people over in the process, but that is beside the point.
A note to moms: It is honestly worthwhile to have your husband, mother, or a teenage girl watch your children for three to four hours in order to complete your meal shopping and preparation. You can even add the expense of a babysitter into your food budget. This is something Mr. M and I plan to do when we have children because it is worth it to us in order to keep the food budget low. I find the meal planning process relaxing and productive alone time, so asking my mother in law (who lives near Sharp Shopper) to watch our kids down the road is something I would be very willing to do.
This trip, we visited Sharp Shopper late on Saturday. It was mobbed. I prefer to shop early in the morning OR ask when they are doing mark downs – either early in the morning or late at night. The stores are empty and I can amble around at will.
Here are the results of my shopping trip(s):
From the Amish Cheese Shop-
10 lbs of whole wheat flour (not used in the 44 meals, but intended for bread): $4.30
Dry Black Beans: $1.87
Dry Kidney Beans: $1.70
Dry Pinto Beans: $1.99
Sweet Coconut Flakes (not used in the meals; stocking up): $1.92
Cheese curds (snack buy to bring the Midwesterner out of Mr.M… I may have eaten 3/4 of the container myself): $3.21
From Sharp Shopper:
10 lbs Chicken Leg Quarters/$0.69 per lb = $6.99
Pork Loin 1.36 lbs/$2.49 Lb = $3.39
Chicken Drumsticks, 2 pkgs: $1.60 and $1.46
Ckn Breasts, Bnls/Sknls, 2 pkgs: $2.44 and $2.64
Red/Green Peppers, 4: $3.05
Avocadoes, 2: $0.69 eaf
Tomatoes, 3 for $1.28
Nature Valley granola bars, 3 at  $0.99 ea (great sale!)
2 1/2 Dozen Eggs for $3.99 (we use a LOT of eggs around here!)
I also bought several other items that I can't figure out on the receipt at this time. Read Part Two for how to prep your meals and calculate the cost per meal and per serving!
**For more details on shopping, meal planning, and involving your family's preferences in your meal plan, check out the Grocery Shopping on a Budget Series: