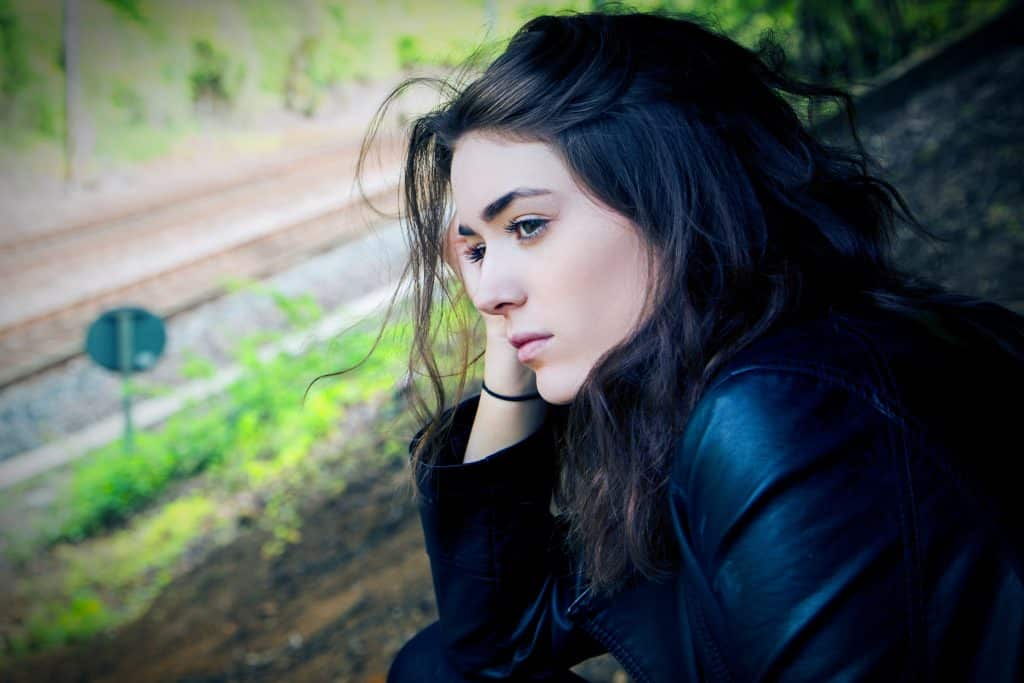 "'If you love me, you will obey my commands.' John 14:15."
That verse always bothered me. If Jesus says I obey his commands if I love Him, I thought. That must mean when I disobey His commands, I don't love Him. And if I don't love Him… why would He love me?
It seemed like a rational conclusion; certainly a logical one, and it haunted me for years. Whenever I found myself struggling to do the right thing, I heard that verse in my head: If you love me… It felt like a guilt trip. It felt like a threat. It felt like the wife holding a $200 dress in her hand, whining to her husband: "If you love me…"
My perception of God for most of my life was of an Abrahamic, justice-seeking deity. He was not all fire and brimstone; after all, He sent Jesus. But He was neither approachable nor smiling.  Forgiveness was conditional on my behavior, and my behavior was essential to salvation. I often lived with the fear that by not being good enough, I would jeopardize both God's love and my salvation. Thus, my Christian focus leaned toward legalism – where fearful Christians like to live – so my behavior would stay in line even when I disliked God and His standards.
So while I knew my Bible with the best of them, and even enjoyed studying the things of God, most of my Christian life was spent avoiding trouble or jumping through hoops. I thought Christianity was based on performance. I prayed because good women and godly mothers should pray. I studied God's Word because I wanted to be a better person; most of my Bible study focused on passages in the epistles about Christian actions and good works.
So when I failed – whether in word, thought, or action – I would go through days of spiritual turmoil attempting to figure out whether God would forgive me, if I had jeopardized my salvation, and if I was worthy to even call myself a Christian. Sometimes I wondered if I was even a Christian at all. Whatever the sin, I saw my repeated failure as mounting evidence that I very obviously did not love Jesus, and because of that, Jesus must not love me.
Lust and Failure
Sin is sin – sexual or not. This series has focused on lust as a sexual sin, but this post will discuss Christian failure as a whole.
When we see girls raised in Christian homes committing the 'big sins' like fornication, adultery, abortion or pregnancy out of wedlock, it's easy to assume 'they aren't really saved'. I mean – why would a Christian do something so drastic? Can a girl who is truly saved allow herself to fall that far?
Yes, she can.
It may be more comforting (in a strange, conciliatory way) to assume these girls aren't Christians, thus acting without any guidance from the Spirit of God. But I have met enough of them to know they knew Christ. Some of them walked an aisle. All of them prayed a prayer. Christian girls can still choose to commit grievous sins by quenching the Spirit of God in their lives. The problem?
They knew Christ, but they didn't love Him.
You see, when I was young, I had it reversed. While it seemed logical to reverse Jesus' statement, "If you love me, you will obey what I command," to "If you obey what I command, it shows that you love me," that was not His intention. He chose to phrase His words in a manner that evidenced His purpose:
"IF you love me [come into a relationship with Me, know Me, talk to Me], THEN you will obey what I command [because our relationship, not obligation, will inspire your obedience.]"
When we've gone too far with a boyfriend, when we've ruined a relationship, when we've lost our virginity: we cringe in the presence of God under the weight of our transgression. And we should, because sin grieves Him. But is guilt our destiny? Is the burden of sin our life's lot? This is not in the least congruent with a God of hope and goodness.
Conviction draws us to God; guilt pushes us away. As Christians, failing God strikes at the core of our renewed Being; we feel more than a 'turning triangle' pricking our conscience. We feel the weight of guilt and grief. We fear the wreckage of a testimony, fear of hypocrisy and judgment. We know how far we've fallen, just like Adam and Eve: fellowship is broken, and we're left stitching fig leaves over the evidence of our sin. We are guilty – but God doesn't leave us there.
John 14:16 says:
"And I will ask the Father, and he will give you another advocate to help you and be with you forever—"
Jesus never intended to leave us helpless in our efforts to obey Him. He intended to leave us an Advocate; a Helper. Christians are given His Spirit, His Mind, and His strength to obey His commands. As we know Him more, His Spirit more freely works in our lives, and our obedience is progressively refined.
Face Failure Head-On
Satan loves when we wallow in our failure. Focusing on failure destroys hope for change and reconciliation; so the longer he can keep our eyes fixed on our selves and our own inadequacy, the longer he can keep our eyes from the Cross and God's redeeming grace. Christian girls have heard about grace so long they cease to understand its application. Let's see what God says about our sins and His treatment of them in Christ. Read below – don't skim!
"In Him we have redemption through His blood, the forgiveness of sins, according to the riches of His grace." (Eph. 1:7)

"You have forgiven the iniquity of your people; you have covered all their sin." (Psalm 85:2)

"As far as the east is from the west, So far has He removed our transgressions from us." (Psalm103:12)

"My little children, I write these things to you that you may not sin. And if anyone does sin, we have an Advocate with the Father, Jesus Christ the righteous." (1 John 2:1)

"If we confess our sins, He is faithful and just to forgive us our sins and to cleanse us from all unrighteousness." (1 John 1:9)
The glory of Jesus Christ was His sacrifice for us. We didn't deserve it; we never can. But He delighted to save us from our sins, and He does not separate sins into 'before salvation' and 'after salvation'. After salvation we do have a greater responsibility based on what we know of Jesus, but our justified status does not annul our eligibility for God's forgiveness. He forgives yesterday, today, and tomorrow.
This should not encourage us to take advantage of His grace (Rom. 5:20) but to approach Him with confidence (Heb. 4:16). When we fail, we should RUN to the Cross of Christ with our sins, lay them at His feet, and confidently claim the forgiveness He offers! Because Jesus offers us forgiveness, it would be foolish to wallow in our failure. You don't have to dwell on it for a day; you don't need to pay penance. You need to come to Jesus, the only source of cleansing and freedom, and find peace and rest.
But… Is It Too Late For Me?
Despite all I've written here, you may be reading this with your own situation branded into your being. You may be thinking, "That is true for everyone but me." Below are a few questions I've answered specifically for those of you still wondering about your status before God.
I have committed sexual sin. Am I unsaved?
The better question to ask is: have I ever accepted Christ in the first place? Remember: you can't depend on your parents' faith, your church involvement, your ministry efforts or your good behavior to 'count' in God's eyes, because no matter what we do as humans we are still imperfect. Jesus was the perfect substitute for us. Did you accept Him as your substitute?
If you have, at the moment you accepted Christ and chose to submit your life to Him, you were saved. But since then, what has been your path? Did you continue to seek Him, or did you get distracted and prefer selfish interests or the opinions of people? Whatever led to your sexual sin, address it. Find the root. What led you away from your 'first love' of Jesus Christ? Take your sin to His feet, honestly and out loud, and tell Him exactly what you did. Hearing it out loud will be painful, but it will help you see the truth of your actions. Then claim the promises Jesus has given you – the verses I wrote out above, and others in Scripture. Pray these over your sin, and keep praying until you are able to accept what Christ has done for you. You are His child. He wants to purify you!
Will God forgive me for sexual sin?
If God were to withhold forgiveness of sexual sin, many Christians within the church would be left without hope and without the redemptive testimony they have today.  And if God picks and chooses which sins He will forgive and which He will not, we would live in constant fear of His wrath! The only sin God says He will not forgive is blasphemy against the Holy Spirit. If you want to blaspheme the Spirit of God, you would cling to your sexual sin and ignore the voice of God convicting your heart.
But the very fact you are asking if God will forgive you of your sin evidences a heart that desires reconciliation. You have an Advocate in heaven. How amazing! He knows how difficult temptation can be, and while He is grieved by our sinful actions He is ready to forgive you, cleanse you, and set you back on your feet. Look up 'forgiveness' in your Bible's concordance and write down your thoughts on every verse you look up. He will affirm His truth to your heart.
I want standards for myself so I won't compromise in dating, but I don't want to become legalistic. How do I do this?
Lust is first a spiritual battle. No amount of defensive standards – curfews, physical limits, and chaperones – will work for a couple whose hearts are not willed to honor God sexually. Dating standards are a struggle for many reasons, one of which being the person you are in a relationship with is the very person you are fighting against in the battle for purity. So fight together.
Legalism is fear fenced in by good behavior. Don't set up standards out of fear you will fail, or just because it's what Christians do. Set up standards because your heart is to bring God glory in your relationship, and strive together toward holiness.  If your heart is to worship God by loving each other, your standards won't be legalistic. If you fail, pray together and confess your failure. Be honest about your weaknesses – but be discerning about what to reveal and when.
Pray for each other, pray together, and pray often! A God-loving heart is better protection against lust than dozens of rules and a rebellious spirit.
Whether you are still in high school waiting to date, or if you have a checkered past of sexual sin – God wants His relationship with you to be first and foremost. He desires to show you how much He loves you, to reveal to you the depth of His grace, and watch you bring glory to Him.