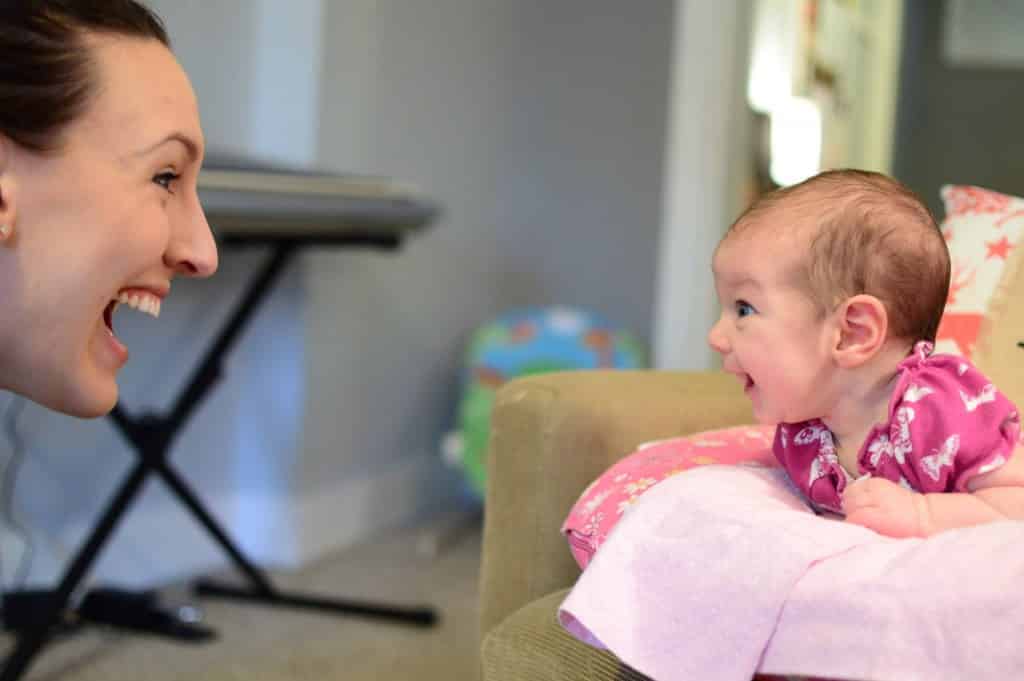 My daughter is not my world, and I'm a better mom because of it.
Not better than other moms who do things differently; better than the mom I would be if I did things differently – if my world revolved around her.
I love her. She is a light to my life: her smiles, her giggles, and those milky blue eyes that search my face from behind her Tommee Tippee. The little fingers that grip my pinky – I love them. I love her eagerness, her excitement, and her energy.
I remember like yesterday gripping my husband's arms as the midwife bent beside me in our bedroom. I was so conscious of the intensity; that last labor of love. And as I let out my last cry, she let out her first, and my world paused.
But it didn't stop.
So many moms struggle to maintain an identity in this new role of motherhood. So many of us wonder who we are in the midst of diapers and dishes. On Facebook I read about "mommy guilt", as tired women give and give to their children, alarmed when it's not completely fulfilling and beating themselves up for feeling so empty.
Yet… it is possible to both fully love and fully live.
My life did not end when I had my daughter. I invite her to join the vibrant life I'm already living. Her world, once limited to the walls of my womb, is now open to the possibilities I provide her. I'm not a planet circling my daughter's sun; instead, I offer her a universe of opportunity. To give up on my interests, my passions, and my world would be to limit the very opportunities I want her to have. That's not selfish. And it's not selfish for you to still be you: the woman you were before your own babies were born.
We can release ourselves from the guilt. We can release ourselves to take a shower, to pursue a passion, to carve an identity out from between the bottle rack and the baby laundry – and we don't have to feel bad about it.
I'm not talking about abandoning what's important; I'm all about maintaining my five priorities. But just as I make time for an organized home, healthy meals, and time with God and my husband, I make time for that spark in my own heart. Sometimes it's in fifteen minute increments or in bed after a long day. Sometimes it's the podcast I'm playing as I scrub a stubborn muffin tin. It's the run I take in dark, when I hate the dark and I abhor the cold, but I do it because it helps me achieve a goal – and I want my daughter to see that. It's worth it, these little drops refreshing my soul. They enable me to keep pouring out without burning out.
Having an identity apart from my daughter is the best gift I can give her. I was a college counselor for five years. I saw the children who made up their parents' worlds. I saw them struggle to face a reality where they weren't the best and the brightest, where there was no applause or attention. And I saw their parents struggle to know themselves when the baby left the nest.
No, I'm not being cheated by living this way. Nor am I cheating my daughter by bringing her alongside this life of mine.
So much of life is the good fight: striving for what is right, standing on what is true, and building a legacy that will last a lifetime. I believe motherhood is for the strong. I believe we are fighting women: women on the front lines of this culture defending the discipleship of our homes. And like any warrior, I want my little arrow to be straight and strong (Ps. 127:4). But there's this thing about arrows – they don't stay in the quiver forever.
One day, they need to fly.
So I will teach her to fight the good fight of faith, to celebrate life and pursue passion. But most of all, I will set an example of it.
And when it comes time for her to leave my sphere of influence, I hope she flies straight and strong into a world her own, because I never tried to bind her to mine.