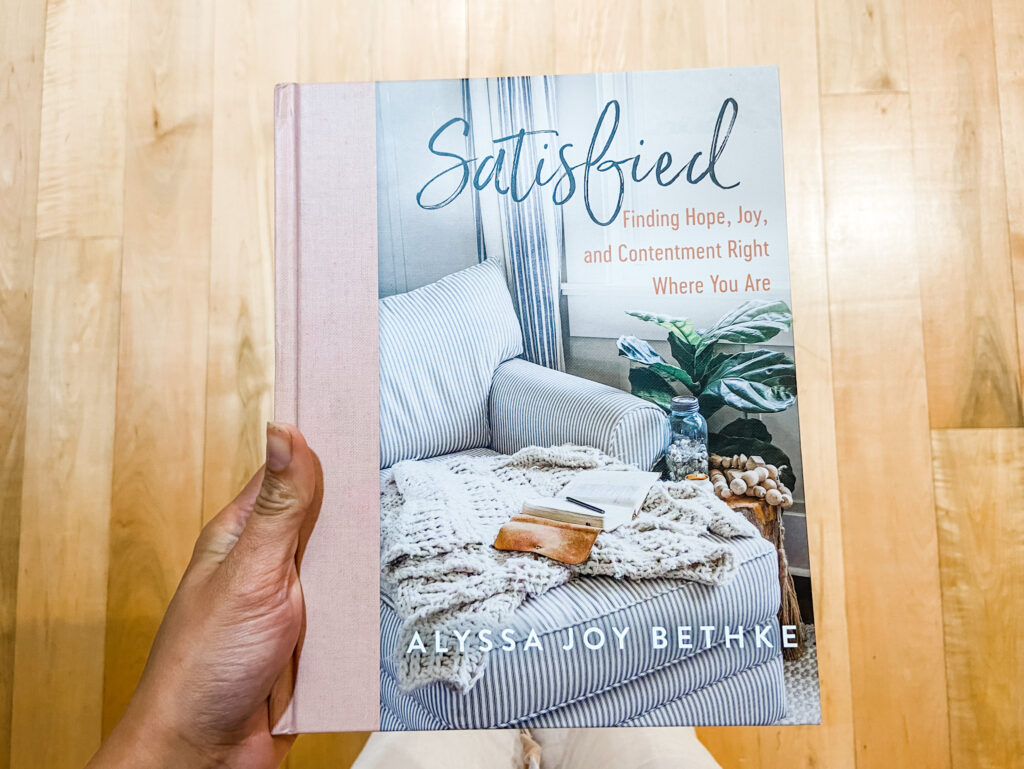 Contentment in friendship: have we talked much about this? I don't think I've connected the two maybe… ever.  But when I read the first chapter in Alyssa Bethke's new book, I realized just how much discontentment impacts our friendships… and marriages… and daily lives. I'm used to contentment being a topic relegated to 1) dating and 2) materialism. And while it definitely applies to those areas, a contented heart will impact everything we do.
This book is physically beautiful. It's like a coffee table book, or your nicest cookbook, pretty enough to leave out and pick up periodically to read the short chapters. It's filled with beautiful photos, which actually made the reading experience even better and also fit with the content of the book.
If you're looking for a book that is calming but encouraging, gentle but convicting, educational and beautiful, you'll enjoy Satisfied: Finding Hope, Joy and Contentment Right Where You Are.
Doctrine
Every time I review a book on Every Woman a Theologian we take a look at some of the major doctrinal themes. This book is not designed to be a systematic theology, so don't come to it expecting that. As I often say: think about the author's intent when you pick up their work. Was it intended to be a tome on the nature of atonement? If not… don't expect it to be. This book was clearly written for the woman with limited time, a desire for biblical truth, and an appreciation for beauty. Keep that in mind when reading it.
Alyssa takes great care to connect what she teaches back to the Word of God. The book is largely story-driven; you're not going to find large passages of Scripture woven into the narrative. Instead, you'll find biblical principles expressed through the lives of Alyssa and those in her community. The verses and doctrines we know so well are there, but they are part of the story being told, not listed like they might be in a scholarly book. That doesn't make the book less doctrinally sound. It just means the book has a different intended purpose.
"Sometimes, it can be easy for me to doubt God's love for me. Sometimes, I don't think he likes me. He doesn't enjoy me much. I wear him out. He's tired of my mistakes and weaknesses. He doesn't like how I handled a situation. He can't believe I'm at this same weak spot, again… Oh, but what love the Father has for us! Grace upon grace." (pg. 26-27)
Here we see a retelling of James 1 and 1 John 3 in Alyssa's words. The verses might not be there, but the principles are.
"Jesus went to a garden the night of his betrayal. He went to the garden to pray, to cry out to the Lord, to be alone with God when no one else was looking. It's where he met with his father. And it's where we meet with our Father too. How we tend our garden matters. What we fill our minds with, what we let our eyes see, what we listen to, the people we surround ourselves with, the people we go to or don't go to when we are struggling…it all matters." (pg 91)
The biggest doctrinal point Satisfied relays is the sufficiency of Christ. Each chapter builds on the idea that apart from Christ, no home, friendship, child, husband, or job will fully satisfy.
Discernment
If we define discernment as the ability to recognize good as much as we recognize evil, my encouragement with Satisfied is to notice the strength of story. Notice how telling the real-life story of God's goodness, life lived in step with Christ, encourages others to do the same. In a sense, Satisfied is Alyssa's walk with Christ opened up for others to observe.
She touches on the contentment of Christ in:
motherhood
materialism
idolatry
body image
family life
friendship
marriage
…and much more. It's a holistic view of life lived in the strength of the Holy Spirit and His equipping for Christlike love in every arena.
Denouement
After reading this book, I thought of a few great functions it might have:
As a quick read after bible study in the morning to supplement time in the Word
As a nursery table book while feeding a baby
As a gift to a new mom or college graduate
As a gift to an empty-nester who is learning a new season
As a cookbook! (The last eighth of the book is recipes)
Some of my readers come down a bit hard on Christian women's "lifestyle" books, and I think this book would fall in that genre – but what I loved about it (and Alyssa herself) is how it retained a strong biblical essence and a comforting, calming, relatable presentation. There are seasons when we need to read things that push us and make us uncomfortable. This book will convict, but it will convict like a friend who loves you.