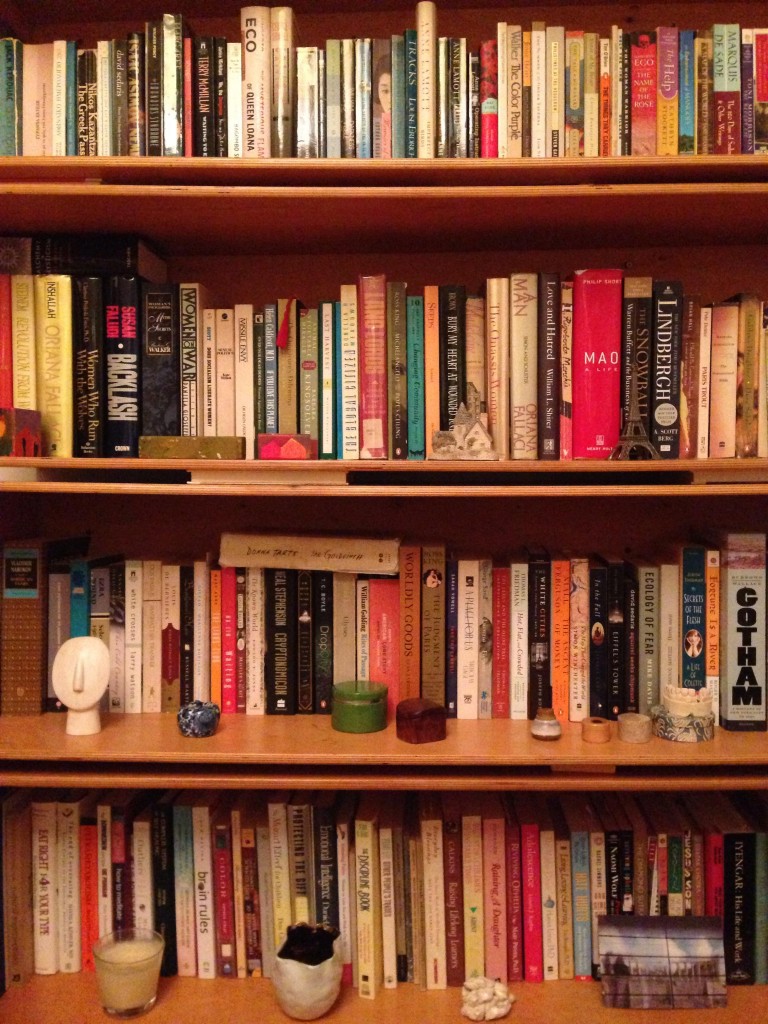 The laborious groan of a UPS truck pulled me away from stovetop to kitchen window, where I peered through my blinds like a nosy neighbor. Every time the UPS truck pulls into our complex, I am at the window willing the khaki-clad man to have something in that truck addressed to me. It's my CBD order – a stack of books I'd bought as my reward for finishing my second, and last, college degree.
The UPS man drove off and I went back to cooking dinner. As a voracious reader, the best reward I could think for myself was a whole stack of recreational books, considering my reading material for the majority of the last three years has been made up of theology textbooks and other assigned reading.
But when I put together my book list, I did not select any fiction. That's because I don't read it. This comes as a surprise to many people since fiction is enjoyed by many – and it once was stacked on my bedside table, too. But I stopped reading it. Many readers have asked me why this is, so I decided to write a post on the topic. Here's why I quit fiction for the last six years:
1. Much modern fiction – including Christian fiction – has a central romantic and/or sexual theme.
You're thinking: "Yes… and?" So let me explain.
There is nothing inherently wrong with a healthy, Christian love story. Karen Kingsbury is an adjunct professor here at Liberty University, where I work, and she has done a great work in bringing good, clean fiction to literary sphere. I've read some of her books, as well as Janette Oke's and a plethora of other authors.
These romantic themes are good – in moderation. In reading them, I found that I focused more on the love story than anything else in the book, and the more of these books I read, the more I found them to be very much the same. They did not educate me on what a healthy, godly relationship should look like – they made me discontent for a relationship and overly focused on something I did not have. As a married woman looking back on these books, I can honestly say none of them accurately portrayed what a real marriage looks like, because most of these center around the exciting, mysterious stage of dating and courtship – not on the 'boring' day-to-day of a real marriage.
Secular fiction is far more dangerous, because where the Christian books draw the curtain, they walk right through. Even in 'harmless' novels about completely irrelevant topics I discovered the inevitable sex scene within the pages. I talk more about this later in the post – but this is NOT something to be ignored. Sexual novels were considered pornography before the internet came into existence.
In the years after I quit fiction at age 18, I came to see a trend in the young women I encountered and ministered to: those who were ingesting a regular diet of Christian (and non-Christian) romance novels were far more likely to be discontent,  as well as emotionally attached to men they barely knew. Their minds were trained to see impossible romantic situations resolved within the pages of a book, which had their hearts constantly on edge for the 'hero' of their own, real love story. To me, the damage outweighed the good gained from these stories – so I focused my energy elsewhere.
2. Nonfiction – biographies, historical accounts, newspapers and some magazines – offer information that is directly applicable to life, conversation, and relationships.
I didn't stop reading when I quit fiction: I simply changed what I was reading. In high school I had reading lists a mile long (hello, homeschooling) so my lists were a mix of historical fiction, biographies, dry textbooks and my recreational reading. I have a very diverse reader's repertoire.
As I became increasingly dissatisfied with fiction (mainly modern, not classics), I began to look for replacements. I found that many biographies were far more interesting than the fiction books I had once read, mostly because the things I found were real and true. I became more educated about the history of our nation and the people who founded it. I learned how historical events have affected our world today. Instead of spending hours engrossed in a novel after which I learned nothing and battled discontent thoughts, I acquired knowledge about my world.
I became fascinated by John and Abigail Adams. Their marriage became an inspiration – not a temptation – for me as I looked toward one day being married myself. To this day I still see parallels in my marriage to what I learned in my extensive biographical reading on the Adams.
3. How holy can I be?
Those who have read my post "Why We Should Stop Asking, "How Far is Too Far?" will be familiar with this catchphrase. It's the question I've started asking when I watch TV shows, start to speak, or choose a book: not 'how far can I go?' but 'How holy can I be?'
I tried to keep a very open mind with fiction: even after I quit, I picked up a book now and then in the following six years just to 'give it a shot'. I read Southern Living's recommended book list – Lookaway, Lookaway and The Glass Kitchen. I read P.S. I Love You and flipped through a few Christian works as well.
With the secular books, it was appalling how necessary a sex scene seemed to be in a book about cooking. No matter what book I chose, there it was! And as a woman committed to striving toward holiness, I can't put those images in my mind. It's the same as pornography – just in written form. And if the characters are unmarried, by choosing to read the account I am standing witness to adultery and approving it with my attention. It's not harmless.
The Christian books, while cleaner, still were less than beneficial to my single self and since being married, I'd rather not read about fictional characters' fake love stories. I have one of my own. The time I spend reading can be better spent improving my heart, my mind, my house, and my work.
What DO You Read?
In reading this post, please don't get on the defensive and assume I'm bashing people who read fiction. I'm not. But I definitely encourage a thoughtful approach to it, especially if it is your primary source of entertainment. Remember: I have read countless classic fiction works and love them dearly: Anne of Green Gables, The Chronicles of Narnia, The Lord of the Rings, The Girl of the Limberlost, The Golden Goblet, Hitty: Her First Hundred Years, The Little House series (though not really fiction), and many more. But I balance those with things that are applicable to my life now.
So here is what I read:
Biographies: Books about presidents; leading females in American history; missionaries; journalists; Founding Fathers; Civil War generals; people who have accomplished great feats
Historical Events: Famous crimes; explanations for economic crisis; works about population and diversity; history of feminism; archaeological finds; turning points in history
Memoirs: My favorites are memoirs written by cooks – they usually include recipes and talk about their work in different countries. Currently I am reading a memoir by Sandra Bullock's sister about a bakery she owns in Vermont – I read it aloud to Mr. M at night. Others I like are Four Kitchens and We Laugh, We Cry, We Cook. Other memoirs have been written by people like Julie Andrews and Julia Child – some memoirs are considered autobiographies.
Newspapers: I borrow the Wall Street Journal from work and browse the top stories to keep up on events. One of my colleagues recently told me about The Skimm, a daily summary of the latest news put into a trendy tone for working women.
Magazines: Especially when traveling, I buy The New Yorker, The Atlantic, Harper's and sometimes Time or a news magazine to see what the culture is talking about these days. I read the opinion pieces and browse for political articles. This gives me context and an update on current societal issues – which I choose over People and InStyle because it is more applicable to airplane conversation 🙂
Will Your Kids Read Fiction?
My curriculum in high school was very well balanced, and fiction – especially historical fiction – was a part of that. I will definitely utilize it in designing the reading lists for my children as well. But I will also educate them about the place and use of fantasy – which is what fiction is – and why the truth, and reality, should take priority.
—
My book order should arrive sometime this week and I am thrilled to begin The Best Yes, The Fringe Hours, and Fight Back With Joy, in addition to Keep It Shut which I bought for my kindle. These books are all written by amazing, godly women offering perspective on issues that face Christian ladies today. I may even pick up my all-time favorite, Ann Voskamp's One Thousand Gifts for a re-read!
Just as with anything, what we read should be considered thoughtfully in light of how it is affecting our hearts and minds. Is it drawing us closer to God and nearer to holiness? That is the question that should be asked for all entertainment – and it's tough sometimes! For me, fiction's benefits were far less than the benefits of living without it.
Have a book recommendation for my list? Post it below!
Other posts by Phylicia:
5 Myths About Saving Your Kiss for the Wedding Day
Confessions of a Newlywed: 5 Habits I Formed When I Was Single