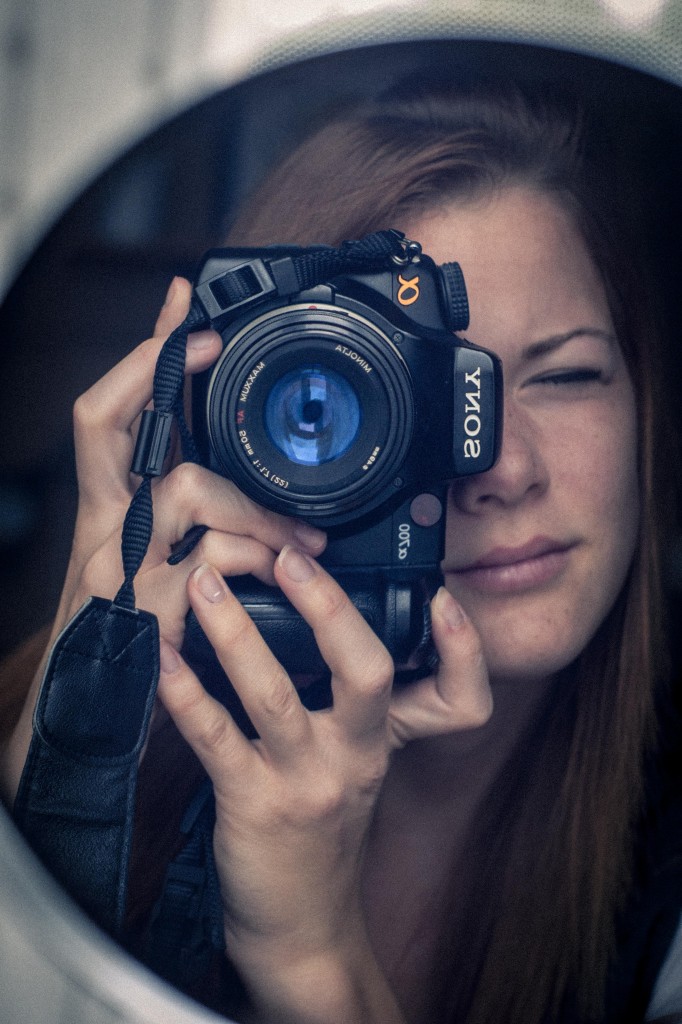 Dear Girl,
You see my pictures where I look happy, laughing-happy. Happy because I'm married and have a cool job, because I go on business trips and girls' weekends. Because I drink coffee and blog, because my hair looks good in that picture and I probably don't have a care in the world.
I look happy to you, like I don't worry, don't stress, like I woke up this way. Like my apartment is perfect, my clothes and husband and life are perfect. And yours isn't.
In a world where we all 'follow' each other – a discipleship of image and best-face-forward – you look at me and think less of yourself. Or you look at me and think more of yourself.
Just like I look at others and do the same.
Dear girl, I'm just like you.
I'm the woman at the gas station in the scuffed heels. I'm the girl answering the phone with annoyance in her voice. I'm the one with the fighting heart and the too-strong tongue that stings sometimes, even when I don't mean it.
There are days I cry on the way to work, days I wish my desk were in the South Pole with penguins for company, days I know my work was less-than-stellar. I look in the mirror and don't like what I see. I have cellulite and spider veins and one leg longer than the other.
I wasn't the cool girl, growing up. I don't know what it's like being inside a clique and I never want to know. But in this cyberworld where our only voice is in our thumbs we can become cliques unto ourselves; following each other, making assumptions, and forgetting that in the highlight reel there's a behind-the-scenes.
Dear girl, we are all women at the well.
We all come to Jesus with stories to be told; a history of failed relationships and current mistakes. We all approach Him in hesitancy at times. We clutch our water jars and ask Him why He'd want water from our hand, given our unworthiness.
Why me?
And we stand by the well in the heat of the day, the sun glaring on our inadequacy, coming to Jesus for the Living Water to make us really live. We are all at that well, no matter what we look like, where we've been, and who we are. It's the only place to find abundant life.
I bring my water jar to Jesus, empty, asking Him to fill it and tell me what I do is good enough. That in making pumpkin chili, ironing pants, and merging Excel sheets I'd done something worthwhile for His kingdom. I hold out my jar, begging Him to tell me who I am and what I've done makes me Somebody in this world.
But He doesn't fill my jar.  He doesn't pour into my desire to be Somebody, to achieve, to strive, to please-tell-me-I'm-enough.
He asks me for a drink. The One who needs nothing asks me to give from my emptiness, to reach beyond the lonely-busy to the reservoir within me. And in the giving, the giving I really cannot do, I find who I am.
Dear girl, I'm just like you.
I've cried lonely in the walking-wait of singleness. I've thought a changed last name would change a discontented heart, but it didn't, and it never will.
You have to take the heart that cries because of pain, or stress, or loneliness and bring it to the well of grace. And when Jesus asks you to go back to the same home, job, or singleness and do again what you did today, it's in giving Him those pennies you inherit eternal life (Mark 12:41-44).
So when you see me laughing happy, it's not because I'm married, I have a cool job, a blog, or business trips. It's because I'm not perfect, but my imperfect gifts are somehow good enough for the God who made me.
And yours, dear girl, are good enough too.
"There is a river whose streams make glad the city of God, The holy dwelling places of the Most High. God is in the midst of her, she will not be moved; God will help her when morning dawns." (Psalm 46:4-5)
For more encouragement read Ann Voskamp's article here – it made my day!
Other Posts by Phylicia:
5 Myths About Saving Your Kiss for the Wedding Day
I Waited Until My Wedding Night to Lose My Virginity and it was the Best Thing I Ever Did
Why We Should Stop Asking, "How Far is Too Far?"
That Day He Wore Skinny Jeans: Why Men Should Be Modest, Too
Biblical Submission is Dangerous
Let's All Get Angry and Be the Same