He blew in the door forty minutes late, shirt untucked, with a rumpled paper Olive Garden bag in one hand. This is the man who is always five minutes early – the man who anxiously jingles the keys by the door before church so we leave on time. And here he was, forty minutes late.
His outfit was in shambles. "Where is your tie?!" I asked, looking at his crooked collar and exposed shirt tails from under the sweater I'd bought him.
"I think I left it at the house…" He said, dropping the bag in the corner. He reached under his sweater and tugged at the shirt, accidentally pulling out the missing tie. "Oh! I guess it was in here…"
I watched the scene with amusement. I'd waited the last thirty minutes taking in the side seams on a dress to bide time, secretly wishing I could find a sewing machine (I'd been passively looking for one for a year). Now that he arrived, we were supposed to make our favorite peach-cream cheese french toast and leave the house by 10 AM.
It's the 26th. The last three weekends I've been traveling for work or he's been gone on business. Next weekend a friend is in town. Due to a few other clues, I was suspicious about this 'date' he had arranged that required such tight timeframes, but I wasn't sure this was the Day… the day he would ask me to become Mrs. M.
We ate breakfast, I grabbed my things and he plugged in the GPS for a two hour drive. The day was beautiful: crisp and cool and full of bright fall colors! As we drove further and further into the mountains – passing carfulls of Hokies fans and cow farms – I had no idea where we were going. We finally arrived in the tiny town of Pearisville, VA.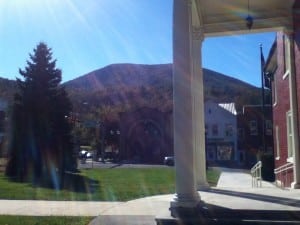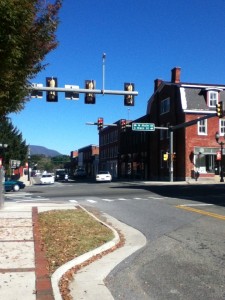 "This is Little Nicky's," Josh said, taking me to the door of a small diner and bakery. We looked at the sign, which said: "Saturday Hours: 9 AM to 3 PM". Right above it in bold black read: CLOSED. He looked down at his list (yes, he had a list). "Hmmm… I guess we will have to find some place else for coffee." He couldn't hide his disappointment. After all, coffee is our thing! We walked the town a little and were recommended to visit the diner across the street, Nagel's Downtown Grille.
We were the youngest people inside with the exception of the slight waitress, who introduced herself as Kelly and brought us our coffee. "Are you ready to order?" She asked, sitting at the table across from us. After finalizing our order she reached out to shake our hands. "What are your names?" Throughout the meal we would hear her call from across the diner, "Josh, how is your coffee? Phylicia, do you need a refill?" We were definitely in a small town!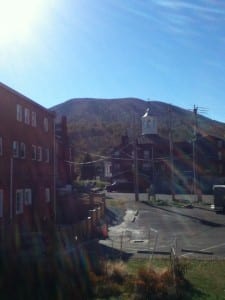 Walking the streets after lunch, we stopped in a fabric store stocked floor to ceiling with every seamstress' dream. There was even a shelf for 'Civil War Era Fabrics' (only in the South!). While I was looking at bolts of retro cotton, I saw Mr. M befriending the shop owner across the store. I walked over to discover him observing a Kenmore sewing machine as Audra, the owner, explained how the spool 'jabba-hoochie' threaded the bobbin.
We left the store with a bargain on my long-awaited sewing machine, an 'early Christmas gift' from my darling man.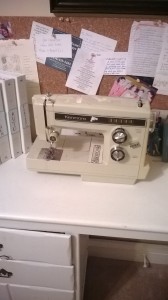 We put the machine in the car.
"Where are we going next?" I asked. He looked at his list. "Nowhere until 3:30…" He hesitated. We walked around the town yet again, looking at some historical monuments and murals, before heading back to the car for the next stop. The brown paper bag was sitting in the back seat, and every time I touched it he said "Stay away from that!" This wasting of time, no-touchy stuff was making me more suspicious, but I still wasn't sure. Mr. M is a good actor and very good at throwing me off his trail!
He drove further into the mountains until we pulled into a broad, sunlit valley. I could hear the rush of a river and saw cows moving slowly across a hillside. Yellow poplar trees lined the river, dropped spinning leaves into the clear mountain water. Then I saw it: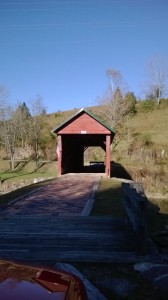 For those of you who don't know us, covered bridges are our thing. Mr. M asked me to be his girlfriend in a Virginia covered bridge, and since then we've visited bridges in Massachusetts, Pennsylvania, and North Carolina. We even have a painting, crafted by a talented friend, depicting the first covered bridge we ever visited. There is a photo of a New England bridge hanging in Mr. M's apartment now. You get the picture: we love them.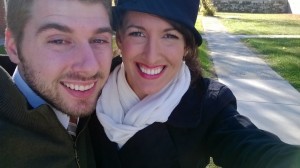 Sinking Creek Bridge, bright red and sunlit, arched over the prettiest mountain stream I've seen. I wanted to sit right on the edge and listen to the water, watching the sun rays reflect into the wooden beams. Instead, Mr. M walked me up to the opening of the bridge and told me to wait there while he ran to the car. He set up his iPad in the walkway, saying he wanted to take a picture of us since no one was nearby to do so on our behalf. Then he rummaged in the car for what seemed like an eternity.
He came back with a book that looked vaguely familiar… as he approached, I realized it was a journal I had given him over a year ago after the first covered bridge. I had scrapbooked mementos of our friendship, along with letters, notes, and poems. He handed the book to me with a smile.
Page upon page held ticket stubs from movies, baseball games, hockey games… wristbands from fall festivals, notes I'd left in his wallet or his fridge, to-do lists for us, pictures. He'd commented in his own adorable handwriting, telling me how much each moment meant to him. On the final page was glued a letter from two months after we started dating; I had written it. It began:
My dear Joshua,
I can't believe it has already been two months since we sat in the covered bridge in the rainstorm and you asked me to be yours. It feels like just yesterday, but forever ago at the same time!  Over the weeks both since and preceding that day I have learned so much about you: your hopes, plans, dreams, preferences. Most of all I have learned how much I love you…
Tears filled my eyes as I looked from that letter to the one in his handwriting on the next page, dated today: 10.26.13.
You are the most loving, sweet, talented, caring, compassionate, beatufiul woman I have ever met. You taught me to love and you made me laugh. You gave me hope for a future shared with someone, not one of solitude…. I can't picture my future with anyone else but you… I cannot wait to call you my wife, and live with you the rest of my life. I love you.
As I finished reading, I heard from behind me: "Phylicia Duran."
I turned around, and there he was, on one knee, looking up with those earnest gray-green eyes over the edge of a little box. In the box: a beautiful diamond and emerald ring.
"Will you marry me?" 
Those words. For years I had pictured what it would be like, who it would be, how it would happen. It's here. The moment of dreams become reality; and more than reality, better than a dream. He'd made it perfect.
And I said yes. (Quite quickly, I might add)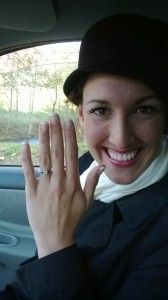 The perfection of this moment was not only due to the ring he designed, the date he surprised me with, or the planning that took place to make it happen. It's the sacrifice this man has made of himself for this moment. I remember all he has done to reach this moment:
Finish one of the hardest programs at Liberty – computer engineering – so he can be a good provider

Wait on God's timing for a job without growing anxious
Pursue the jobs God laid before him with faith and integrity
Wait till he had a job to guarantee his provision before he asked me to marry him
Work hard in the job God gave him to save for a home and a ring
Involve my parents and family in the planning and decision
Seek my father's approval from the beginning
Call my pastor without me knowing to inquire about premarital requirements
Sacrifice his money and time to give this great gift to me
Commit to daily sacrificing himself as long as he is my husband to be the leader and head of our home.
I am excited not just because I have a beautiful ring on my finger and promise of a great future: I have this amazing man, who loves me beyond what I deserve when I least deserve it… to quote a country song, "his love is like a Sunday morning, full of grace and full of Jesus."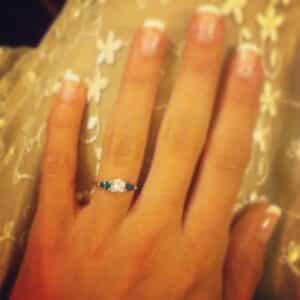 The iPad he set up actually recorded a video of his proposal. Very nifty of him! (It needs editing or I would post it; the ten minutes of his car-rummaging is on tape, complete with cows mooing in the background.)
To celebrate, he took me to Mountain Lake Resort for dinner at Harvest restaurant.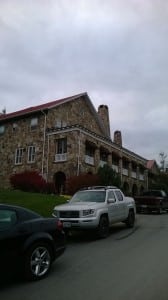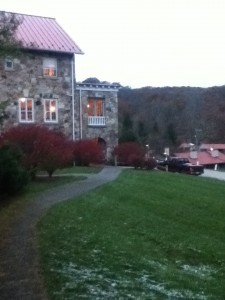 We drove the two hours home very, very happy. I am so grateful for this sweet man God has given me to love on this earth.
I lived with visions for my company,
Instead of men and women, years ago,
And found them gentle mates, nor thought to know
A sweeter music than they played to me.
But soon their trailing purple was not free
Of this world's dust, — their lutes did silent grow,
And I myself grew faint and blind below
Their vanishing eyes. Then THOU didst come … to be,
Belovèd, what they seemed. Their shining fronts,
Their songs, their splendours, (better, yet the same,
As river-water hallowed into fonts)
Met in thee, and from out thee overcame
My soul with satisfaction of all wants —
Because God's gifts put man's best dreams to shame.
 Elizabeth Barrett Browning
Sonnets from the Portuguese