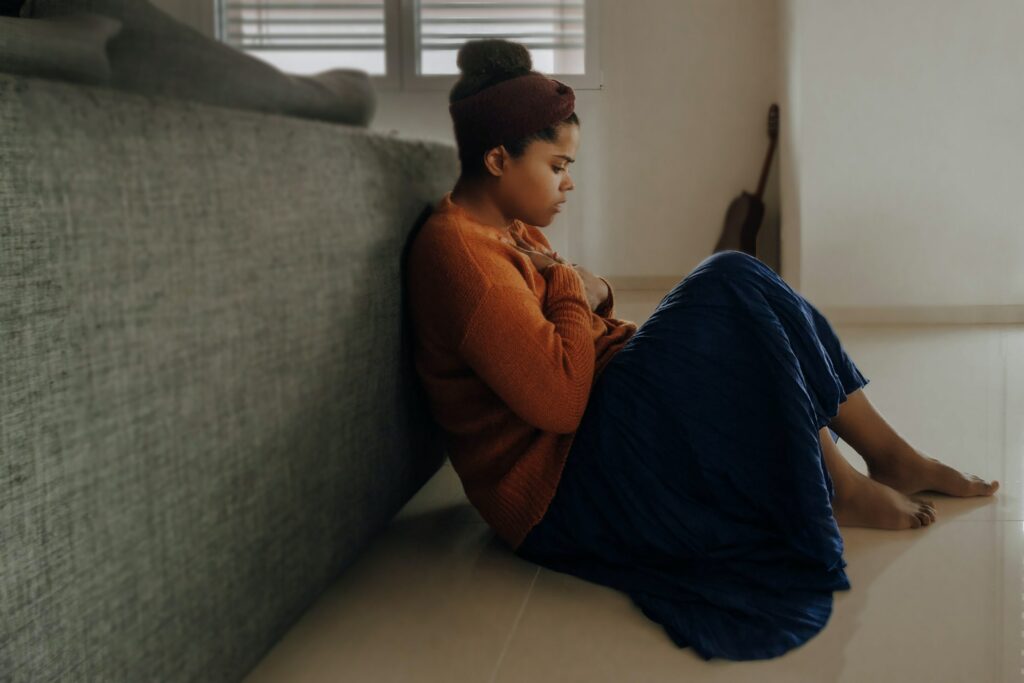 During the first season of Verity podcast I shared podcast versions of each chapter in my book Stop Calling Me Beautiful: Finding Soul Deep Strength in a Skin Deep World. Two thirds of this book is "applied theology": how the gospel directly impacts our struggles with sex, legalism, shame, and – in this episode particularly – anxiety.
The reality is this: many Christians believe the "gospel", but it has no direct impact on their lives. Some call this "practical atheism". What does the gospel actually DO to someone when struggling with shame? Sexual sin? Anxiety?
That's what this episode is all about. Listen below, transcription below the player!
God's past faithfulness; our present hope.
The Book
Stop Calling Me Beautiful: Finding Soul-Deep Strength in a Skin-Deep World
Listen Now!
Transcription
Phylicia Masonheimer: Welcome to Verity. I'm your host, Phylicia Masonheimer, an author, speaker, and Bible teacher. This podcast will help you embrace the history and depth of the Christian faith. Ask questions, seek answers, and devote yourself to becoming a disciple of Jesus Christ. You don't have to settle for watered-down Christian teaching. And if you're ready to go deeper, God is just as ready to take you there. This is Verity, where every woman is a theologian. 
Okay, guys, we are back this week with an episode all about anxiety. I've been pretty open about the fact that the anxiety chapter of Stop Calling Me Beautiful was the hardest chapter for me to write. Mainly because I knew that there would be some people who would intentionally misunderstand what I was saying. And so I had to be extremely careful in how I presented the biblical understanding of how we confront anxiety and how the gospel frees us from anxiety and overwhelm, while also recognizing the physical aspect of this. As I talk about this, I want you to keep a couple things in mind. 
Any physical struggle in this world, physical, mental, disease, issue has to also be dealt with spiritually. Because we are holistic beings, and God sees us that way and created us that way, and Christianity has always, at its underpinnings, theologically understood the connection of the soul, and the body as equal value, we really cannot distill anxiety down to either only physical or only spiritual. I think what we've had happen in Christian culture and in the world in general, is we've swung the pendulum, like we so tend to do. We talked about this in the Legalism episode last week. We tend, as humans, to go from one end of the spectrum to the other. 
First, it was just, just pray about it, and just don't worry, and to stop it and just deal with it, never really acknowledging that there can be hormonal reasons for a struggle with anxiety, that there can be other health reasons that we have, an issue with worry and fear. Ignoring the physical aspect completely, this is what the church has done in the past, and even sometimes today. But now we're having more awareness about the physical side of this, to the point where I do see many Christians completely ignoring the spiritual component, completely ignoring that Jesus does still say, "Do not worry. I give you peace. I am enough for you." 
As Christians, we have to be walking this balance of the physical and the spiritual. I'm not going to get a ton into my autoimmune disease in this episode. We'll talk about that more in the Grief episode. This relates very strongly to the topic we're talking about today. Because I have a physical malady that has extremely spiritual components, I deal with it both physically and spiritually. I naturally treat it. I seek answers for holistic health. I have a functional medicine doctor and a midwife who helped me to find supplements and natural ways to help my body overcome this disease. It's still not gone. I still have it. Meanwhile, I am spiritually praying for healing. I am daily committing the struggle to the Lord, daily walking with Him in my understanding and my thoughts about the disease, and I'm not placing my identity in it. Okay, so that's an example of what we're talking about here when we talk about anxiety.
It doesn't mean we ignore the physical component or the mental component. We absolutely should be getting counseling, we absolutely should be getting help and being in community for this, but you also have to talk about the spiritual component, because if you're a Christian, the spiritual component affects every single part of your life. We don't just say, "Well, it's physical. So, I don't need to do anything spiritual about it." I've heard people compare it to cancer and say, "You wouldn't just say pray about it about cancer." Well, sure, no, but you should be praying about cancer too. We surround people who have life-threatening diseases with prayer. And so, you should be doing the same thing with the anxiety conversation.
That's how we're going to be talking about this. We're going to talk about the spiritual aspect, and I want you to understand going in that I completely believe that there are so many physical changes you can make to help with this as well. I have a whole holistic Instagram page if you want to hear about what I've done, what my friends have done, and resources and doctors that I can refer you to hear more from a medical perspective on this, but we're going to be talking about the spiritual side today. 
[et_bloom_inline optin_id=optin_26]
If you have lived in the church, you may have heard answers about anxiety like, pray about it, have enough faith, two common platitudes that Christians will throw at anxious believers. We know that these aren't a quick fix because this is a soul-deep struggle. We also know that Jesus makes some promises, and Jesus never makes a promise he won't bring to fruition.
Matthew 11:28-30 says, "Come to me, all you who are weary and burdened, and I will give you rest. Take my yoke upon you and learn from me, for I am gentle and humble in heart, and you will find rest for your souls. For my yoke is easy and my burden is light."
John 14:27, "Peace I leave with you; my peace I give you. I do not give to you as the world gives. Do not let your hearts be troubled and do not be afraid."
Matthew 6:25-27, you're probably familiar with this one. "Therefore, I tell you, do not worry about your life, what you will eat or drink; or about your body, what you will wear. Is not life more than food, and the body more than clothes? Look at the birds of the air: They do not sow or reap or store away in barns – and yet your heavenly Father feeds them. Are you not much more valuable than they?"
I think we need to really focus on that last sentence. "Can any of you by worrying by being anxious, by living in fear fix your situation? Add time? Get yourself out of it, figure it out? Can you do that?" No, we can't. For many of us, this is a pattern of behavior, a pattern of a life. It's a way of thinking and a way of living that we've trained ourselves in. It's not as easy as just pray about it, or just stop it or just have more faith. It's not as easy as just stopping worrying. Jesus knows that. He knows that breaking patterns in the mind that He designed is going to take time. His statement here isn't like it's just easy, just don't worry about your life, but that there's something in Him that enables us to do that. There's something about life with Him that enables us to actually fulfill what He's commanding. Jesus would not command this if this was not able to be acted out. 
Now, we're going to talk about what that looks like in this episode. But I want to lay this foundation here. If you are struggling with anxiety and fear, which I have struggled with over the course of my life, both from hormonal reasons and just from circumstantial reasons, we have to, in acknowledging that it's physical, also ground ourselves in what Scripture says. We can't just ignore what Scripture says and say, "Well, that's not my experience." We route our experience through the Word of God, and if we say we're Christians, that's what we have to do. That's how we live. 
Most Christian teachers will focus on Jesus' commands and say, "Don't be troubled, don't worry," but the command to refrain from worry, as I just said, is coupled with Jesus' compassion, because He's saying, "Life is about so much more than temporal things I will provide for your daily needs, just as I provide for the smallest creatures." What this tells us is, overcoming anxiety is not about white-knuckling, emotional self-control, or ignoring our feelings, but about choosing trust in Christ's provision. 
One of the most anxious seasons of my life was when I was almost nine months pregnant with Adeline. We were living in Virginia at the time, and Josh was trying to get out of his current job and looking for engineering jobs. One of the jobs that he found was in Lancaster, Pennsylvania. Here we were about to have a baby, and he got this job offer and we thought, "Would it be easier to move with a newborn? Or would it be easier to move now while I'm pregnant?" We figured it'd be easier to move while I'm pregnant. 
I remember, I was working from home at the time, working for my alma mater, and I made a couple of phone calls to birth centers near where we were moving in Pennsylvania. None of them could take me, they were all full. Anybody who's an OB or midwife would know September is one of the top months for having babies and so all the birth centers were full, and none of them could take me as a new patient because I was so close to due date. I remember sitting in our apartment in tears, just thinking, "Where am I going to go? What am I going to do? I don't have anywhere I can have this baby. I'm not comfortable just walking into a hospital, having no care, no knowing what's going to happen or who my doctor is, or what their policies on birth are." I don't want to do that. 
We were in a situation that was extremely fearful and anxiety inducing. I just remember that feeling so completely, and how stressed I was. The choice I remember having to make in that season was every hour of the day, I was having to recommit my thoughts about the birth of my child to the Lord, and trust Him to work it out, trust Him to bring me an answer. We ended up finding a home-birth midwife who would at last minute take my case. She ended up being a believer, which was amazing.
We ended up getting an apartment, that was a duplex actually, and our landlord lived next door. So, that's awkward, right? When you're doing a home birth, especially when you haven't even thought about home birth until then. They ended up being Christians. When we were reviewing the duplex, they asked, "Where you're going to have the baby?" I said, "Well, we were wondering if it'd be okay with us having it here?" She said, "Absolutely. Totally fine." In one weekend, we ended up having these two huge answers to prayer, two huge solutions to my greatest fears. Only five days after we moved, we had Adeline, and she was two weeks early. If I had known that, I would have just crumbled under everything that was crushing me with this anxiety leading up to moving and having the baby, and yet, God had it all in hand. God knew my circumstances. My choice without knowing how things would turn out was to trust who He was when my circumstances were so anxious. 
Our question then, when we're struggling with either circumstantial anxiety or hormonal anxiety, we have to ask the question, "Where is the line between trusting God and doing something?" I think that's what a lot of us are wondering. Like, okay, you're in this tough situation, I could have just sat there and prayed about it and made no calls. I would have had my baby in the car [chuckles] or with no one attending, that doesn't make any sense. It was a matter of both stepping out in faith and taking action and saying, "I need to find a place to have my baby, but also, I'm trusting you, Lord, to help me make this happen. I'm trusting you, Lord, that you're going to provide an answer for this, however it needs to look, you're going to open the right door." 
Matthew 11:28, "Come to me, all you who are weary and burdened, and I will give you rest." These words of Jesus are so simple, and yet they're so full of power. We love how they look on a Pinterest quote, but do we really believe that Jesus gives us rest? I truly think that if we trusted this, if we really trusted this, we would see a difference in how we live. In this situation with Adeline's birth, that was something that I had to constantly ask myself, I say, I trust God, I trust God for my eternal destiny. After I die, I believe that I will be with God. That's a pretty crazy thing to have belief about, if you really step back for a minute. A lot of people think it's ridiculous. They think that we just die and we disappear, or we come back as a cow or something. We believe that we get to be with God. If I believe something that wild about God, I'm trusting Him from after death, why can't I trust Him for my life? Why won't I trust Him for my life? 
Overcoming anxiety is a daily choice to come. When we feel weary, burdened, overwhelmed, changing our schedules, and habits will help doing physical things, those are more important and they will help, but they do not ultimately bring lasting victory. Remember, victory is a lifestyle, not a destination. I'm not saying you're never going to be tempted to anxiety again. I'm not saying that you won't struggle with anxious thoughts. I'm not saying you won't be afraid. I'm saying that you are choosing to live the lifestyle of victory that looks to Christ as the answer always, every day.
It's being present with the Lord. Anxiety is overcome when we make the choice to trust God more than we trust our emotions. We do this by stepping through the anxiety. Not running away from it, not ignoring it. Stepping through it and bringing it to the throne of grace over and over and over again. 
Choosing trust is not a magical cure. I have to say this again because I'm always so worried that people will misconstrue. Victory is not defined by never feeling anxious. God has promised that rest is available, rest produced by faith in Him. Rest for our souls is found in choosing trust when trust doesn't even make sense. We can do this not because our circumstances are ideal, but because God is trustworthy. 
In the book, I talk about another time that was just an opportunity for me to have to choose trust. When I was pregnant with Eva, I was at home. I remember our new house, we'd moved to Michigan, and we had a beautiful little cottage downtown. We had signed the mortgage papers the night before. I remember Josh pulling in the driveway at 10 AM. He'd just left for work and he came back, and he walked in the door and he said, "I've been let go from my job." We live in a rural area. We don't live where there are a lot of engineering firms. This is one of the few, and my husband was just let go from his job. And we signed the mortgage on our house the night before, and I'm pregnant. I was on his health insurance, so if something went wrong with our second home birth and I was transferred to the hospital, what were we going to do? 
Just sitting there running through everything in my mind, I immediately remembered what happened with Adeline's birth. As the anxiety and all of the what-ifs and the worries and the fears came to my mind, I had a choice. I can live into this, or I can live into the faithfulness of God. I can live into who He was the first time, and who He was when Adeline needed a place to be born. And now, here we were again. I had to choose, "Is God faithful or is He not? Will I trust Him? Will I do what I say? I do. I say that I'm a Christian. I say that I follow Christ, will I believe Him?" And that was a choice I had to make every day of the two and a half months that my husband didn't have a job. When we had to delay our payments to our midwife because we couldn't pay them. And when we were down to the very last $500 in our account.
God was faithful because that's who He is. If we don't know who God is, we don't know what to trust, and honestly, friends, I honestly believe that the anxiety epidemic in the church is directly correlated to the fact that our Christians don't know who God is because they aren't reading the Word of God. The Word of God is not a place we go as a manual that we pick up and we put down. It's where we go to find out, "This is who Jesus is." When you know who He is, when you know who a person is, then you know you can trust them. But if you don't know them, you have nothing to trust. It was the difficulty and the trials of our life that taught me who He was, and that God was good for his word. And it was that faithfulness, that I could turn around and trust again in the next anxious moment, and it's still what I have to choose. We trust in the character of an almighty God and we believe for His saving power on our behalf. In a world of uncertainty, He is unchangeable.
Hebrews 13:8 tells us that Jesus Christ is the same yesterday, today, and forever. Malachi 3:6, God says, "I, the Lord do not change." What a promise. He says, "I, the Lord do not change," so you are not destroyed. We are not destroyed by our circumstances, our relationships, or our future because God does not change. The biblical battle plan against anxiety is counterintuitive. Rather than focus on beating anxiousness, we lock our eyes on who Jesus is. In so doing, that is how we find victory. 
When we're walking this out, it's not going to be easy. I'm never going to say this is easy. It's a battle for me, still. The overcoming life is a process, just as wars– and I talk about this in the Sexuality episode. Just as wars are made up of many battles from the end in defeat, the overcoming life is not marked by constant perfection. Victors, people who win battles, keep fighting even after a defeat has occurred. Victors are the ones who look at the loss, they recalibrate and they rejoin the battle. As we fight to overcome anxiety with the Lord, the negative presence has to be replaced with a positive one. What's going to fill the place that anxiety took?
In Isaiah 26, we see that the answer is peace. I love what the CSP Bible says, "You will keep the mind that is dependent on you in perfect peace, for it is trusting in you." It's an active present verb, indicating forward motion, the mind that is dependent on you.
America has this elevation of self-sufficiency, independence, individualism. That's all great when everything's under control. When circumstances change, and life is difficult, responsibility becomes anxiety. We aren't sufficient on our own strength, we can't control every outcome, we can't predict the future, we can't plan for the worst-case scenario, whether we recognize it or not, we are completely dependent on God. 
When my husband lost his job, it was very clear to me that at some point, the money runs out, and you are dependent on God's provision. We have to realize this. When we say with our mouths and our minds that we trust God, our hearts are going to reveal the truth, how we're acting, how we're thinking is going to reveal the truth. If we believe it's all up to us to secure the best job, find the perfect man, be a model Christian, produce godly children, it's going to drive us absolutely crazy. Life is only going to get busier. The answer has to be in dependence on God.
What does that look like practically? What is dependence on God? Dependence is acknowledging our inability to control, predict, and secure the outcomes we want for life. Dependence is cultivating an appropriate reverence for God's goodness and ability. This is the fear of the Lord. Dependence is choosing to trust God before we see any change in our circumstances. It is walking in faith that God is completely good. Believing that His love guarantees the best outcome for our situation, even when it's not on our timeframe. 
We have to remember that we're trusting God for an eternal destiny, so we can trust Him with our present fear. Our choice in anxious moments is to fight back with faith based on who we know God to be. God's trustworthiness is the strength behind our battle with anxiety. Every weapon we use against it must start with who He is because only then can we invite that objective, perspective, and power into our circumstances. Jesus is the most trustworthy person that exists. 
Hebrews 11 is often called the "Hall of Faith" chapter in the Bible. One of the people in the hall of faith is Abraham, whose faith was credited to him as righteousness. I often think that Abraham must have been pretty anxious about possibly going without an heir. He was promised this heir and then the years go by, and he's getting older and nothing's happening. And so, he tries to get an heir on his own and it doesn't work. And then, there's still more years that passed and still no heir. There's a lot of stuff to worry about there. But it was Abraham who chose trust and because of this faith, God declared him righteous. What is it? What is faith? It's trust in God's goodness and ability. When we call ourselves Christians, we're saying we believe God is both good and able. Not just eternally, not just for your salvation, not just so you can have fire insurance. You're saying I have faith in Jesus Christ today for here, for what's happening in my heart, in my home, in my mind today. God is good and able for me. 
Because anxiety is often a response to fear or lack of control, it is not possible to simultaneously be in a state of trust and be overwhelmingly anxious in that moment simultaneously. Now, can you be tempted to be anxious? Yes, absolutely. The temptation is not the problem, nor is it a sin. We have to be choosing to submit these emotions to the Lord and believe His promises, reject the idea that anxiety is an identity. 
I have a friend who sees a counselor about her anxiety, and her counselor very specifically said, "Do not call it your anxiety. Don't call it 'my anxiety.' It's not yours. It's not an identity. It's not who you are. It's just something that you're battling." I think that's an excellent thing to make a point of. We don't identify by brokenness. We don't identify with sins or struggles, or hang-ups. Those do not define us. We are defined as children of the living God in Christ. 
When our hearts are set on Jesus, we find that He gives us the power to see through the situations we want to fear and control. We can choose to rest in God's overcoming power instead of focusing on outcomes and submit our emotions to the Lord.
This is a daily, hourly practice. It's a choice. A choice to consistently entrust our circumstances and our mind to Him. We'll have to do it over and over and over again. But we do this in faith that He's going to show up. We fight anxiety in faith that God's will is our peace, and His heart is our freedom. And that, friends, that's truth right there. There is nothing in Scripture to indicate otherwise, His will is your peace, and His heart is your freedom, and you get to fight back based on that truth. Your feelings might not change immediately. Sometimes, they won't change at all. This doesn't mean you don't have faith, but it does mean that you must continually choose faith even as you fight anxiety.
Have you ever considered that true courage is choosing faith in the face of fear? It takes courage to battle anxiety and say, "No, you don't own me. You are not my identity. I reject you as an identity trying to own me. I will fight you even if it takes every day of my life." Women of God have an inner strength, not because they're never tempted to control or feel afraid or get anxious, but because they fight back. We live in a fallen world, and if we've spent years habitually giving into anxiety, it's going to take time and the spirit to achieve consistent victory. We choose faith anyway. We believe that God is both willing and able to help us, even when we don't feel His presence or don't see signs of his working. 
Oswald Chambers said, "God's silence is not His absence," and that is so utterly true. I have felt this so deeply in the darkest, hardest days of my life. We walk in step with Jesus, and our battling, our fighting, it's going to precede any invisible change. Any change is going to be preceded with a fight. Don't expect this to be easy. The Christian life is following Jesus on a road that is extremely difficult. And this might be difficult for you. It doesn't mean it's impossible. It means that Jesus is right there empowering and strengthening you and you got the choice, "Will I believe He is good and able? Will I trust who God is? Am I exposing myself to the words so that I know who He is, and I know what I can trust?" 
When we found out that we were pregnant with our third baby, I'm 14 weeks of our third baby right now, I will admit that I had a lot of fear and anxiety surrounding getting pregnant again because my autoimmune disease is linked and caused by pregnancy. It lasts– I've had it and it doubled what it was after Adeline, after Eva, I've had this two and a half years I've been trying to find an answer for why it attacks my face, my arms, my neck, what to do about it, how we can stop it. We haven't found an answer physically yet. Getting pregnant immediately increases the risk. There's a lot of fear and anxiety with that for me. 
My choice now is to look back to God's faithfulness when Josh lost his job. To look back to God's faithfulness when Adeline needed a place to be born. To look back to when we were in college and wanting to get engaged, and we couldn't find jobs, and God provided those. To look back through the years at the Ebenezer stones of who God is of His faithfulness in our lives and say, "I can trust that. I can trust Him because I know who He is, and I know how he works. I see in the Word that this a God who comes through for His people." 
As long as our spiritual enemy exists, we will face emotional battles. But the difference for us, women of God is we know how to fight. Each time we embrace our identity in Christ, not our identity and anxiety, we're taking a step of trust. We're fighting fear, with faith.