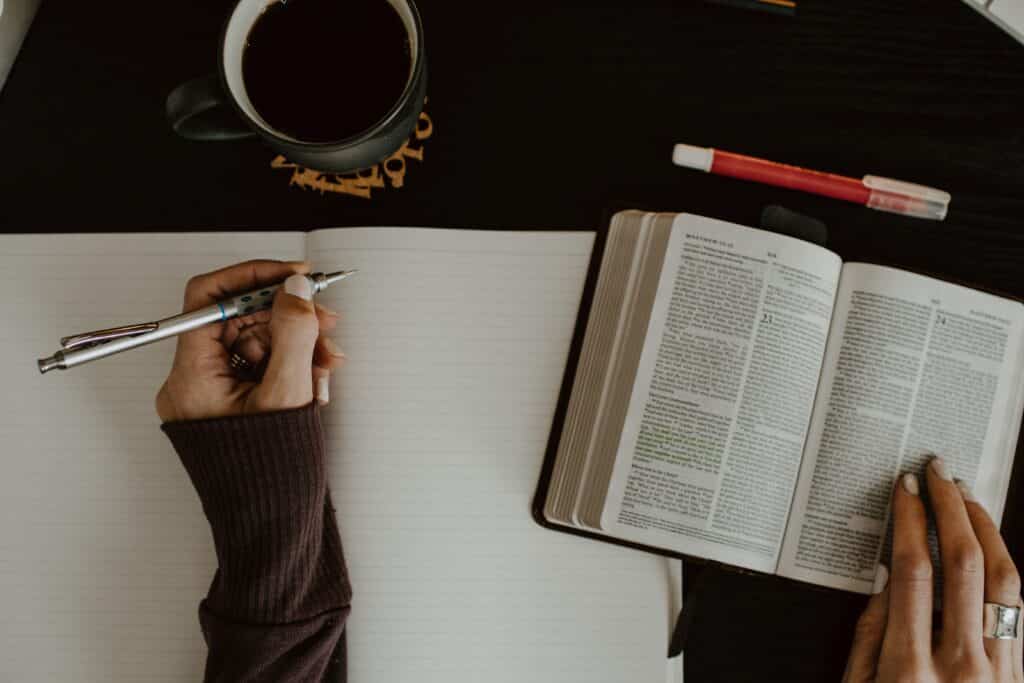 How do we study the Bible effectively? If you've followed the Canon series on Verity podcast, you know a lot about the history and development of the Bible – which should enhance your appreciation for it! But when it comes to the day to day, how do we break down these words and learn who God is?
This episode shares my own study method and hacks for studying the Bible in a realistic and manageable way. You'll learn how I take notes, why I read and re-read passages, and the advantages to using a reading plan.
Summary
Pick a spot, choose a reading plan, and then make time to study! Taking notes by hand will not only help you retain what you studied, but will help you distill the concepts in your own words and apply them to your life and walk with God.
What to take notes on? The 5 Ws and an H:
Who: Key figures, geneaologies, family lineage

What: Events, actions, things occurring in the passage

Where: Locations, connections to other locations in Scripture

When: Time of writing and time of occurrence

Why: Motivations of characters, reasoning, past promises

How: How the story played out; what actions were taken?
Follow cross references to related passages and write out the connections. Read the study notes and write down anything that stands out to you. Use your Bible study notes as a way to process the most important information you read, or what impacts you the most personally.
My HCSB notetaker's Bible has ample room for notes in the margins. I often write out my thoughts, references to other passages, sermon notes, and relevant experiences (with the date) in my bible. In many ways my bibles serve as diaries of what I was going through in certain seasons.
This isn't my primary spot for notes, though – there isn't enough room! I like to use a separate journal to write down more expanded thoughts, questions, and observations about the text.
Ask, "What do I learn about God in this passage?"
We often read our bibles asking, "What does this say about me? How should I act? Who am I?" But as Jen Wilkin says – the Bible is a book about God. Only by seeing it in this context do we understand who HE is and therefore understand who WE are. By asking "What do I learn about God?" in each passage, we keep the focus in the right place.
Want a printable version of what's discussed in this podcast?
Grab the Bible Study Ebook from the shop!
Listen Now!
Listen in your favorite podcast app or below: