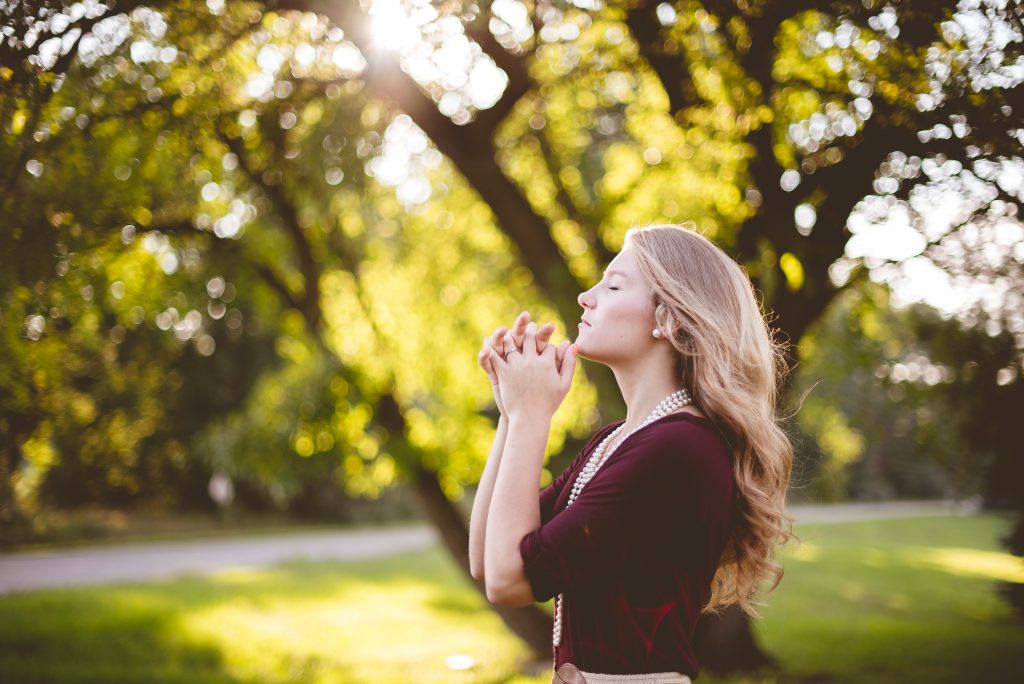 As "Christian homeschooler" as it is to admit this, I started praying for my husband when I was 15. There was a specific spot on the family farm where I would go to be alone and think about the future. And though I didn't know who I would marry – or IF I would marry at all – I figured praying for a potential future mate was better than not praying at all.
Over the years, of course, I was told all manner of discouraging things. "What if you never get married?" "Why bother with that now?" "What if he doesn't exist?" I spent many single years in the all-too-common limbo so many girls find themselves playing: is praying for something that might not happen out of God's will? Is it selfish? Or is it the best way to deal with my hopes and dreams?
When I turned 21, I dumped the limbo for good. I was sick of living in fear that marriage "might not happen". I was sick of living a safe life, trying to protect myself from disappointment by consistently qualifying my future with "ifs" and "buts". Instead, I started living fully in the will God had for me that day – and meanwhile, prayed Psalm 113:9: "He gives the barren woman a home, making her the joyful mother of children." And as I prayed it, I told God: "Lord, you know this is my desire. You know this is a part of my heart. I'm giving this desire back to you and I believe you will either fulfill it, or you will give me the strength to walk alone for as long as you have called me to do so."
Read More: Why I'm Glad I Journaled to My Future Husband
And I stopped worrying about whether or not my future husband existed, and simply prayed for him as if he did.
This post isn't about praying through your singleness, but I bring it up because that's a big part of feeling free to pray for your future spouse. It doesn't matter if you marry or don't marry. Praying for your future spouse isn't about forcing God's hand – something none of us can do anyway. Praying for your future spouse is a positive way to present your thoughts and desires at throne of grace. It changes our hearts, guides our desires, and refines our character.
One of the guiding principles to my own prayer life as I prayed for my future husband (Mr. M) was to pray for myself what I was praying for him. We too often concentrate on what our spouse "needs to be" in order to marry him – forgetting that we must equal those expectations in our own character. Praying for my husband reminded me of the things I needed to be praying for and working on in my own spiritual life. Below are four major points you can include in your own prayer list:
1. Pray for wisdom.
"Look carefully then how you walk, not as unwise but as wise, making the best use of the time, because the days are evil. Therefore do not be foolish, but understand what the will of the Lord is." (Eph. 5:15-17)
The first few chapters of the book of Proverbs talk extensively about wisdom. I didn't realize the necessity of wisdom until I was living on my own. Suddenly I couldn't rely on mom and dad to "save" me from a poor decision or hasty move. I needed to make wise choices.
Wisdom is "knowledge applied". It is the ability to use your knowledge in a specific situation, putting what you know to good use. There are different kinds of wisdom, however – worldly wisdom would tell us to use what we feel as the guide for our decisions. God's wisdom uses objective standards of right and wrong, and deep understanding of God's love and justice, to guide us into a decision that has eternal impact.
Both you and your future husband need wisdom to recognize God's calling on your lives. You'll need it to navigate the hard times. You'll need it for finances, children, church, and your marriage. As the leader of the home, your husband needs wisdom to guide his family in the truth. And as his co-leader, you need wisdom to counsel, advise, and encourage him.
2. Pray for strength to resist temptation.
"Watch and pray that you may not enter into temptation. The spirit indeed is willing, but the flesh is weak." (Matt. 26:41)
If singleness is a trial in any area, it is most definitely trying in the arena of temptation. For many, it will be a daily, if not hourly, battle to fight off temptation in the form of sexual compromise, relational compromise and spiritual apathy or discontent. This is your season to fight – not only for yourself, but for your future husband.
Today, children who are exposed to pornography usually first see it at as young an age as 11. Unfortunately, many Christian parents don't realize how early their children are learning about sex and are sometimes the last people their children hear from in a hyper-sexualized culture. Pray for your future husband's protection from pornography, and pray for him to resist temptation when it is offered (because it is a matter of when, not if). Pray for his dependency upon God, and pray for God's restoration for his failures.
And in everything you pray for him, pray just as hard for yourself. Your battles may be different; many young women struggle as much or more with lust and/or pornography than men do. Remember, Satan wants to destroy your view of sex because God designed it to be beautiful, protected by the institution closest to God's heart – marriage.  Fight to protect what God values. Choose to trust God's design over everything our world says is "normal".
Read More: Celebrating Your Sexuality as a Single Woman
3. Pray for a teachable heart.
"Let the wise hear and increase in learning, and the one who understands obtain guidance." (Prov. 1:5)
My dad had three requirements for my spouse: that he love God, work hard, and be teachable. If there is anything I have seen strikingly fulfilled in my prayers for Mr. M, it is his teachable spirit. He is one of the most humble people I know.
We all struggle with pride in our own way. For men, the desire to accomplish, succeed, and be applauded can be a very legitimate struggle. Pray for your future husband to have a humble and teachable spirit, one that is willing to learn from God's word and from others. A willingness to be taught reveals a heart that doesn't "know it all". A man like this will grow faster and stronger in his spiritual life and marriage because his pride doesn't stand in the way. He will be willing to listen to the needs of his wife and change how he approaches his marriage because his heart is to learn – not to prove he already knows everything.
As women, we too need a teachable spirit. One of the biggest hurdles I've blundered through (because let's be real, I certainly didn't make it over the first ten times) is the temptation to correct, fix, and "edit" my husband and his choice in words/outfits/whatever. Little marriage hint: if you go into marriage thinking, "He's a big boy, he can handle criticism.", you are destined for a difficult marriage. Your husband will want to trust you as his greatest encouragement – not his biggest critic. If he can't trust you to be his cheerleader, he will not trust your criticism. The wifely privilege of advising a husband is won only by building trust. Trust is not built by being the resident "know it all" when it comes to his driving, eating habits, clothing choices and financial decisions. Trust is built by being teachable, willing, and humble FIRST – just like Jesus.
4. Pray that he would desire God above all else (including a relationship with you).
"Let us hold fast the confession of our hope without wavering, for he who promised is faithful. And let us consider how to stir up one another to love and good works, not neglecting to meet together, as is the habit of some, but encouraging one another, and all the more as you see the Day drawing near. " (Heb. 10:23-25)
It's contradictory, in a way – praying for a relationship where we are honored, loved, and cherished, but also praying that we will always be second-place to Someone greater. But it's so completely true. A relationship in which both parties are committed to loving God with all they are directs their hearts heavenward in a step of accountability no earthly relationship could equal.
Singleness made me desire God. It made me desire God because I felt that God was the only one who understood some of what I was going through (however true or false that may have been). And while I had times where I distrusted His provision and doubted He was "enough", His was the hand that held my future. I knew that without Him, I could never make decisions that would have eternal impact and reward.
But marriage has made me desire God as well. There have been times where, after a monumental fight with Mr. M, I sit in another room with clenched fists telling God just how unfair the situation is. And He gently reminds me: You said that once before. God is present with me in marriage just as He was present with me in singleness. His presence is the power I need to tend to my marriage and keep it in a place that glorifies Him.
This is a habit that is learned in singleness, and it is something you should be praying for yourself and your future husband. To desire God above all else is to have an eternal perspective when it comes to marriage and relationships. Desiring God (and thus, His will for you) has several unique benefits:
Desiring God prevents us from making impulsive, emotion-driven relationship decisions
Desiring God gives us a long-term perspective
Desiring God helps us see situations through the lens of holiness, not personal gratification
Desiring God elevates our standards for ourselves and for a mate, reducing the risk of "settling" out of desperation
A God-honoring marriage is made up of two people who desire God, first. Through their desire for God and his holiness, they have a desire for one another that is not based simply on the temporary thrill of emotion and lust. Their desire is filtered through their allegiance to Christ.
Read More: It's Time to Be Okay With Never Getting Married
Praying for your future husband shouldn't be the only thing on your prayer list by any means. But if you struggle with contentment, route your discontented thoughts into prayer. As one of my dear friends told me: "worrying is praying for what you don't want". Don't worry about being single. Pray for wisdom, strength, humility, and a desire for the God who loves you – the same God who loves your future mate.