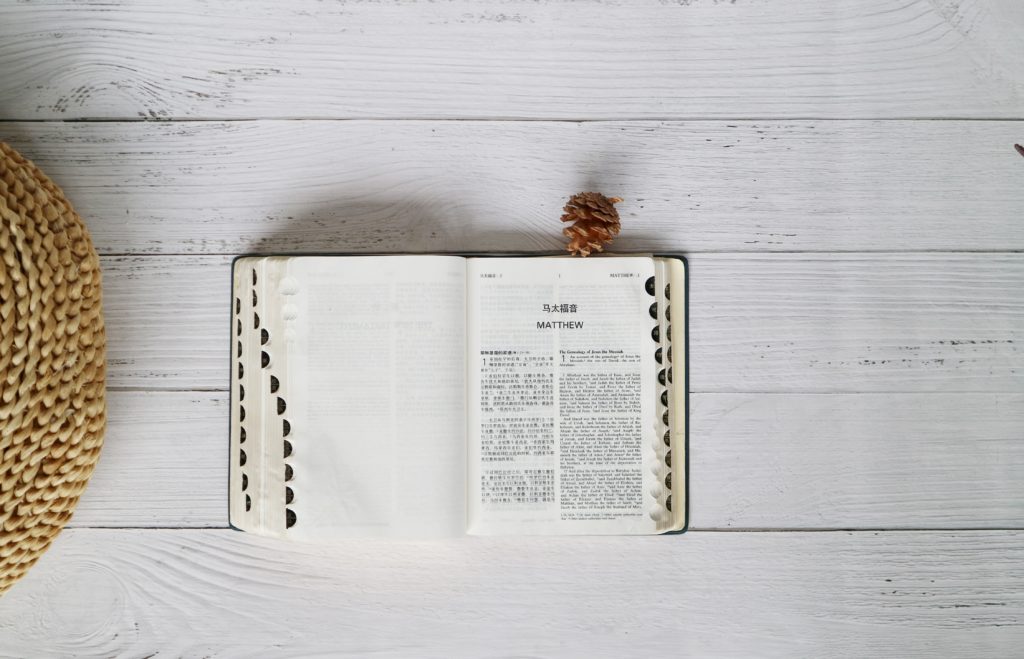 Let me preface this by saying: This is not a devotional-bashing post. I personally use and love certain Christian devotional books, and regularly read books on theology and Christian life. These books fill a very important void in the world of books, BUT: they should not act as a replacement for the Bible itself. Unfortunately, that's exactly what they do.
Because Christian devotionals and books are easy to read and understand, we are drawn to them over the Bible. Studying the bible is hard work! But when we continually consume Christian lifestyle/devotional books, we lose our taste for the Word itself. It becomes harder and harder to "get into" the Bible when we sit down to read it, because we don't have an author explaining it for us.
I, too, am an author, and my book is coming out in 2020. I hope you'll buy it! But I hope even more that you will not let it replace your personal time in the Word of God. If anything, I hope my book drives you to spend MORE time in the Word – even if it means you take forever to finish MY book!! It is more important for you to know, understand, and be able to interpret the Bible itself than it is for you to know and understand my words about it.
So how do you shift from depending on devotionals for your Christian walk to studying the Bible for yourself? Here are a few tips.
Expect the Bible to Be Hard at First
No one – and I repeat no one – understands the Bible without study. None of the spiritual leaders you know came to Scripture knowing everything they know now. They did not have some kind of special advantage over you; they took the time to study! Knowing the Word is not for people in some kind of exclusive Christian club; it is for EVERY man. One of the most beautiful results of the Reformation in 1517 was the common man's access to God's powerful Word. It was a return to the model of the early church, and it's something we Westerners take far too lightly. There are still people in the world who don't have access to the Bible; do we appreciate what we have?
Appreciation comes through exposure, so to appreciate, love, and enjoy God's Word, you have to open it. Expect this to be hard. The Enemy doesn't want you in the word, and your own mind and heart won't want it if it's not yet a habit. This will take time and discipline, choosing to ignore your feelings and take a step of faith. Because that's what this is! By opening the Word and studying it, you're putting faith in God's promise to use His Word to speak to you.
Pick a Passage to Study Daily
You can make your time in the Word much easier to do if you choose ahead of time what you will study. Pick a passage! I like to read through the Bible every year, but if that's too much for you right now, choose a shorter reading plan. Concentrate on just one book. Do a study of a certain topic in the Word – perhaps fear, or peace, or wisdom. You can look up reading plans online with a simple Google search or even make one yourself by dividing up the chapters of a book by the number of days you want to study it.
Giving yourself a set plan for what you're reading will keep you focused, which is one of the advantages of a devotional book.
Learn to Ask Questions
Devotionals walk us through Christian concepts with questions and personal stories. The Bible is full of personal stories, and these come to life as you ask the questions. If you don't understand something, write down your question and search out an answer! As you read a text, ask questions like:
Who wrote this?
Why did they write it?
Who are they talking to?
Who is God in this passage?
What do I learn about following God in this passage?
How does this affect my life today?
Asking question will keep you engaged as you're reading and help you go deeper mentally and spiritually. You'll also notice more in the text.
Don't Be Afraid to Go Slow
In Women of the Word by Jen Wilkin (which I highly recommend buying if you're new to bible study! It's almost always on sale at Lifeway and is on Amazon as well), Jen points out that sometimes studying the Word is a slow process. We have to take time to ask those hard questions, take notes, and struggle with the text a little. It's okay if you don't understand it at first. Walking by faith requires struggling with things we don't understand, and trusting that God will make them clear as we continue to seek Him.
You know that old verse we all know so well: "Ask and it will be given to you; seek and you will find; knock and the door will be opened to you. 8 For everyone who asks receives; the one who seeks finds; and to the one who knocks, the door will be opened." (Matt. 7:7-12)?
Literally translated Jesus was saying "Keep asking and it will be given to you. Keep knocking and the door will be opened." Perseverance is a pivotal piece in your faith journey. We western Christians like to give up when things get hard, but that's not how the church was built. Following Jesus is NOT easy at times, but will you keep asking? Keep seeking? Keep knocking?
He always answers.
Utilize Your Resources
There are countless free and paid resources to help you go deeper in the Word so you no longer depend on a devotional. A few of my favorites:
I also give tips on Bible study on my Instagram and there are several posts on my blog about this as well: here, here, and here.