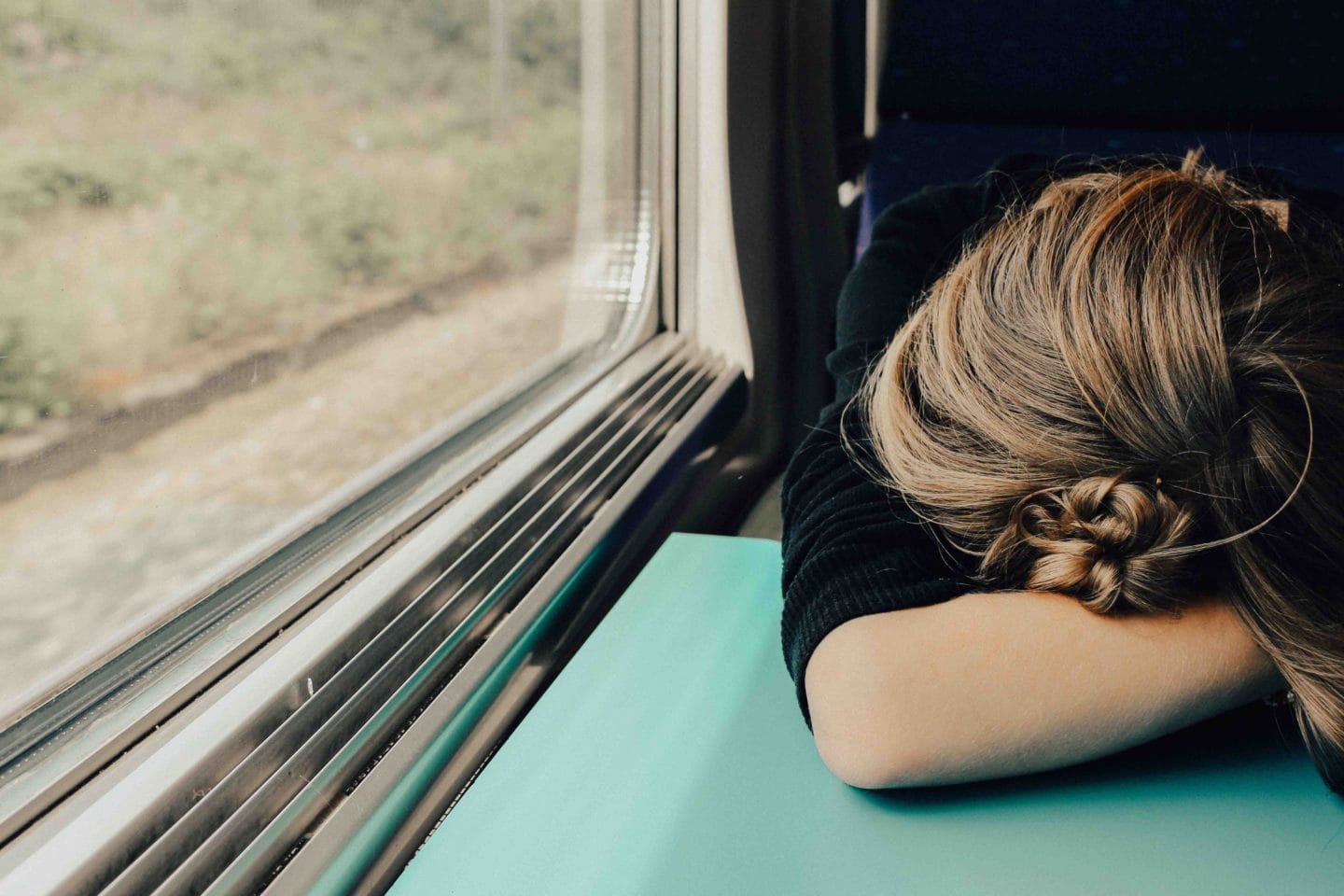 We first start bragging about it in high school: I am so tired. 
In college, it just goes with the territory. "How are you?"
"Tired."
Then you get married, have babies, and there it is again – this time on Facebook and at play dates: "I'm just so TIRED."
I think we need to look at tiredness differently; not as a bragging right, not as a complaint, not as anything but a human reality. Because to be tired is to be human. To be tired is to have done good work in a fallen world.
Weariness is a Hard Thing, Not a Bad Thing
Work existed before the Fall, but before the Fall, work was a joy. It did not resist us; now it does. Now our work to create and fill and make exhausts us. But our work, when done to the glory of God, is still good. And the weariness we feel at the end of the day is not something to resist, but something to accept. To make anything good and God-glorifying, we must expend energy. We must lose ourselves.
When we are weary from our labor – whether bending over books in a college library or getting up at midnight with a newborn – we are tired for a cause. When we work to do the things God has called us to do, we will be tired. To act as if this is a surprise, that it shouldn't be this way, is to ignore the nature of the world we live in.
Weariness is hard. But it is not bad. We do not need to run from it; in fact, we should not run from it. Weariness is a sign that work has been done.
Accepting Tired as a Season of Life
As I write this, my 3 month old has been sleeping through the night for about five or six weeks. But she still has that sporadic 2 AM wake up that leaves me blinking and groggy when my toddler wakes at 6 AM. There were other seasons like this one: Seasons of late night studying, of 12-hour work days, of running events until midnight and reporting to work the next day at 7 AM.
In each of those seasons, I was tired. But I was also doing what God called me to do. Being tired was part of that call.
When we spend time complaining about our tiredness, what we're really saying is we either don't have the discipline to cultivate true rest, or we are resistant to embrace the demands of our season. It's natural to resent discomfort. But as followers of Jesus, we must be willing to follow Him into the little discomforts and inconveniences that are so often harder than a "mountaintop" sacrifice.
Tired is my season. I could wake up angry that my life demands of me physically what it is asking right now, or I can accept this as part of my "living sacrifice" to the Lord (Romans 12:1). If I choose the former, my life will continue in this season but will be made harder by my inability to embrace it. If I choose the latter, I will be weary – but in the center of His will.
Spent for the Glory of God
In his book You and Me Forever Francis Chan talks about the end of life, and how the Western approach to our latter years is to see them spent in the comfort of retirement. But retirement is not a biblical principle. Rather, Chan encourages believers to spend the latter halves of their lives finishing their spiritual race with everything they have. He calls us not to peter out as life goes on, but to run harder and faster toward God's upward call, ending in a victorious sprint across the finish line.
The idea that our comfort is king has infiltrated the Western church. It's why we see tiredness as the enemy; why we think weariness from our good, God-called work is to be avoided at all costs. But the discipleship the apostles articulate throughout the New Testament looks far different than this:
Therefore, since we are surrounded by so great a cloud of witnesses, let us also lay aside every weight, and sin which clings so closely, and let us run with endurance the race that is set before us… (Heb. 12:1)

Do you not know that in a race all the runners run, but only one receives the prize? So run that you may obtain it. Every athlete exercises self-control in all things. They do it to receive a perishable wreath, but we an imperishable. So I do not run aimlessly; I do not box as one beating the air. But I discipline my body and keep it under control, lest after preaching to others I myself should be disqualified. (1 Cor. 9:24-27)

I press on toward the goal for the prize of the upward call of God in Christ Jesus. (Phil. 3:14)

I have fought the good fight, I have finished the race, I have kept the faith. (2 Tim. 4:7)
Life is a race. Life is a fight. It requires energy and focus; it will exhaust us and beat us up. We will want to give up, to give in, to seek comfort, but in order to accomplish God's good work we must persevere. We must keep our eyes lifted, lay aside the weight, and press on through the weariness for the prize. 
Because the prize is not our own comfort, nor earthly satisfaction, but an upward call to lasting rest.
I want to run my race to the uttermost. I want to use all my strength, not save it for some unknown day. That may mean I end the day tired – but I am spent for His glory. I am weary, but I am in the center of His will.