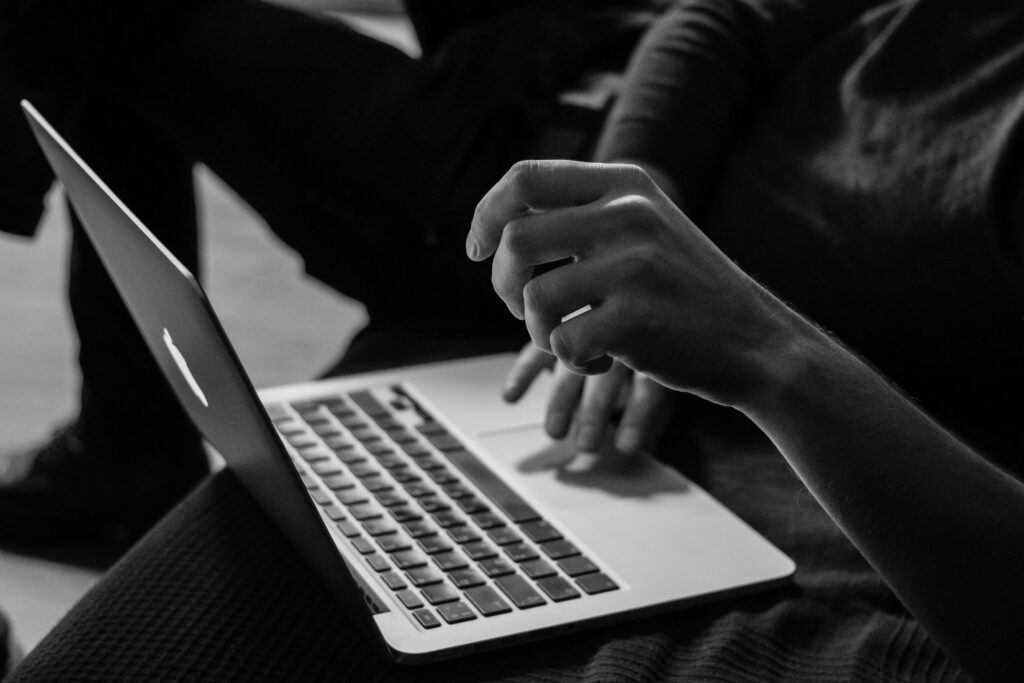 If you've ever perused the Facebook comments on a popular Christian page, you know exactly why I'm writing this article. Facebook comment threads are a window into raw humanity, are they not? And this is true of all social media, not just Christian pages! So why do Christian commenters seem no different from their unbelieving associates? The attitude, tone, and name-calling is exactly the same – maybe with a few less swears. It doesn't take a biblical scholar to say: Something isn't right.
I've wrestled with this question with increasing frustration. How could people who claim Christ violate His standard of holiness in such an obvious and un-Christlike manner?
Truth is, I know exactly how they do it because it's my nature, too. I am more prone to anger than I am to other sins of the flesh, and when I feel justified in my argument, information, and emotions, I'm tempted to express all three with little consideration for those who read my words. Walking by the Spirit is hard in those moments. Because I intimately know the temptation, I also know why online Christians are so mean. Here are a few thoughts.
Mean Christians Ride the Theological Pendulum
The theological pendulum occurs when a Christian swings from one denominational persuasion to another. This is not wrong in itself; we all change our minds through study and prayer. We even change church traditions! Where Christians go wrong is in demonizing their former tradition (when it falls within orthodox biblical teaching; see this post on core doctrine) and acting as evangelists, not for the gospel, but for their new persuasion. This lack of grace for denominational differences can be a sign of newly-converted zeal, but it's not healthy. Nor is it biblical. Romans 14:1 says: "As for the one who is weak in faith, welcome him, but not to quarrel over opinions." There is no way to know who is weak in faith and who is stronger in a comment thread except by the amount of spiritual fruit borne in the speaker's tone. Theological smarts without grace and kindness are a "clanging gong" (1 Cor. 13). As I said in my article How to Avoid the Theological Pendulum:
It is SO EASY to react to our negative experiences, create a straw man of our old church/tradition, and become entirely ungracious to those remaining in that tradition. We can become crusaders against everything we once believed, not discerning enough to recognize what was actually unhealthy and what is still within the realm of Christian freedom. This difference is vital for unity in the church.
Mean Christians Fall for the Slippery Slope Fallacy
Another reason Christians are nasty online is the logical fallacy of the slippery slope. This fallacy is used liberally in political and theological contexts. When using this fallacy, the speaker argues that if "X" happens, it will set into motion a series of events that, like a chain reaction, inevitably lead to an unbiblical (and usually detrimental) end. For example:
"I can't believe you shared this pastor's work. If people read his work they will open a door to reading so-and-so's work and will be deceived and led astray from the gospel." (Usually said pastor is simply presenting a view the speaker doesn't hold!)
"If Christians start returning to liturgical traditions they will be on their own way to works-based salvation."
The slippery slope fallacy is linked to several underlying mindsets: 1) Fatalism. This mindset takes a cynical view of the future, one inconsistent with the overcoming power of the gospel in life! 2) Fear. Rather than rest in confidence of the Spirit's conviction in fellow believers' lives, and rather than pursue discernment based on tiers of doctrine, those who utilize the slippery slope operate in a constant state of fear – which manifests as anger and urgency.
In 1 John 4:18 the apostle writes, "There is no fear in love, but perfect love casts out fear. For fear has to do with punishment, and whoever fears has not been perfected in love." When we are maturing in love for God, we have confidence in His work. We are not driven by anxiety and urgency but by peace and confident trust that His truth will win – and it doesn't need us to do so.
Mean Christians Lack Discernment
The irony of this point is that most mean Christians brag about their discernment! There is an element of pride in one's "wokeness" to the narrative at play – whatever the issue may be. This knowledge mobilizes pride, and pride is then justified because of the speaker's association with "the truth".
Sadly, when Christians don't know how to maturely discern between core doctrinal issues and secondary doctrinal issues – or worse, political issues that are not gospel-related at all – they will mobilize their anger in the name of Scripture. They will even link their favorite tertiary or political issue to the gospel in order to give it more weight. This is not evidence of Spirit-led discernment but actually evidence of the absence of it.
1 John 4:1 says: "Beloved, do not believe every spirit, but test the spirits to see whether they are from God, for many false prophets have gone out into the world."
Romans 12:2 says: "Do not be conformed to this world, but be transformed by the renewal of your mind, that by testing you may discern what is the will of God, what is good and acceptable and perfect."
Hebrews 5:14 says: "But solid food is for the mature, for those who have their powers of discernment trained by constant practice to distinguish good from evil."
Powers of discernment must be trained by constant practice, based not on one's favorite pastors in a single persuasion or one's favorite political commentator but by exposure to the Word of God, varied godly community, and consistent, humble prayer.
Mean Christians Grieve the Holy Spirit
The Holy Spirit is the power of God to the believer in Christ:
"But the Advocate, the Holy Spirit, whom the Father will send in my name, will teach you all things and will remind you of everything I have said to you." (John 14:26)
He teaches us and reminds us of truth, but He does so lovingly:
And hope does not put us to shame, because God's love has been poured out into our hearts through the Holy Spirit, who has been given to us. (Romans 5:5)
Paul puts the works of flesh in direct contrast to the works of the Spirit in Galatians 5:
"The acts of the flesh are obvious: sexual immorality, impurity and debauchery;20 idolatry and witchcraft; hatred, discord, jealousy, fits of rage, selfish ambition, dissensions, factions21 and envy; drunkenness, orgies, and the like. I warn you, as I did before, that those who live like this will not inherit the kingdom of God.

22 But the fruit of the Spirit is love, joy, peace, forbearance, kindness, goodness, faithfulness, 23 gentleness and self-control. Against such things there is no law. 24 Those who belong to Christ Jesus have crucified the fleshwith its passions and desires. 25 Since we live by the Spirit, let us keep in step with the Spirit. 26 Let us not become conceited, provoking and envying each other."
Hatred, discord, fits of rage, dissensions, factions – none of these exemplify the truth of Christ, much less His love! These fruits of the Spirit Paul lists are to be evident in our lives, not just in person, but also online. When we speak the truth "in love", are we actually loving? Do our actions align with 1 Corinthians 13? Do they align with Galatians 5? Or are we "conceited, provoking and envying each other"?
I don't think it is extreme to say, based on these passages, that the severity of online Christians grieves the Holy Spirit. We can do better. We can live up to the truth and grace Christians are called to exemplify – because compassionate truth is not compromise; it's strength.
What to Do With Mean Christians
What can we do when we see our self-proclaimed brothers and sisters grieve the Lord (and us) this way? I have a few ideas:
Pray. Invite the Holy Spirit to work in their heart and show them the truth of their actions. Remember that prayer is the first and greatest action step; God does work no man can do.
Scroll away. Often the best thing we can do is ignore their behavior and not contribute to their vitriol. Angry people thrive on conflict; feeding their fire isn't always the best choice.
Speak up. Sometimes the opposite is true! Set an example of dissenting kindness. Show how to disagree or even rebuke in a loving way. People see this so rarely, it can be a good way to teach a fellow believer what it looks like in action.
What if I am the Mean Christian?
If you are reading this post realizing that you have, in fact, violated your own conscience (and God's intent) through your online behavior, it's not too late to repent and change! Let this be the day you set your face toward the Lord and let Him change your heart. Pursue understanding of first, second, and third tier doctrines so you can give grace for differences. Learn to recognize your patterns of anger and fear and invite God into those. Learn to walk away from online conversations when you can't behave in a godly manner. Remember that you are not God and He doesn't need a defense committee. Learn to depend on the Spirit to tell you when to speak and when to be silent.
God can change you better than you can change you. Speaking from experience 😉