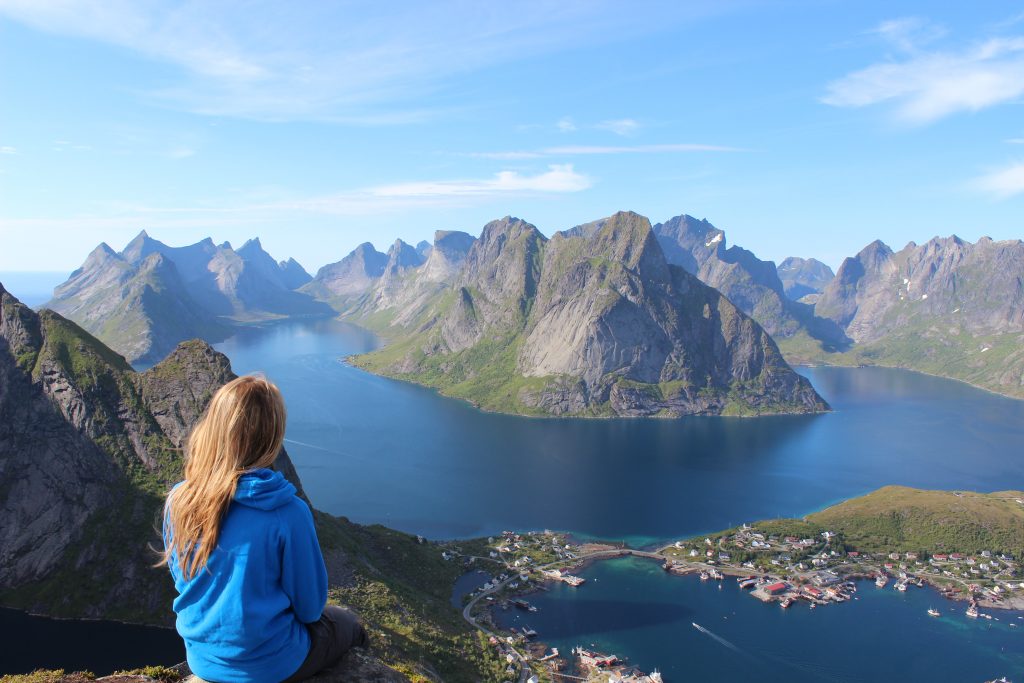 This post is from the archives.
Yesterday was the worst day of my life.
As I drove home from work I tried to think of a worse day, just to put things in perspective – nope, couldn't find one.
We do four major recruitment events on our campus per year. The November and April events are the largest, and the week before the event is always the worst. I know this. I prepare for 2,000 students, 500 of which I handle myself.
But in typical last-minute fashion, Josh got called out of town on business for the entire week. Then every computer system I need to do my job started having errors and randomly deleting information. People wanted things I didn't have the budget to accommodate. And my back hurt. Then my new manicure chipped, which wouldn't be bad on a normal day, but on a bad one set me over the edge.
I cried all day. Like literally all day. My mascara came off, my hair was frizzy (I didn't get to shower that morning), and I still had homework to turn in that I knew I couldn't get to.  The time change had me exhausted as well.
I went to bed at 8 PM and sat there with a heat pack, trying to get my back to stop hurting. Josh asked if he could call, at which point I sobbingly relayed the disaster of a day.
"I'm completely alone." I wailed. "Everything that COULD go wrong IS going wrong and I'm exhausted and in pain and -"
"You're not alone, babe," He said softly.
"Um, yes, I am, frankly I'm in our bed by myself right now, and you should be glad about that, at least."
"God is with you. You read that this morning."
"Well why then, in the middle of the most stressful, awful, moments, I don't FEEL as if He is there? It's like He doesn't care, right in the middle of the things I hate and the things that overwhelm me."
"This isn't a matter of what you feel. This is a matter of faith. If you say you believe in God you have to also believe He is present with you. You have to acknowledge that He is there."
I hadn't thought of it that way.
"Accept His presence, darling." Josh said softly.
I have faith in God: I have faith in His salvation, His kindness, His love. But I've also been assigned a life and a job that place certain responsibilities under my control. When those responsibilities spiral OUT of control, I start looking for God. In the midst of the stress and the busyness, I can't seem to find Him. I start to feel very alone.
It would be a lie for me to write boldly about feminism, purity, and theology and yet fail to acknowledge that I crumple into a ball of tears now and then. Faith in God is not evidence of a great person, but of a person trusting the greatness of her Savior.
It's in those stressful moments I cease to remember that greatness. I cease to trust. In that moment, I cease to have faith.
Romans 16:20 says:
"The God of peace will soon crush Satan under your feet.  The grace of our Lord Jesus be with you."
Satan loves disorder. I think disorder can come from even the best of sources: Christian people, children, well-paying jobs. But the sin of disorder isn't in the situation, but in our reaction. It can drive me to Jesus or make me question His presence.
I have been reading in the Psalms these last few weeks as I struggle through these feelings. One recurring theme is David's phrase: "Rejoice and be glad, O my soul!" As I stumbled upon this phrase, I noted its recurrence with David's acknowledgement of his own weakness. He often said he was 'poor', 'needy', and 'afflicted'. He was overwhelmed, chased, abused, called names, and alienated by men. But in the midst of confessing these things, he would stand up and say: "I will rejoice!" and "God's word is worthy to be praised!"
This doesn't make any sense. I thought as I flipped between passages. I don't have the desire nor the motivation to 'rejoice' in my current situation. I think I would have a brain aneurism if I tried.
But as I compared notes between Psalms, I realized something: David's hope and joy weren't a product of David pursuing joy itself. David didn't 'seek joy'. David sought God.
"May all who seek you
    rejoice and be glad in you!
May those who love your salvation
    say evermore, "God is great!"
 But I am poor and needy;
    hasten to me, O God!
You are my help and my deliverer;
    O Lord, do not delay!" (Psalm 70:4-5)
I often think I can fix my attitude or situation by seeking joy. Joy is a choice! I tell myself, and buckle down to slap on another smile and pretend everything's okay. And that's why I end up crying on my living room floor and running circles around my office building to keep from pulling out my hair.
We can't fake it till we make it. You can't pretend it's okay when it's not – you'll implode, or explode, if you're an extrovert like me. We have to find somewhere to put those emotions:
"Do not be anxious about anything, but in everything, by prayer and petition, with thanksgiving, present your requests to God.  And the peace of God, which transcends all understanding, will guard your hearts and your minds in Christ Jesus." (Phil. 4:6-7)

"Peace I leave with you; my peace I give to you.  I do not give to you as the world gives.  Do not let your hearts be troubled and do not be afraid." (John 14:27)
We don't seek joy. We seek Jesus.  And it's easier to seek Him when we trust that He's already here.
Like my sweet husband said, we have to accept His presence. We have to really believe God when He says He will never leave us and never forsake us. That's not just for those with 'big needs', like divorce and death and unemployment. That's for those of us with our little needs, the needs we stuff away because they're ours to hoard, and we don't want to bother anyone else with that junk.
So we pile up our needs and overwhelmings until we're climbing an insurmountable mountain built by our own hands, then wonder where God was when we started the journey.
"I was right here… ready to take those burdens." (1 Pet. 5:7)
This morning when I was having coffee in my living room listening to worship music and reading in – would you know – Psalms. I was looking across the lake at the gray sky, not looking forward to another stress-filled day. As I was listening, 'Light Up the Sky' by the Afters came on the station, and at the same time the sun broke through the clouds.
At the moment, I didn't think much of it. I was too consumed with my situation to accept that – possibly – God was making His presence apparent to me. That possibly, God wanted me to know He is there.
But as the sunlight danced into the room, I accepted it as a gift. I accepted it as His presence.
And through eyes of faith, I rejoiced at the dawn of a new day.