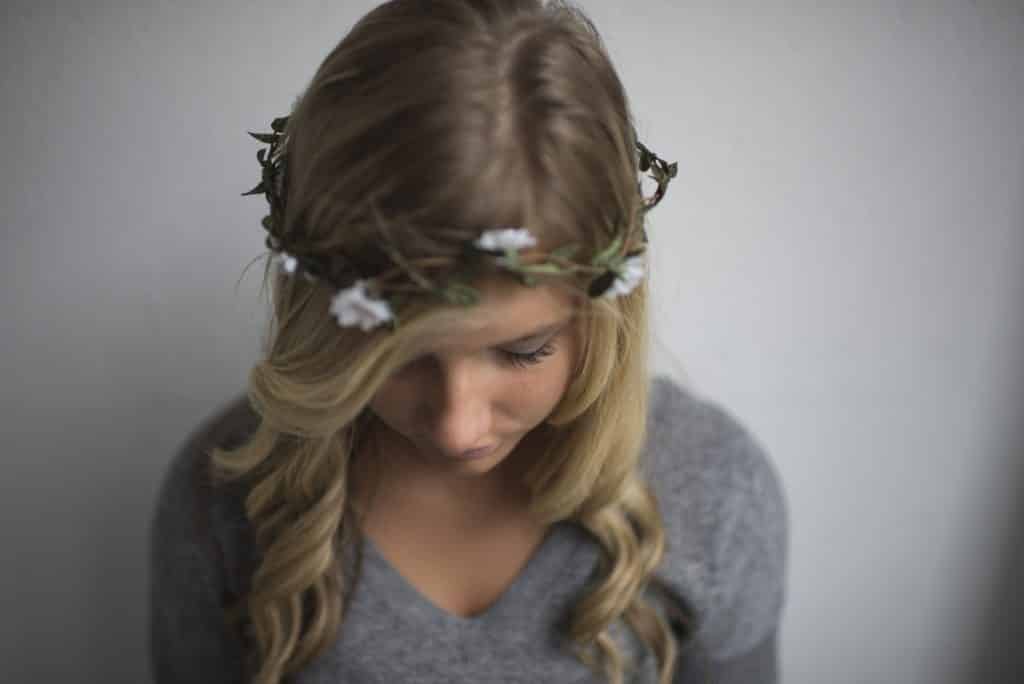 Dear Girl,
I have this routine for putting on pants.
To be honest, I don't like pants that much.
This is partially due to my hatred for the whole pants-putting-on process.
Jeans straight out of the dryer are a force to be reckoned with – can I get an 'amen'? I spend a good five minutes doing squats, donkey kicks and high knees to loosen them up to a form worthy of the public eye.
I'm quick to put a shirt on during the pants-dance routine, because the whole cupcake-look doesn't appeal to me. I'm also quick to put on makeup, style my hair, and wear my signature pink lipstick.  I have scars to cover. I have curls to tame. And I have no upper lip, so I have to draw that on.
We pinch, poke, and prod; diffuse, scrub, exfoliate, and pluck; run, lift, and crunch. Even then, we thousands of women peer into mirrors, hoping to hear we are the fairest – not to them all, but at least to ourselves.
We aren't all discontent with our bodies, lives and homes. But I do think, like me, many women have trained themselves to meet expectations. When we fail, we feel we have no excuse for that failure.
I don't compare myself to other women, nor do I keep a running tally of their looks and possessions. But as I look into the mirror that oh-so-clearly evidences my flaws, my heart tells me I have no excuse to look, be, or act less than my personal best.
You have no excuse if you gain weight.
You have no excuse if your house is messy.
You have no excuse for letting things slide when you are exhausted – suck it up and keep going.
Each morning, without knowing, we put on these expectations like the glasses through which we see our world. We shoulder the burden we crafted for ourselves. Then we walk through the day believing we have no excuse if we gain a pound, look rough, forgot the meal plan or haven't scrubbed the baseboards. And at the end of the day when we glance in the mirror or at our to-do list, we see where we've transgressed our own laws of perfection… laws God didn't even write.
Perhaps you stand like I do, a mirror unto yourself, preaching failure into your heart from a standard you created. Because it is through law that we know transgression (Rom. 4:15), by setting up these expectations we prepare ourselves to fail. Expectations based on anything other than the word of God will not bring satisfaction. They will bring discouragement.
Dear girl, when you fail your own expectations, the only one you're failing is yourself.
We tell ourselves we have 'no excuse' for how our houses, kids, and bodies look. We compare and contrast, or rebelliously raise our personal standards to 'spite' the collective. It's, If she can do it, then so should I! or I'm not going to compare to others. I'm going to be BETTER than others.
Either way, we are fighting that internal belief that we have no excuse.
But we do have an excuse.
There are reasons we don't always look meticulously coiffed. Reasons our houses have dirt and dishes. There are reasons why our faces are scarred, our hands calloused, our nails chipped and our stomachs stretch-marked.
Our excuse is love.
"There is no fear in love. But perfect love drives out fear, because fear has to do with punishment. The one who fears is not made perfect in love.  We love because he first loved us." (1 Jn. 4:18-19)
You may not have children begging for your time, but we have jobs, churches, friends, and family who were placed in our lives strategically so we can love them. Not just to throw parties so we can make cute garlands and Pinterest-worthy cakes; not just so we can over-burden ourselves with the women we think we should be. It's not about who we are, but how we love.
When our nails chip as we wash the dishes and we are a four out of ten for looks because we're giving baths or working late, in failing our own expectations we have met the expectations of God.
Now, I won't stop getting my $6 manicures, or cease going to the gym.
I won't get rid of my pink lipstick and heels. And I won't get lazy and let my house collapse in disarray. Love and diligence are not mutually exclusive.
But when the mirror and the kitchen speak failure over me, I will remember: there is a reason they look this way.
If you don't have time to to do your hair because you were spending time in God's Word, or you didn't touch the dishes because you were making dinner for your work-weary husband – you've accomplished something. You've accomplished love.
Dear girl, God doesn't see you as a failure. When you are less than your best because you're meeting needs and serving others, you are in that moment your very best self. We don't need to let go of stewardship and class when it comes to home and appearance, and I don't think you should. But like many another blogger has said: we must release ourselves from bondage to perfection. We live in a fallen world.
And this fallen world doesn't need more clean dishes, immaculate faces and size 4 waists.
It needs more patience, kindness, courtesy – and love.
"Above all, love each other deeply, because love covers over a multitude of sins." (1 Peter 4:8)

I Waited Until My Wedding Night to Lose My Virginity, And it's the Best Thing I Ever Did
5 Myths About Saving Your First Kiss for the Wedding Day