A month ago I featured devotion notes Mr. M sent me (God Will Fight For Us) since they encouraged me so much.  Today features his commentary on a chapter of 2 Chronicles, sent to me via email after his devotions.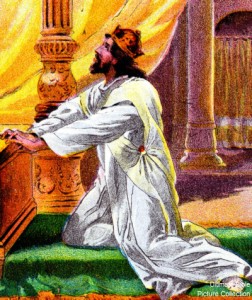 2 Chronicles 20
"After this, the Moabites and Ammonites with some of the Meunitescame to wage war against Jehoshaphat.
2 Some people came and told Jehoshaphat, "A vast army is coming against you from Edom,from the other side of the Dead Sea. It is already in Hazezon Tamar" (that is, En Gedi). 3 Alarmed, Jehoshaphat resolved to inquire of the Lord, and he proclaimed a fast for all Judah. 4 The people of Judah came together to seek help from the Lord; indeed, they came from every town in Judah to seek him." (2 Chron. 20:1-4)
Mr. M: I thought it was the coolest thing that Jehoshaphat displayed such faithful characteristics through his actions in this story. I don't have excessive notes on this but I believe that understanding this story and the actions that took place are key to our relationship with God. I want to outline the actions of Jehoshaphat followed by those of God.
1) He prayed
The first thing Jehoshaphat did when he heard of the approaching armies was that he "sought The Lord for guidance"( verse 3 ). This force that was coming upon his kingdom was a combination of three kings and their armies and it was an massive number of soldiers which greatly outnumbered that of Jehoshaphat's, even if he had time to call his kingdom to arms because they were already nearby. This event happened out of the blue and the king was alarmed so the first thing he did was seek guidance from The Lord on what he should do.
2) He gathered his people
They say that prayer by numbers is the most powerful thing out there. Matthew 18:19-20 says the following about prayer in numbers:
> I also tell you this: If two of you agree down here on earth concerrning anything you ask, my Father in heaven will do it for you. For where two or three gather together because they are mine, I am there among them.
James 5:14 also speaks of prayer by numbers when it says this:
> Are any among you sick? They should call for the elders of the church and have them pray over them, anointing them with oil in the name of The Lord.
God uses trials such as these to not just test our faith but to bring His people together so that their faith may be combined and used to work wonders in the name of God. He wants His children to be unified in their oneness of Him. Jehoshaphat's people are not just his kingdom, but they are his family and his flock. He brought them together and lead them in prayer and fasting. Jehoshaphat said a prayer that acknowledged, in front of all of his people, that God was the true ruler and one in charge. Jehoshaphat admitted before everyone that he was powerless and that nothing could stand against the Lord. Then his people set their own needs and wants aside in faith so that they could seek God's will in this pressing matter. They had the faith to deny themselves and their flesh so that they might receive God's protection. Then, while they were doing this, the Holy Spirit spoke through one of the people, and not just any person, but He spoke through a Levite, which was appropriate for the time because Christ had not come yet. I thought it was interesting, though, that it wasn't Jehoshaphat, the leader, that received the answer, but it was the person that God had appointed to receive His word at that time. Yes, it was a Levite because of the customs. But it was the person God had chosen to speak through, and Jehoshaphat listened to the Spirit speak through this man, even though it wasn't he himself that God was speaking through.
3) He obeyed
The Holy Spirit said, through the Levite, that Jehoshaphat was to march out to this massive army and, to not fight them but to just stand still. For The Lord told them not to be afraid because the battle was not theirs, but was the Lord's. The Lord told Jehoshaphat exactly where to go and exactly what to do. Jehoshaphat could have thought that what The Lord said was crazy because it truly was suicide to fight these forces, especially if they were just going to stand there. The whole lot of them could be picked off with arrows if they stood there or would get mowed down for even showing up. But God had a plan, and it was to protect His children.
4) He praised The Lord
Jehoshaphat's men were marching out to what could've been their demise. But it was done out of obedience to God and they trusted that God would protect them. Jehoshaphat trusted The Lord so much that he even went WITH his men on this march. Not every king is present in battles, especially if it's a dangerous one or one that is a suicide mission. But he trusted the Lord's word. Jehoshaphat then told his men to have singers at the front of the army and told them to praise The Lord for his holy splendor. These people are marching to their death for all they know and they are out front singing, "Give thanks to The Lord; his faithful love endures forever!" They thanked The Lord before they won the battle, and before they even REACHED the battlefield. They said that His faithful love endures forever. He loved them know matter what, AND He was faithful to them no matter what. So they trusted that what The Lord said would come true. The amazing thing is, the moment they because praising The Lord, was the same moment that the enemies started killing one another. They didn't just kill one another until they were weak enough for Jehoshaphat's army to defeat them, but they killed one another until there wasn't even a SINGLE man left standing. How does that even happen from a small dispute? What are the odds that even the last two men kill one another at the same time? When Jehoshaphat finally arrived to the outpost God had sent them to, there were the bodies of their slain enemies as far as the eye could see. And there was so much bounty that it took them three days just to collect it all from the battlefield. It was because of the faith and obedience to God of Jehoshaphat and His people that they were not only protected, but they were vastly rewarded.
God both protects AND rewards those who obey Him. We must do the following when faced with trials of any kind:
1) Seek the Lord's guidance

2) Pray as a family or church

3) Set aside our own wants and desires

4) Listen when The Lord speaks to us

5) Obey the Lord's commands through faith and trust in Him that He will do what He says He will

6) Praise The Lord, giving thanks regardless of whether He answers your prayers or not
The last two of these are the most important because it is hard for us to follow the Lord's commands even when they seem stupid or as though He's not doing His part. The Word tells us of the promises The Lord has for us when we are obedient to Him. It is so so very important to praise and thank The Lord, even if we haven't received His reward yet. We are to praise and thank Him not just after He protects and rewards us, but DURING the trials. It is then that, like with Jehoshaphat, God begins to fight our battles, even when we don't know they are being fought. Because His faithful love endures forever!