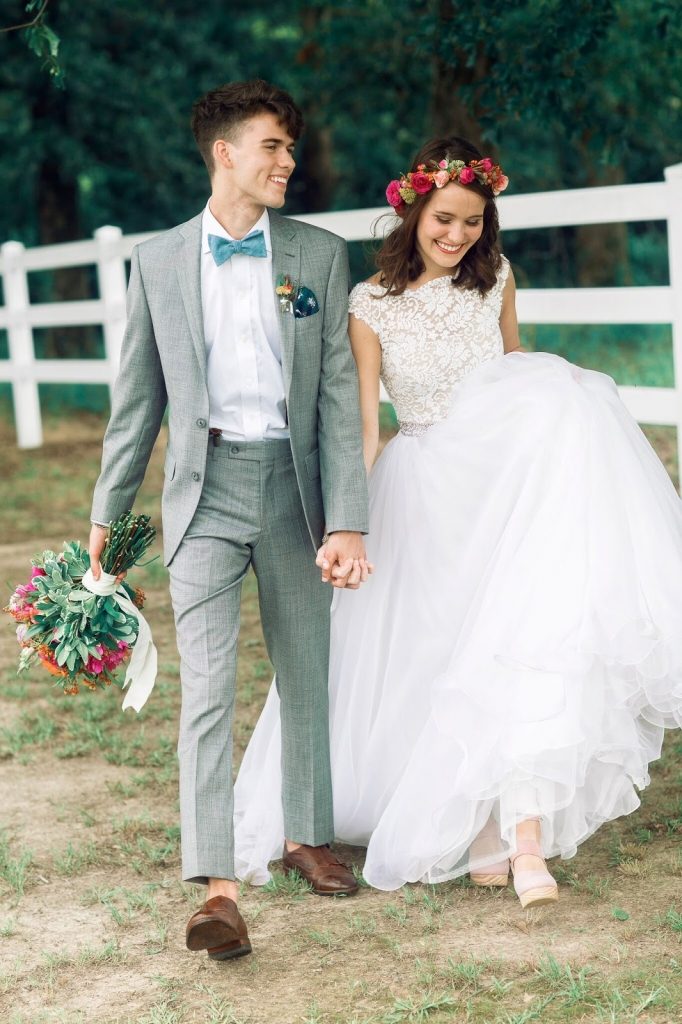 This guest post was written by Mary Kate Robertson.
When I stood across from my husband, looked up at him, and said "I do", I had only turned nineteen the month before. He was nineteen as well, but we were head-over-heels in love with each other and ready to start our lives together as husband and wife. We met when we were fifteen years old at a Christian summer camp in Louisiana where we were both from. I transferred schools when I was sixteen (for academic reasons) and ended up sitting next to John Luke in homeroom. We became better friends while in school together, and started dating when I was seventeen and he was eighteen, at the end of my senior year (he was actually my first kiss and first boyfriend!). We dated for seven months then he proposed on his 19th birthday. Nine months later we were married.
Nineteen is young, I know! Even both of us being from the south, we were some of the first among our friends to get married, and it'd be a little while before we'd have other married friends. Several things gave us confidence in marrying young, and there are some things that I believe have contributed majorly to the success of our marriage so far.
God Gives His Best
First off, I don't want to ever give the idea that I think everyone should marry young. There are so many wonderful pros to marrying young, but it'd obviously be better to wait and marry the right person when older, than to rush something that wasn't right for the sake of going ahead and getting married. Even though I did marry at 19, I did not date just for fun when I was younger. This may sound so crazy, but I only wanted to date someone I could potentially see myself marrying. My dad taught a lesson at church and what he kept saying was, "God gives His best to those who leave the choice with Him." I really applied this in my dating life. I truly wanted God's best for my life and didn't want to settle for less than that. So how did I feel like I had found God's best for me in John Luke? I felt a peace the entire time we were dating. I was in the Word and in prayer and not once did I feel uncertainty or a lack of peace about our relationship. Then, when we were engaged, I heard the "triangle analogy." You've probably heard of it, but I think it is such a great analogy! Picture a triangle in your head, with you on one bottom point and your significant other on the opposite side, then God at the top point. If you are both moving towards God at the top, you cannot help but become closer to one another.
[et_bloom_inline optin_id=optin_17]
Depend on One Another
So what did it look like once we were married? A month after we were married we moved from Louisiana to Virginia to start college at Liberty University. Moving was one of the hardest things I've done, but also one of the absolute best decisions we've made! Being so far away from our families forced us to learn to rely on one another. If we got into a fight we couldn't drive to either of our parent's houses, or even a friend's house, we only had each other there and had to work things out together, and work things out quickly if we wanted the interaction of another human being – ha!
Speaking of our parents though, looking back on these past 3 and a half years of marriage, I can't help but owe so much of it to their love and support of us. They were always cheering us on and also speaking truth into us. You cannot help if your parents are like this or not, so I think this is more-so for any parents out there: Support your kids and love their spouses. The marriage relationship should say so much about our Lord. Vowing and committing and loving unconditionally. The devil is going to come at marriages. He will twist words and make you doubt one another's motives or character in situations. I can look back at different situations and remember regaining confidence in John Luke after hearing any of our parents speak highly of him…speaking good and true things about him and his character. They've reminded me of the truth at times, when my feelings were wanting to tell me otherwise.
Choose to Laugh
Around 6 months of marriage we hit a low and it was a combination of a lot of things. Looking back at that first year our marriage really was the best part, but after months of other hardships being in the picture, they started to take a toll on our marriage. John Luke said something around that time about how I needed to take things a little less seriously. It stung at the time but was something I really needed to hear! Something clicked then and that's something I've strived for ever since…to take things less seriously and laugh more. To 'laugh more" sounds so cliché but is the truth! I realized that it was up to me that I could choose to get upset over something going wrong, or I could accept it and we could laugh about it. Things are always going to go wrong in life, and we can choose to make the best of it. Choosing to laugh about it has been WAY more fun! We laugh ALL the time. About the silliest, dumbest things. Every now and then I need a reminder for that though. During our second year of marriage we opened up our home to some friends and they lived in our basement for a couple months. That was one of the most fun times! It was during that time I learned something super important too. My friend Morgan thought John Luke was hilarious. She would laugh so hard over all the ridiculous things he did! I noticed 2 things: 1. I had been taking John Luke's silliness for granted. He loves entertaining people and making people laugh, but I had gotten used to it and didn't always laugh at the things he did. 2. John Luke was beaming! He loves it when people think he's funny. He enjoys entertaining and bringing joy to others' lives. He responds so positively to praise and when I notice the things he does. I think all guys are like that! It may not be their humor, but I think they all want their wives to be proud of them for something that they do! So I've learned as a wife to always make it a point to call out the good I see in my husband and to be his biggest fan.
Cultivate Strong Friendships
Another thing that was so beneficial for us was having Christian couple friends, and even just the same friend group! Had we have stayed home after being married I feel like we would have had "my friends" and "his friends," but since we moved everyone knew us as "John Luke and Mary Kate" and we really had the same friends for the most part! This was a huge plus because when we wanted to hang out with friends we were still together.
Run Toward Christ
With our faith walks, it looks a lot like the triangle I mentioned earlier. We both work on our own individual walks with Christ and when we are getting closer to him individually, we are only getting closer to each other as well. My pastor told us before we got married that the best thing we could do if the other was falling away from Christ was to run even harder towards Christ. Day to day this looks a lot like each of us having our own time studying with the Lord and then we usually get so excited about what we're reading that we can't help but tell the other and then we'll sit there and talk about it. I am usually having to tell John Luke to let me finish reading first because he's itching to tell me what he's learning ha! We do pray together and that is something that we are personally working on becoming more consistent with.
Age Doesn't Matter – Determination Does
I am so glad we got married when we did because we've gotten nearly 4 years together already! We're growing up together and figuring things out together and deciding what we want our lives to look like together. I just love that we're doing everything together. When we got engaged I looked at John Luke's parents who got married at 18 and looked at my parents who were married at 32 and 39, and it showed that the age you get married doesn't matter. What matters is your determination to make it work. If you both love the Lord, He is for you both, and He is for your marriage. At any age, you've got to be self-aware and aware of your significant other to see where you each truly stand.
But if you both are seeking the Lord and wanting to let Him lead you in your marriage, He IS a firm foundation to build your marriage upon.
MARY KATE ROBERTSON blogs at The Little Duckwife. Read her story in the About Me section of her site and follow her on Facebook and Instagram!