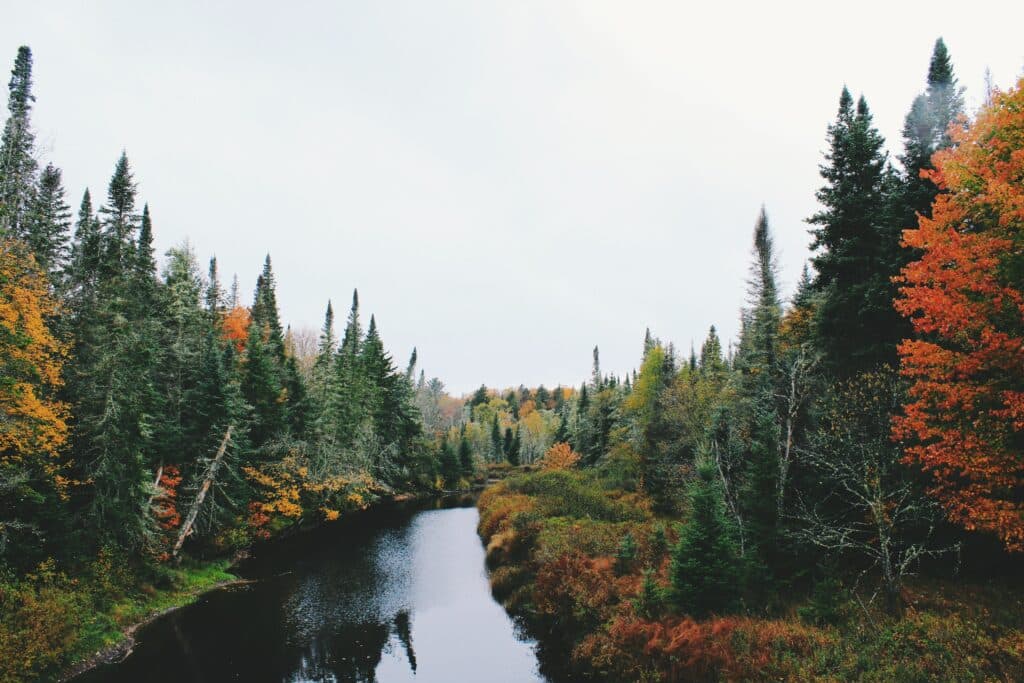 I asked for a small thing.
It wasn't much, and I didn't deserve it. But I asked all the same.
It was a short list, a prayer I prayed before Pilates each morning or while making toast in the afternoon. A breath prayer, you could call it: Please Lord, let it be cool weather after the baby is born.
It was a raging hot summer for northern Michigan. We spent two or more days a week at our local beach, watered the garden religiously before 9 AM, and refilled the farm animals' water at an alarming rate. I didn't mind being pregnant in the heat; all my babies have been born in the fall. But as I looked forward to the birth of our third, I remembered the sweltering heat of postpartum with Adeline, a newborn strapped to my chest, and trying to sleep in a room with no air conditioning. So I asked for a small thing: Cool weather.
I asked for some bigger things, too: A safe (third) home birth, for labor to progress well, for a restful postpartum season. And in the weeks leading up to the final stretch, I asked to finish scheduling my maternity leave. Small, insignificant things in 2020 – the year the world fell apart. It almost seemed unfair to ask them.
Perhaps you have felt the "unfairness" of asking small when the world is dying. I've felt the sting. My soul cringed to ask such things alongside prayers for the nation or the church. How can I pray for cool weather when Iranian Christians are persecuted?
Time with Christ has taught me: I can pray for both.
[et_bloom_inline optin_id=optin_13]
Young Christians tend to see prayer as an equation: I ask, God gives; or in some cases, God doesn't give, but it's still about the yes or no. Time with Christ teaches a different way. Prayer is more than just requests; more than just adoration. Prayer is a series of little graces, each revealing a greater degree of glory. 
Grace can be a "yes"; but it can also be a "no". Grace can be the surprise of a blessing you never asked for, or the trial that presses you closer to God. Little graces might be cool weather for the week postpartum, so you don't even need the air conditioner and the leaves turn to brilliant red and orange.
Little graces can be the birth that went exactly as you asked, even when some of it was so hard you cried.
Little graces can be not getting the job you prayed for, only to discover, years down the road, the "much more" He had in mind.
Perhaps the most important thing about little graces, though, is how invisible they are. The smallest graces are seen only by those with the faith to ask for them. Not "faith" in the sense of prosperity gospel, but pistis in the sense of loyal relationship. Small graces are asked by those who know Christ so well they feel comfortable asking for the insignificant.
And because they ask for the insignificant, they see the glory of God.
Jesus said in Matthew 10:9: "Are not two sparrows sold for a penny? And not one of them will fall to the ground apart from your Father. But even the hairs of your head are all numbered. Fear not, therefore; you are of more value than many sparrows."
"His eye is on the sparrow" – the most boring and brown of birds. What makes us think that He cares only about the great things we've groomed into our prayers? What makes us think He doesn't already see the specific wishes of our secret heart?
He sees. But He still wants to hear.
From our lips to His heart flow the burdens great and small. I've found that in releasing the smallest hope to His hand, I have a greater confidence in His world-level work. I asked for cool weather and a beautiful birth. These were little graces, just for me. When I look at the world, I see His hand sustaining, changing, drawing, and justifying because I am being trained to recognize His movements.
The little graces train us to see them; they train us to recognize His glory. Even when His glory is as small as an autumn leaf.
Postpartum Favorites
In this season of celebrating God's graces, there are many other little gifts that have made it easier – here are some of my favorites!
For Baby:
For Fun:
For Health:
I struggle with a form of postpartum anxiety each time I have a baby, and this time is no different. A few things that help are included below (I treat it holistically). I also cut out news, social media scrolling, crime/drama shows, and I don't drink caffeine (it is shown to increase anxiety).