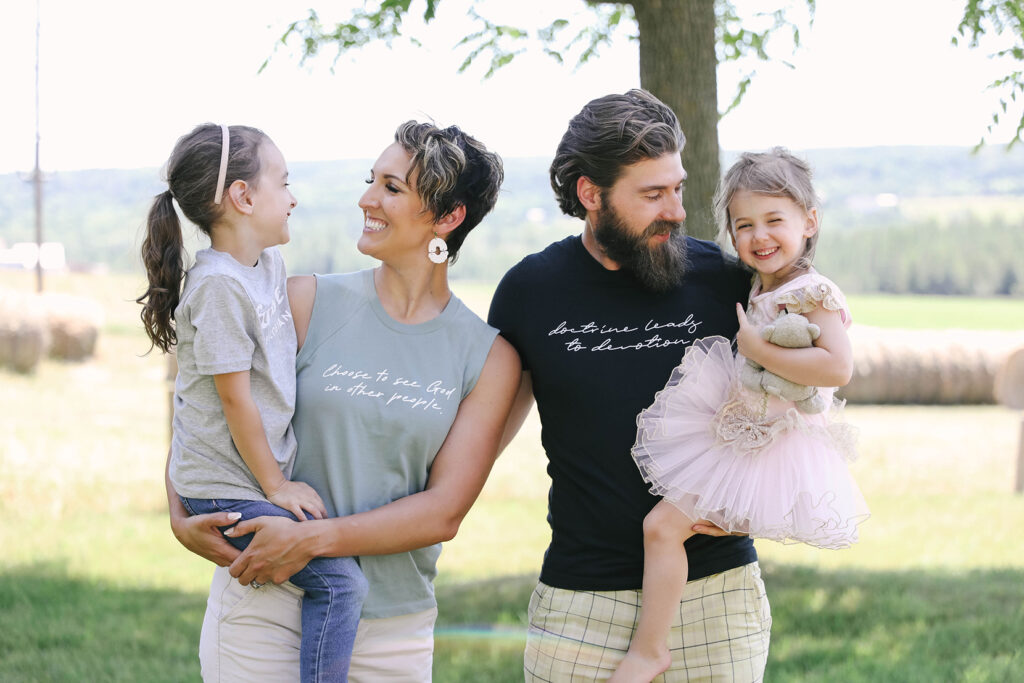 "Life is a series of seasons." This phrase from Susan Yates, who I've had the privilege of befriending through an annual writing retreat remains in my mind each time I have to adjust the way we teach our kids. As homeschoolers we grasp the need for flexibility on an academic scale, but changing with the seasons applies to discipleship, too. Last fall we were about to welcome our third child into the family, were three months self employed, and were in the middle of the Covid pandemic. This fall is different and presents challenges of its own.
Taking Susan's advice, I sat down with Josh (my husband) to go over our plan for discipling the kids this fall. With summer being as busy as it is, eating on the patio, having guests over, etc. we have not been as diligent in our dinnertime discipleship sessions (we still talk through our day, discuss our character cards, and sometimes recite verses, but it's not as robust as we would like). Fall is a great time to reset and establish routines again!
As I say in the Mealtime Discipleship freebie (below), the most important factors in a discipleship plan/routine are simplicity and sustainability. If it's not simple, you just won't do it. And if it's not sustainable, well, same thing! Less is more if this is new for you. If you've established a good consistent routine for teaching the Bible to your kids, you can slowly add on more. But too much at once is a recipe for failure. It's better to do a little consistently than to do nothing!
Here's what we are doing for this fall.
[et_bloom_inline optin_id=optin_13]
Mealtime Discipleship
As previously shared, we haven't been having a sit-down dinner as much this summer as we usually do. Now that most of our company has left for the summer, we're back to dinners inside (usually) as a family. Josh and I decided to focus on a simple routine that I wrote on an index card and keep by the centerpiece on our dinner table.
Character Cards by September and Co.
Memory Verse for the Week
Read from The Jesus Storybook Bible
Pray together (this is separate from prayer over the meal)
Ask: "What did you appreciate about [insert family member] today?"
Once Josh and I have finished eating one or the other of us starts the routine. We take turns doing portions of it – it's different every time. The girls get to pick what character card to discuss, and we work off a list of memory verses (one a week). Right now the girls are practicing Ephesians 6:1: "Children obey your parents in the Lord, for this is right." We often shorten verses to a manageable size.
After we all say the verse together, we read a chapter from the Jesus Storybook Bible. We've used a wide variety of children's bibles over the years but this is our favorite (when we finish it, we will probably move to The Spirit of God Bible, which focuses on the role of the Holy Spirit in major biblical stories).
During prayer time the girls get to choose who or what they want to pray for. We practice thanking God for the good things we have and interceding for others and their needs.
Morning Time Discipleship
Morning time, or morning basket as some people call it, is part of our homeschool routine but it's great as a stand alone practice. We use it in summer when our homeschooling is light. I love everything over on The Morning Basket by Pam Barnhill – so much richness there! The morning basket can be adapted specifically to discipleship, but here's what's in ours:
Letter flashcards for Eva (almost 4 years old)
Arithmetic flashcards for Adeline (almost 6)
Bible character cards (Little Learners Bundle) from September and Co.
North American bird guide
Memoria Copybook memory verses
Adeline's reading primers and their choice of read-aloud for the day
We work through the same items every day for a week, then move to the next character/bird/verse.
This is a great time to incorporate hymn studies, singing (we use Slugs and Bugs or Hide Em in Your Heart), memorization work, or early "bible study" by drawing a scene from a bible passage or verse (what Addie's copybook does).
As you can see this is quite simple; the mealtime routine takes no more than 10-15 minutes and morning time takes about half an hour. Find the best time for your family and create a routine that works for you!