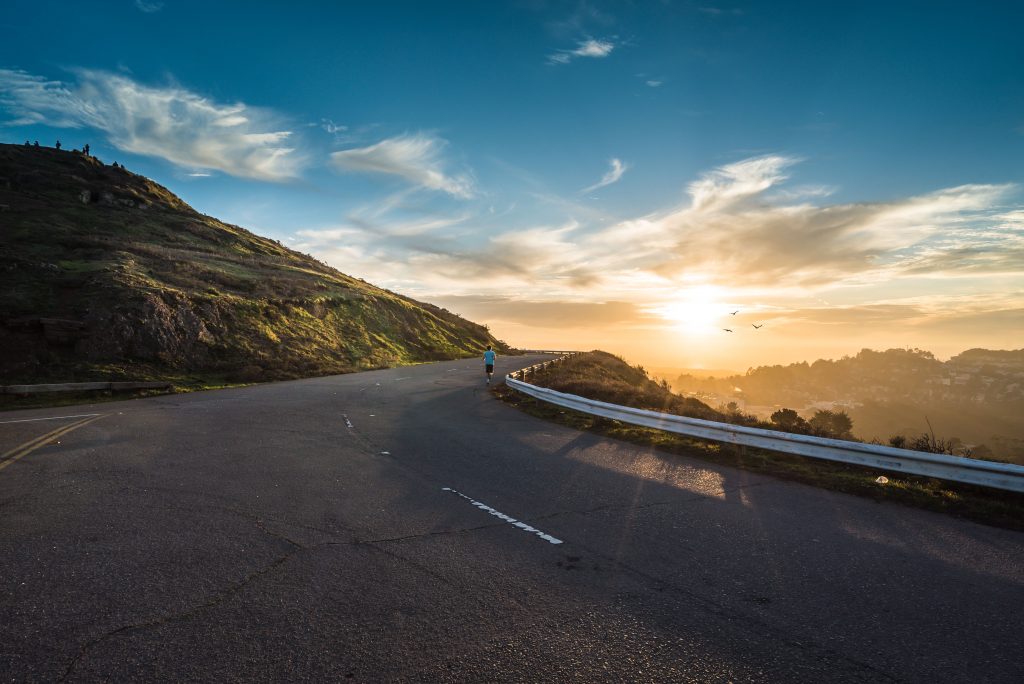 This post is from the archives.
This morning Josh and I went for a run.
Let me preface this with a fact: I hate to run.
My friend Taylor recently completed the Richmond Marathon, and I have so much admiration for her accomplishments in the world of running. I, however, could complete a 5k only if held at gunpoint.
Mr. M was cake-walking ahead of me: "Come on, babe! Just to the top of the hill!" (He'd said that at all three hills we'd previously encountered, and the motivation was losing credibility).
"I can't go anymore." I wheezed, leaning on my knees and teetering toward the ditch.
"Keep your eyes open or you'll get dizzy," Mr. M offered. He ran back and grabbed me around the waist. "You can do it, look ahead – and keep running!"
This evening when we arrived home I was reading in my favorite devotional, 100 Days of Blessing by Nancy Campbell. The chapter was about God's Word and its influence on our lives, and she was focusing on the 'strengthening' nature of Scripture:
"Are you grieving? Are you overcome with sorrow? Do you feel your soul dropping away because your heart is broken? You don't have to continue this way…[the answer is] God's living words. He know its power to strengthen [the] soul and emotions."
Nancy cited a few verses, so I looked them up:
"Wait for the Lord; be strong, and let your heart take courage, wait for the Lord!" Psalm 27:14

"Be strong, and let your heart take courage, all you who wait for the Lord." Psalm 31:24

"My flesh and my heart may fail, but God is the strength of my heart and my portion forever." Psalm 73:26
I was reminded of my morning devotions, which focused on a passage in Mark: the passage where Jesus walks on water (Mark 6:45-52). As the disciples set out across the sea they were 'battered as they rowed' (v. 48). Jesus set out from the land, walking on the water as He approached the floundering ship. When the disciples saw Him, they were even more terrified, believing He was a ghost (v. 49)! But Jesus said:
"Take heart, it is I. Do not be afraid." (Mark 6:50)
Take heart. 
Other versions say, Have courage – just like the psalmist in Psalms 27 and 31 advised us to do. Be courageous. Do not be afraid. Wait for the Lord.
We all have something to be courageous for: something we have to face head-on, whether it be a personal confrontation, fear of a job, an interview, a person, or an ideology. Fear of our own reactions, our own weakness, our own failure. 
I think we need courage to get up in the morning and face another day of sameness. We need courage to live another season of singleness. We have to fight for joy, face our fears, and wait on the Lord's timing in every phase of life – and that takes courage! But like me on my mountain run, we get weak and want to give up. We want to collapse in a ditch, wheezing, "Just leave me here! Go on without me!"
But Jesus doesn't pass us by (Mark 6:48, 51). He turns from where He's leading us, puts an arm around our waist and says, "You can do it. Look ahead – and keep running!"
I really didn't have the strength to keep running. My lungs were burning and my legs felt like spaghetti noodles. But when my husband's arm propelled me forward, somehow my legs were able to keep up the pace and I had just enough lung power to get to the top of the hill.
"…My strength of soul You increased."
We often wait to feel strong before moving forward with courage. We pray for strength but sense no difference, so we hesitate to move. But as I've grown in my faith I've begun to realize that the strength comes as we keep running. We may not feel it at first; in fact, we could be past the point of exhaustion and frustration (like the disciples in Mark 6). But right when the storm is raging, when we can't take another step, His arm propels us forward into a strength we don't have within ourselves.
His presence is power. 
You need that strength to face the loneliness when you're single. It takes courage to live a hopeful, single life in a world that idolizes both independence and relationships.
You need His strength to face the uncertainty in finances. It takes courage to live frugally; to steward your money in a world where debt is normal.
You need real strength to choose His way in a world of many twisted roads and shaded paths. It takes courage to learn discernment, to fall and get up again, and choose the narrow road between legalism and compromise.
"The Lord is my strength and my song."
The song comes with the strength. In the desperate heart-cry for help, a song of joy rises. Why? Because Jesus will walk on water to get to where we are. There is no 'impossible' to our situation when it comes to the hand of God.
A popular worship song says, "Our strength will rise as we wait upon the Lord." But waiting on the Lord is not pious navel-gazing. It's running the portion of the race we've been given until the next door is opened. God only gives strength for the race we're running today. He is our portion for today. He is our strength for today. 
So today, we have courage. We take heart, weary ones – because He gives us strength! And we look ahead – to keep running.
The Lord is the everlasting God,
    the Creator of the ends of the earth.
He will not grow tired or weary,
    and his understanding no one can fathom.
29 He gives strength to the weary
    and increases the power of the weak.
30 Even youths grow tired and weary,
    and young men stumble and fall;
31 but those who hope in the Lord
    will renew their strength.
They will soar on wings like eagles;
    they will run and not grow weary,
    they will walk and not be faint. (Isaiah 40:28-31)