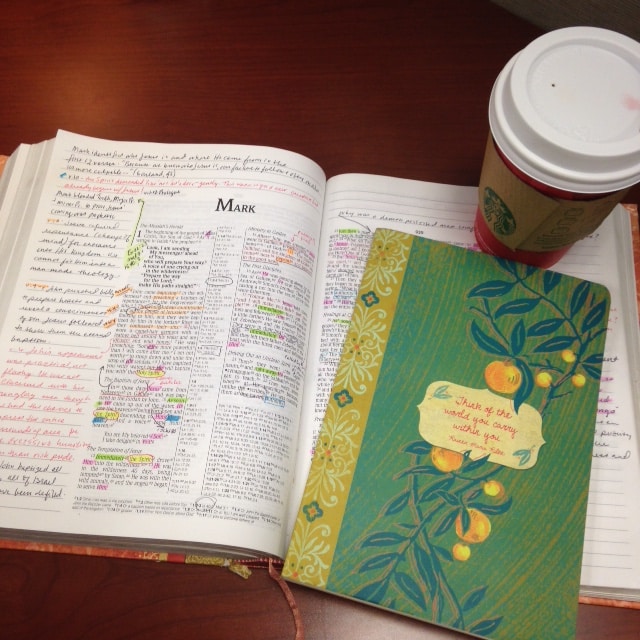 Last night I hosted our first EVER Facebook party on the blog Facebook page – what a fantastic time! We had people from all over the United States, quite a few in Australia, and several in Indonesia, Malaysia and other countries across the world. During the party, I asked for feedback about future posts on the blog. One of the hot topics was "ideas for how to study the Bible". I thought, "What a great thought!" So here we go! (And like the Facebook page to join us for future parties! We have a book giveaway and all sorts of fun!)
It's easy to get in a rut when reading our Bibles. I know I've been there, and I fall back into that pit often enough. In the Religion program at Liberty University I have the opportunity to learn new study habits and acquire new resources, all of which inspire me to continue studying on my own time. But many of these resources are available to YOU as well!
Below are five ideas to aid you in your own study of the Bible, even when you're in a dry spell.
1. Choose a place to start (and don't bite off too much).
I have tried to read through the Bible at least five times. I have never been able to read straight through the old and new testaments consecutively – but I've managed to read all the books of the Bible individually! Don't force yourself to do something in which you can't maintain consistency. If reading through the Bible in a year doesn't work for you, focus on one book at a time, get some commentaries to understand the context, and do a deeper study.
One of the flaws with the 'read-through-in-a-year', at least that I've encountered, is the pressing need to rush through the book. I like to sit down, read a little, mark it up, and truly understand what is happening in the passage. When I have to read my allotted chapter for the day, I don't do as much study.
I typically suggest starting in one of the gospels: Matthew, Mark, Luke or John, if you aren't sure where to begin. The book of Acts gives a historical account of how the church began and the heart of missions, and Paul's letters focus on specific situations in the early church – addressing issues we still encounter as Christians today.
The Old Testament is helpful to understand God's character as revealed in His relationship to OT saints like Abraham, Isaac, Moses, Joshua, Elijah and many others. It also shows us the consequences of rebellion against God, as well as God's merciful and restorative nature.
I always recommend finding a commentary – the NIV Commentary series is great! – to go along with a book to supplement your reading. It's been very helpful to me!
2. Use the Inductive Bible Study or Interpretative Journey methods of study.
Principles of Inductive Study
Prayer: Ask the Lord for wisdom and enlightenment before reading His word. Engaged your mind in what you will be reading.
Ask Questions: Who, What, Where, When, Why and How?
Mark key words and phrases: What words and phrases are repeated in the passage (i.e., in Romans, 'law' and 'grace')?
Make lists: Galatians lists the fruit of the Spirit. Order them and connect them to the context of the passage; what is Paul discussing?
Watch for contrasts and comparisons: E.g., "proud" versus "humble" in Proverbs; 'fear' versus 'faith' in Mark.
Geographic locations: I love the NIV Bible Encylopedia, which provides pictures and historical context to the locations, events, and people of the Bible.
Principles of the Interpretative Journey
Grasp the text in their town: Understand the historical context of what is taking place; commentaries and encylopedias help!
Measure the width of the river: What are the differences between the biblical audience and us?
Cross the bridge: What timeless theological principles apply to both the biblical audience and to us?
Consult the biblical map/see the big picture: How does this principle fit into the whole of the Bible?
Grasp the text in your town: How can I live out this theological principle TODAY?
3. Create a Study Environment that Fits Your Lifestyle
Morning is an ideal time for study because you can start your day fresh with the Word of God. However, if you work a strange shift, that might not be possible. God will understand. Find a time that works with the life you are living.
Now here's the fun part, something I learned from one of my favorite authors, Elizabeth George: create an environment that makes you look FORWARD to studying the word!
For me, that meant putting together a basket with the materials I needed: Bible, notebook, highlighters, pens, commentaries, Bible dictionaries, and Strong's Concordance of Greek and Hebrew root words. I don't utilize all these resources every day, but they are fantastic to have on hand. It creates an excitement for study!
If there is something you really look forward to in the morning – say, coffee – pair that with your study time as an incentive until it becomes a habit.
4. Make It a Mini-Church Service
I love the worship time at church. I love how it begins the service and ends the sermon. Why not incorporate that into our quiet time?
I like to start my time by listening to songs by my favorite artists, such as Matt Maher, Rend Collective, Bethel Music, Sovereign Grace, or Indelible Grace. I'll sing along with one or two songs, or listen closely to the words. Then I'll start studying my passage for the day.
Don't be afraid to move slowly. This isn't a race. Pray for God's wisdom and an understanding heart.
Read the passage aloud to yourself, straight through, before really breaking it down. When you go back through it, you can supplement with commentaries on that passage. Take notes, like you would on a sermon in church (and if you don't do that, I encourage starting that habit. Your retention of the message will increase and you'll process your thoughts better). Use the methods in #2 to outline, make lists, and ask questions.
Conclude with prayer and another song, if you like. This doesn't need to take more than 20-30 minutes, but can be as long as you have time for!
5. Different Genres Require Different Approaches
You can read straight through the book of Psalms, but remember that the Psalms were written individually (mostly by David, but not all) and are reflections of real, human situations. Due to this, every psalm will be different. There won't be one consistent theme from Psalm 1 to Psalm 119! In fact, Psalm 3 was written during Absalom's threat to David's throne in 2 Samuel 14. When studying certain passages, cross-reference to the historical context contained within the Bible itself.
Paul's epistles were written as letters. Remember when studying them that a letter was a replacement for Paul's physical presence in that church; the letter was probably read aloud before the congregation and is the same as a teacher exhorting his people to live holy lives (1 & 2 Corinthians), cultivate fruits of the Spirit (Galatians) and raise families that follow God's design (Ephesians). It's a good idea to read all the way through an epistle, looking at it as a holistic work.
Old Testament books are historical documents. They are like scrolls stored in the basement of a palace, where one can read the history of Israel's kings (for the LOTR nerds, it's like the Silmarillion of the Bible).
Wisdom books (Proverbs, Ecclesiastes, Song of Solomon) are approached with a view to their philosophical and often poetic nature. Proverbs provides little 'nuggets' of wisdom reflecting the outworking of worship. Ecclesiastes provides perspective to life in a materialistic and indulgent culture. Song of Solomon gives us a view of human sexuality.
Commentaries will help guide you in your approach to these books, but they aren't necessary. God's Holy Spirit gives us wisdom as we read His word – but as we delve in, questions will inevitably arise! Don't be afraid to write those questions out and seek the answers. Get resolution! And remember: God wants you to hear from Him. Take the time to be silent, just listen, and wait for the 'still, small voice' of Truth revealed in His Word.
Other Posts by Phylicia:
Marriage is Consent: How Selfishness, not Purity, Perpetuates Rape Culture
5 Myths Christian Women Believe About Men